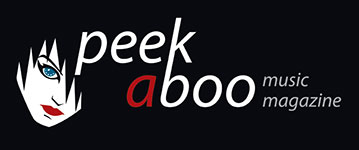 like this interview
---
2ND FACE
'A FEELING WHICH IS HARD TO PUT INTO WORDS'
13/06/2017, Stef COLDHEART
photos: © Daniela Vorndran / http://www.black-cat-net.de
---
Behind 2ND FACE is hiding a German solo-project set up and driven by Vincent Uhlig. After a few self-released digital songs, 2ND FACE signed to Dependent unleashing the impressive album "Nemesis". The work reflects a sophisticated dark-EBM approach with haunting atmospheres. According to me it's one of the real good surprises and hottest newcomers from early 2017!

How did you get involved with music?
Vincent: I began making music during a Canada stay in 2011 and I started focusing on programming unique sounds and a specific atmosphere, that I try to generate in all of my songs.

I noticed you are/were also involved in other bands like [Thorn:Skull] and The Impaled Kingdom. What are/were those bands all about and what's the difference with 2nd Face?
Vincent: [Thorn:Skull] was my first music project that carried my very first attempts but it was replaced by 2ND Face. I'm also dabbling in epic orchestral film music so I founded another project called The Impaled Kingdom which is meant to be decoupled from all my other music projects.
You recently released your debut album "Nemesis" on Dependent Records. What can you tell us about the writing and production of "Nemesis" and what are your main elements of satisfaction?
Vincent: The album pretty much reflects my learning curve over the past 3 years. I started producing the first 2ND Face tracks in 2014 ("Movement", "Deathspread") and completed the album with tracks like "Brother" in late 2016. I think that there is a noticeable rise in matters of sound design and mixing skills. I'm glad that I managed to combine these tracks from different production states to one homogenous album that works as a whole.

I've been deeply impressed – and especially for a first album, by the global sound production of "Nemesis". I read that your goal is to become a professional studio engineer, isn't it? Tell us a bit more about this essential aspect?
Vincent: That's right, I'm (almost done) studying towards becoming a full professional sound engineer. At the moment, I am trying to establish a mixing and mastering 'business' and already produced some latest releases like Fix8:Sed8 (cf. "Foren6") and SPECTRA*paris (cf. " Retromachine Betty").
Your album is mixing power together with dark atmospheres while it definitely sounds like an extremely haunting album. Are you aware of this obscure side of your work and what does it reflect?
Vincent: This is the specific atmosphere that I talked about before. Very nice to hear that it's being recognised as a dominant part of the whole thing. I would describe it as a feeling which is hard to put into words but when I note that a track doesn't have it, it's not a 2ND Face track.
You'll have the opportunity to perform live at different shows and festivals. What do you expect from the shows and what does 2ND Face look like on stage?
Vincent: A 2ND Face live show is basically my acoustic drummer Maxagon and I going fully berserk without any scripted performance. It's just the released emotions in that moment and, of course, the music itself. There will be some additional show elements in the future though, so keep an eye out for shows to come...
Stef COLDHEART
13/06/2017
---