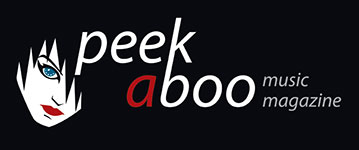 like this interview
---
DEAD BORN BABIES
'They are about the livings who spoke us out. We adapted all the haunted and horror idioms to make them synonyms of "politicians", "Global corporations", "society "'
31/07/2017, Sophi KATZ
---
Dead Born Babies was formed in 2011 in Canada after a long sleep in their lovely precious coffin but made their dream come true as soon they woke up from being born dead and released their album A Call to Cult in September 2014 via Crysella Records with 10 tracks and 2 exclusive bonus tracks on the physical copy.
In 2017 DBB has gone solo after the other babies dropped out, back to sleep in their precious coffins. Baby Basterd aka Fher Knight will go on as Fher Knight after he shed his baby skin for good and released the track Lost in Love in the summer darkness of June 2017 from the EP that will be released later this year or next year due the lack of time and being busy.
Band members: past&present: Baby Basterd aka Fher Knight: guitars, vocals & keyboard Mummy Baby: bass & vocals Fangy: rythmn sequences
Let's shake, rattle and roll.
Where does the name DBB come from to terrorize living people?
First of all the dark context of the title is pretty much shocking. The name was created consciously so that it would sound offensive to certain sensible people, we didn't really care much to find out the way their reaction would be so we just went for it. There's not a special meaning in the band's name other than taking power and showing we do what we feel like doing no matter what.
Do you have certain periods in which you are more inspired than others to write lyrics?
I've been inspired to write lyrics 24/7 since a couple of months ago, I have my phases. I can spend an entire year without writing anything, I actually never considered myself a lyricist because I was not feeling comfortable and most of the lines came out after pushing a lot to make them happen. In the current phase words come out constantly and smoothly, so I have to take advantage and enter the studio and make those recordings realized when my Beloved Moon turns my phase on.
The music is very deliciously haunting, are the tracks about the livings you have spooked out?
They are about the livings who spook us out. We adapted all the haunted and horror idioms to make them synonyms for "politicians", "Global corporations", "society ", etc… Metaphors always allow the lyricist the chance to move freely in the literature, plus…who dictates the literature rules and why follow them? But yeah, that was pretty much about bitching against social garbage. This way we kept the Horror and Gothified feeling to a Post Punk sound. Also the listeners are gonna notice that for this new material I left those metaphors behind and I turned the Madness to Darkness.
Can you tell more about the songs in Spanish, were they about?
Oh Yeah those tracks. La hora marcada is a personal protest against the work system and how it affects the individuality in every one of us. The metaphors in its lyrics refer to aspects such as the simple fact of how the alarm clock becomes traumatising in those nights of insomnia when you are totally aware all night of how bad it will be when those alarm bells go off. Then you'll have no choice other than going to give yourself to work in a straight conditional time with no concessions. La hora marcada is relative to the alarm clock and the frustration feeling when you have to rent yourself to a non pleasant job.
El incienso del infierno contains a lot of metaphors of how social life has been swamped by the internet and social networks and all of that damage and transformation has turned to a fail community in our human behaviour step by step.
Which country would you like to play live and what do you prefer a festival or club, large or small audience?
I would like to tour America on the East Coast where the Texas scene and surroundings are hitting strong for a few years now. I wanna go there and play for once. I say this because I lived in Texas for 3 years and funny I never played in a band during this period. That was around 2001 and of course the always busy scene from West Coast would be also a lovely achievement.
Do you see creatures in the shadows at night that bring you melodies for the songs you are working on?
All the time, 24/7, I'm not exaggerating but I keep my mind busy with all those demons who come from inside ourselves too. I have been multitasking constantly for the past 11 years and taking care of those demons permanently has occupied the number one task for unending time.
Sophi KATZ
31/07/2017
---