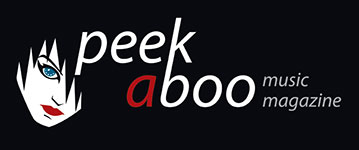 like this interview
---
NYTT LAND
'OUR MAIN SOURCES OF INSPIRATION ARE THE SIBERIAN NATURE'
12/07/2017, Stef COLDHEART
---
Nytt Land has been introduced as one of the most prominent and successful Russian folk bands. The band has released several albums in a few years but their newest opus "Fimbulvinter" released on Cold Spring will for sure help them to reach a wider, international audience. This new work is a masterpiece mixing elements of ritual, folk and ambient music together. So I got in touch with Anatoly 'Nordman' Pahalenko to get more information about Nytt Land.

Can you briefly tell us how you guys met and finally decided to set up Nytt Land?
Anatoly: Natalya (my lovely wife) and I are historians who founded Nytt Land in 2013. At the beginning we were just 2 people composing and recording ambient tracks with elements of Scandinavian epic music. The next year, when our project evolved from a virtual project towards a real concert band, we invited concert musicians to join in (Sergey plays drums and Vladimir plays flutes). There are no random people in Nytt Land; we all are the like-minded people and fans of what we're dealing with.

You clearly reveal a real passion and love for traditional (folk) instruments. Where does it come from and do you have some favorite instruments?
Anatoly: Yeah! I'm just getting wild about the sound of folk instruments. Natalya's favorite instrument is the kantele while mine is without a shadow of a doubt the taglharpa. All of our instruments are medieval ones from the Northern part of Scandinavia. I think that the sound of the taglharpa stands for the true sound of the ancient North; it's real magic!

You're also using self-made instruments. What kind of instruments are we talking about and tell us a bit more about this unique way of working and making music?
Anatoly: Most of our instruments are self-made. Our 'birth' of music is closely connected with the creation of instruments. They are really alive. Each of them has its own unique sound, a bit like a voice. We were aware of that since the creation of our first talharpa so we began to create our very own music atmosphere and our concept.. During the entire craft procedure of the instrument, we constantly listen to know how the tree responds, what a sound it has.. music begins there.

Your new album "Fimbulvinter" is something conceptual, dealing with 'Poetic Edda' and a particular, related way of singing. What fascinates you in this poetry and the language?
Anatoly: Antiquity and wisdom of course. You see, this poetry is very inspiring and it helps to see the world in a new way. And yes, it has been conceived for music. Each language in this world is charged in its very own way; it characterizes the conditions in which it was born and formed. Tradition and culture both live in language. It is impossible to convey the full meaning and nature of the work by using translations. That's a fact.

Your album clearly reflects numerous influences moving from folk to ritual to medieval and even cinematographic music. What does it reveal about your very own sources of inspiration and how did the writing & recording of the album happen?
Anatoly: First of all I want to say that our main sources of inspiration are the Siberian nature; taiga, step… endless sky… silence. I like the forest during the night. It's something unreal to see what happened with the nature around us. You do not even need to learn to hear the voice of nature; it's enough just to hear the silence of the forest at night. We try to record our instruments in the wild. Of course not everything turns out to be realised that way, for example the main vocal and synth parts are often recorded in studio. So that's the way it happens right now and especially to reach the quality of production we're striving for.

It all looks like the live performances of Nytt Land are something really special. How do you try to transpose the music on stage and what's the interaction with the audience? Any further live plans?
Anatoly: We do not have to do anything special; we just go on stage and play live. Everything happens by itself; each time again and again we feel this energy when playing the songs while hearing this indescribable atmosphere.
Now I'm working on my solo album, which will be also released under the Nytt Land moniker. Simply, it will be more minimalistic in the arrangements and more bias in dark-ambient. During Summer we'll play several festivals in Russia and the "Ragnard Rock Festival" in France. Right now negotiations are going on with Scandinavian festivals that will take place in August. A tour is planned for Autumn in Europe. And last, but not least we of course are working on new songs and something new will already be released around the Summer shows.
Stef COLDHEART
12/07/2017
---