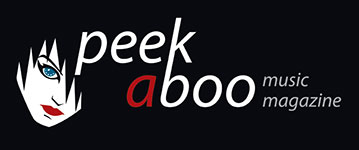 like this interview
---
SEEMING
I'm trying to paint a world where humans are not the stars or the narrators—where it's not about us at all.
09/08/2017, Masha KASHA
---
North American band, Seeming, describe themselves as "post-gothic, post-political, post-dance, post-human". They got famous in 2014 for "Madness and extinction" album and their special musical approach. Their latest album "Sol" along with the single "Stranger" have just been released in 2017, so we spoke to Alex Reed from Seeming to get more information about the past tracks and latest releases.
Hello, can you introduce "Seeming" for our readers?
Seeming makes music to help us imagine ideas beyond the world, a world without people and people without selves. We use all kinds of sounds but I like working electronically. My name is Alex and I write and sing the songs. Aaron Fuleki has helped out in the past too. We used to be in the band ThouShaltNot.
How did you record your 2014 album "Madness & Extinction" (which got pretty famous overseas as well)?
I'm so glad to hear that people around the world like this album. It means a lot to me. I wrote the songs in states of vulnerability and suggestibility. The songs document both a global frustration with humanity's self-centeredness and my own struggles with mental health. I think that the album's scope—history, apocalypse, biology—is so wide that it can only really make sense with a bit of madness. Madness & Extinction was made in many drafts and revisions: some of the songs went through five or ten versions and there were lots of songs that I wrote but decided not to put on the record: I really wanted a total idea across the record and not just a collection of songs. We're proud of it and our second album continues these ideas in some very direct and empowering ways; that second LP is called SOL: A Self-Banishment Ritual.
What are your favourite songs from the album?
I like "The Burial" and "Everything Could Change." "The Burial" was written quickly and brutally, in one or two simple drafts—it's a sledgehammer of a song: simple and huge. In contrast, "Everything Could Change" is very intimate and took lots of tries to get right, so it's a painful song that I spent a lot of time lovingly crafting. On the new album SOL, I really like "Talk About Bones," "Phantom Limb," and "Stranger," but my favorites are always changing.
The concept of your album is quite post apocalyptic and has been really well built in the terms of coherence…
Thanks. I'm trying to paint a world where humans are not the stars or the narrators—where it's not about us at all. And so apocalyptic imagery is not used here as a warning to avoid, nor is it some "cool" setting for a cyberpunk future. Instead, it's something to accept, and I think that not many bands take this approach.
How do you describe your style of music? Is it synthpop, rock or I have even spotted it in a steampunk community?
It's definitely not steampunk, and I'm not sure it's rock, either. I'm okay with "synthpop" I guess but the music avoids categories. It is not really made for dancing and I always base the production on the needs of the song; the song comes first, usually written at the piano. So sometimes I'll bring in bagpipes, sometimes I'll use lots of noise, and sometimes it'll be all voices. I care about making compelling, dangerous music and if it happens to sound like synthpop, or funk, or goth music along the way, that's fine with me.
What can you tell us about your latest single?
"Stranger" is a song about doubling down on whatever it is that makes you different. It's about pushing your own boundaries, both for the sake of exploration and as a political stand — especially in a world that increasingly wants to limit who or what we can be. I woke up one morning with the verse melody in my head and I was instantly drawn to its smoky 1970s sound. After writing the song, I knew it needed another angle, another voice. Sammus's music had really spoken to me ever since I saw her perform at a show in Ithaca, so I reached out to her, and aI m so grateful to her. She really made the track shine. It sounds modern and classic all at the same time.
You have even made your first album free for a day. I think that is really generous. How did you come up with this idea?
I care more about people hearing this music, connecting with it, and thinking about it than I do about making tons of money from it. The truth is that there's very little money in this scene but there's a lot of love and curiosity. If you can pay for our music, please do, but either way, I want you to hear it. It's really something different.
What about your favourite North American electropop bands? Is there anyone who influenced you and anyone you could outline?
I grew up listening to synth music and so bands like Alphaville and Xymox are important to me—and among American bands, I've always loved Iris and Information Society. Goth and industrial and synthpop music have been in my blood since I was 12 and they're not leaving but actually most of what I listen to now is very different. I really like 1970s funk music like Mandrill, old folk bands like Malicorne, noise like Ben Frost, and modern pop artists like Lykke Li. I think it's really important to keep your tastes wide: it helps you relate to more kinds of people and I want the world to become more open, not less. I am very skeptical of nostalgia and insular listening to just one genre.

You play a lot of really good concerts in the US and Canada. Do you plan to go overseas?
I would love to play England, Europe, Asia, Africa. Everywhere. I like meeting people and expanding their musical horizons, whether it's at a big festival or busking on the street. I used to play guitar for money on the streets of the Netherlands and Belgium when I was an exchange student, and I miss that sometimes. I have seen French and English speaking Canadians.
How come you speak Dutch?
I really wanted to get away from America as a teenager. I was very depressed and wanted a change of scenery, so I applied to live abroad for a year with a host family. At age 16, I was assigned to live near Eindhoven and while I was there I attended Dutch schools, spoke Dutch, and played in a Dutch punk band. I set out to write music every day and after a year I had 180 songs, many of which showed up on the early albums of my old band, ThouShaltNot.
Can you leave a message in Dutch for our readers?
Ik hoop dat ik binnenkort in België en Nederland kan spelen! Tot ziens!
Masha KASHA
09/08/2017
---