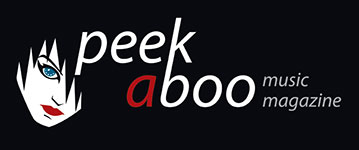 like this interview
---
PARADE GROUND
Suicide is the only truth , space changes form , it's the choreography of chaos.
31/07/2011, Didier BECU
photos: © Marquis(pi)X
---
Being in my mid forties, I recollect that I was impressed as a teen by the sounds of a Belgian band named Parade Ground, who I happen to discover because of my thirst to absorb everything Colin Newman was involved with. Despite hearing their records I always thought they were a very special band and my inner world changed.
Peek-A-Boo colleague (Smurf from Wool-E-Shop) introduced me to one of their founders, Pierre. The handshake transformed into a beautiful friendship which threw me even more into their suicidal world where vomit seems to be the keyword.
Dark Entries Records recently re-released a compilation by them on vinyl and soon they have their 2nd edition of Body Farm at The Botanique in Brussels (14th October 2012) along with Sol 19 and Attrition in Bredene at 30th September.
I decided to go into the inner world of demons with Pierre and Jean-Marc. Stop reading if you're easily offended or just fear your innerself as these are words that sting like a cold shower!
Hello Pierre and Jean-Marc. You recently celebrated your 30th birthday. Do you think this world has treated your well?
Jean-Marc: I'd say remarkably well ! We had to go through so many spaces and times to become the over-oiled beings we are.
Pierre: We knew perfectly that we'd never be recognized , we will never achieve that , it will always be a frame … An unfinished work , as life. It isn't that much a matter of knowing , rather than being born. It was always the question of the receptibility of our music; it's absolute receptibility. It's very existence.
It has always been very tedious , since the beginning. Everyone hates us.
Through this we don't belong to art anymore. Have we created anything already ? Where we born ? Are we sure of being really dead after our suicide ?
The past is what remains in a mirror.
There's of course always the case of "what could have been" but a story like that of Parade Ground makes me rather sad. I mean, we're dealing with two talented musicians and if you see the bands are taking the money, this must makes you sad?
Jean-Marc: That is, if we ever played for the money and not at all. We are craftmen of chaos. We build castles of sound from what's left of us.
Pierre: For us only emotion, tension, creation, vomit, anger, spirituality, rage and cruelty do matter. We were not transparent through pain.
You're an 80's band without having a real 80's sound. What does this decade mean to you?
Jean-Marc: Well, honestly, I don't think the 80s were that brilliant musically. Our favorite bands and influences are from the late seventies. Born from the burst of punk rabbies.
Pierre: A sort of self-vivisection, permanent self-dissection. I think our sound is intemporal. We were at the margin, with a lot of spontaneity, taking risks, everything was open and had to be done, everything was possible, all to do with a knife against the throat. It was urgent, it was an emergency.
Create was de-learning, it was the beauty of repulsion, constantly off balance, with an absolute revolt, an interior savagery, the madness abolished the truth.
Front 242 (especially Daniel B.) played an enormous role in your life. How did you got in touch with him ?
Pierre: We had met Patrick (Codenys/Front242) after one of our concerts in a small club in Brussels. He was looking for young talent for the New Dance label (Front 242's label at the time).
We quickly became friends. We spent quite some time making sound together. We, with our Boss DR55 and a minimoog, him with modular – those were incredibly creative and feverish sessions. Patrick rapidly introduced us to Daniel B. with whom we became very close friends.
Jean-Marc: We met Daniel at the music shop where he used to work at the time … We used to spend long hours talking about art, philosophy, architecture and music and about the new instruments that arrived at the time. Everything was possible, we could make things evolve and tastes too …
We took all the risk. Our life was without consent.
Parade Ground always seem to bump into well known musicians. There's Colin Newman too, how did you meet him?
Jean-Marc: We were introduced to Colin by a journalist. We got along very quickly and even became great friends. Colin liked our music and got very involved in the making of the record. A true friend and a true gentleman – a true artist too. In other words: rare to find.
Pierre: It was fun to meet him knowing that Wire was the first concert that we went to see in London. We must have been 15, 16 years old. Through him we have met many musicians and bands of the time. He got very involved in the recordings, playing guitar and singing on all the numbers.
At least there's You Tube now? If I see Parade Ground performing on Belgian television, I can't help thinking: this would be impossible now.
Jean-Marc: Yes, there were flourishing times once.Now people are more into football, I guess. Or eating. Art will always be a sardine tin to which you have to bring your own fish!
Pierre: And we were paid for that ! Now , everything is shy. All the medias and creators are like menopaused or andropaused. It smells a bit, one pisses on oneself, one doesn't dare, it's holding oneself back, everything like facebook (fake-book). Never a crooked word..
'We don't dare' … 'We don't dare' … Everything is nice and despised! The cock up your ass! Die, filth! All of this is pathetic, all of this nostalgy.
The new bands should burn everything, destroy the past, but they are incapable of doing it, they'd be lost ! Now everyone is a musician, anyone is an artisssssst, without having anything to say. Everything works through pally relationships and you must read the bands' interviews: its as soft as meat. The whole medium is shit and sold.
If you see footage from then, you were punks without having a punk sound?
Jean-Marc: We are and have always been angry revolted young men. We prefer revendicating the Dadaïst and Surrealistic revolution rather the punk.
Pierre: It doesn't matter to us, it doesn't interest us at all. We haven't changed. We are the same as thirty years ago, angry young men. Suffering or nausea is not a thing that should be applauded. The danger grows with the use. Cruelty never ends.
After the PIAS years you disappeared from the musical front for personal reasons. Was that a time you gave up music on the whole or did music never go away from your soul?
Jean-Marc: We've always been on the fringe of this musical underworld. We never stopped creating but wanted to get involved in other forms of art like writing (Jean-Marc) or plastic art (Pierre). Also we were disheartened because it seemed that everyone would have to sleep with the girl dealing with the promotion on the Flemish and international side to obtain any work or effort. Everyone 'in' fucked the responsible girl back then! But our heads were printed in the skies.
Pierre: We have lived together in a religious order, so we're our psychiatric experiments; being locked up, like an unbearable torsion, like eating up one's brain, an asphyxiation, an irradiation. Those were intense years, a gift as a defenestration of the sou , a blade that penetrates the brain, like this time where an old lady, an inmate, gave me the breast the whole night through.
Jean-Marc: We've never been controlled by anything neither our mind nor our soul. Musically, we're virgins.
You once said that Parade Ground was vomit. I couldn't believe seeing these words, but now if they ask me what Parade Ground is all about, I just answer that Parade Ground is vomit.
Jean-Marc: That means being absolutely true but then again, justifying oneself is prostituting oneself.
Pierre: WE ARE VOMIT .
We still have so much to empty, to bite, to vomit – the raw head, the raw truth. All this morbid rage, this intensity, the blood, the cloistering, the psychiatry, the blows, the howling, the punched jaws, the cuttings, the prayer, the screaming head, the struggle into cruelty, the blows, the crawling. A dissymmetry of the thought. The aesthetism of nausea.
You're known as the performer who smashes his forehead with a microphone till you start bleeding. Why, Pierre?
Jean-Marc: Tin-opener !?
Pierre: One doesn't ask a corpse what it is doing in its coffin. You must pay. We always do it as if it were for the last time, as if our life depended on it, to the outmost extremity. Everything is anxiety and terror.
And interview is always an autopsy. We are two in a glass jar of formalin. We are being dissected. It's rape, a vivisection. One must always instill venom, the sourness in all you do. Suicide is the only truth, space changes form, it's the choreography of chaos.
I wanna ask you if there has to be limits in what an artist does? I think you're quite extreme but I guess I'm longing for the extreme.
Pierre: Of course, no limits. That is synonymous of art. Creation is non-limited.
The Futurists say that you have to catch the moon. We have to be off balance, unfinished. We have the power of vomiting. Creating is a vital despair, a terrible suffering, a suffering act. Limited is mortuary , it smells of urine and formaldehyde, it's a corpse hung on a wall like paintings in a museum. A record in its little box, its coffin.
We have to put ourselves in danger and crush the limits.
In that perspective, I often think "Rosary" is a very misunderstood album?
Pierre: Rosary is a barking bone. To me, Rosary is perfection. I know it may sound pretentious but of course I don't care.
Rosary is perfection. It is the receptacle of thirty years of tension and emotion. No concession at all. The yelling ball, the raw head. Lips have cut their veins open.
Dark Entries released your fine compilation "The Golden Years", this was really going back in then? Even on vinyl, did you have déjà-vu?
Jean-Marc: Or déjà-dead? Not at all, to us everything is new, unworn.
Pierre: We prefer the future, it was hard times, it's difficult to rummage into those anguishes, those cruelties, this vomit. But we do like the idea of this sampler, permit our old tracks to dance into modernity.
There's also a 2nd edition from Body Farm Festival coming up, tell us about it.
Jean-Marc: The corpses walk again! The Botanique asked us to do a second edition of this festival considering the success of the first one.
We have asked bands of long-standing friends to perform with us along for the choreography of chaos.
Pierre: We want to make a big celebration, with rare bands and good projects. Some for the first time on stage or for the first time in 30 years! And with certain bands that couldn't be there for the Body Farm 1. 30 years of suiciding ourselves. Something not to be missed out on!
The last questions by me, you know 'em… What's your favourite record of all time and why?
Jean-Marc: I think it's 154 by Wire because of its emotional depth.
Pierre: As I said previously, it's Rosary. I have always been more interested by the sounds, the cries and the noises rather by a finished and done shape, a number which is always from the same mould, the same canvas. To me, music must always bring a certain spirituality, a vertigo, like a wound, an open sore. We forgot to be reborn. Our life is avowless.
Who wouldn't you mind being alone with in an elevator for 8 hours and what would you do?
Pierre: With Satan, so I can fight him face to face and this, without a restriction of time.
AVE MARIA , GRACIA PLENA / DOMINUS TE CUM BENEDICTATUS IN MULIERIBUS / ET BENEDICTUS FRUCTUS VENTRIS TUI JESUS / AVE MARIA , MATER DEI , ORA PRO NOBIS PECATORIBUS / NUNC ET IN HORA MORTIS NOSTRAE.
AMEN
A special message to our readers.....
Pierre: We celebrate 30 years of the band this year. We really wish to thank here, the only persons that have always sustained and love us: our fans. You're important to us! The rest was just betrayal, hypocrisy and disappointment.
Jean-Marc: Skin yourselves and live raw.
Pierre: Today's music is an urinal. Just drop it!
Didier BECU
31/07/2011
---