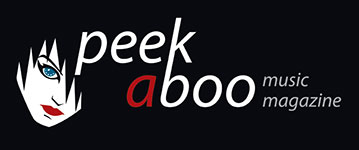 like this interview
---
INFRAWARRIOR / MONICA RICHARDS
I am very much in a new stage of my life, to be sure!
15/07/2011, Ward DE PRINS
---
It was in 1994 that Das Ich & Faith and The Muse toured together throughout Europe, with also a concert in The Steeple in Waregem. Undersigned was present and watched their show. FATM nailed me to the ground with their diversity and intensity. After the concert I raced as soon as possible to the merchandise stand to buy their CD and get to know their music (a bit better). Now, 17 years and many musical metamorphosis later, where FATM again and again managed to surprise their audience, frontwoman Monica Richards steps solo to the foreground with her great InfraWarrior project. So, high time to talk to this talented, friendly lady about her inspirations, past and future.
You are truly an all-round artist – music, writing, poetry, painting, jewellery, clothes. Where do you find the time for it all? What's the common factor for you? How does the musical part position itself within all these art forms?
Monica: Thank you for that! I have my fingers in so many different pots!!! The common factor just seems to always be my Nature themes, it's in everything I do. I just can't help it. I've been this way since I was a child. Music is just one aspect - to me it's like painting, it's layering on a large picture, adding texture to the pallet. I am a bit visual about how I do my music, to be sure.
When creating a new album or a new tour, it always seems to be global concepts? Is there first a concept around which the work or show is built-up, or is this merely the synthesis of your different art forms?
Monica: All my work just seems to flow in and out of each other. I decided to demonstrate Women & Nature and thus the show was born.
Your lyrics are not always easy, not only by its vocabulary, but also if they're getting poetic or cryptic. If English is not your native tongue, a lot of the beauty gets lost when you don't find the courage to really study them. I guess a lot of non-native English speaking fans only understand your lyrics partially & focus more on the instrumental beauty & the beauty of your voice. Don't you find that a pity?
Monica: Even those who speak English get from my lyrics their own definitions, so it's not too different. They may gravitate to the chorus, or a key word, not the big picture - like a painting that may mean different things to different cultures, it is all to be taken as it comes in.
Anafae, your graphic novels together with James Neely, accentuates your personal connection with Nature within a futuristic wasteland. Are you trying to convince people of the importance of (respect for) nature?
Monica: No, I am merely expressing my own intertwined feelings about it.
In the first part of this novel, "Anafae, Liber Prima, Awakening", you mention the year 2046, which is in the near future. You expect our world to get this chaotic and catastrophic so fast? A pessimistic view of mankind?
Monica: I kind of think it's there already!
The latest novel of Anafae is called "Dreams of Dragons". You're latest FaTM album was also dragon related. Both seem to get some more oriental influences. Are you exploring nowadays other cultures/histories besides the Celtic one?
Monica; Yes, I delved into the Japanese shinto religion while working on ankoku buttoh, it's like another layer of world understanding. It's also all about the respect for Nature and the Otherworlds, so not unlike Celtic or Native American beliefs.
You're music is so diverse. Nowadays, with FaTM & InfraWarrior, "Medieval, Celtic punk with ethereal voices" might be a good description in my opinion, however, I still forget the Oriental influences. How would you define it yourself?
Monica: I don't even know if I can anymore, ha ha! Possibly "pagan-electro-tribal-orchestral with some rock mixed in"…?
What is the difference between FaTM & InfraWarrior/your solo work?
Monica: Infrawarrior is all mine and I think you can tell which FATM songs I wrote by now… Often people think I am just the singer of FATM but I am half of the songwriting as well. So I just work alone on my music, you may notice the guitar songs from FATM don't feature so much in my solo stuff… But that is changing now as I work with guitarists!
Where FaTM seems to me more story telling around certain subjects, mostly creating a coherent atmosphere for each album, InfraWarrior seems to me to be more like the explosion of your own soul, your personal thoughts, especially Mother Nature & Women (in general) seem to dominate the lyrics?
Monica: This seems to be quite a perfect statement!
You always have been keen to play some covers of other great bands. Songs like "Hollow Hills" (Bauhaus), "Running Up That Hill" (Kate Bush), "Soul In Isolation" (The Chameleons) or "Mesmerism" (Dead Can Dance). Mostly I don't like covers, since they are often flawed. However, you always seem to get the proper interpretation? How?
Monica: Well, that's lovely to hear! I'm not sure, maybe you can tell we respect the artist we cover and try to do our own twist with that respect at the forefront. Sometimes, bands try and do a cover that's an exact replica, while others change it so much it doesn't sound at all familiar...
Someone I personally miss within this list is David Bowie…from whom, I guess, some songs could be fantastically interpreted by you…
Monica: Oh, I have often thought of doing Bowie covers!!! Who knows...
You might be considered a true cult hero from the gothic underground. However, the title nowadays seems to be torn apart from a secure income due to decreasing CD sales. How feasible is this lifestyle? How do you cope with it?
Monica: Most of my heroes are those who were struggling against all sorts of adversity, so I don't think being under hardship may tear that title apart, do you? But always keep in mind, FATM has been nothing but a very expensive hobby, always! There has never been a secure income from it, touring and upkeep always costs us dearly. Now it's even harder, that's all.
You've already had some musical episodes within your life. Hate From Ignorance, Madhouse, Strange Boutique, Faith & The Muse... and now InfraWarrior. Is this a new episode, or is it developing simultaneously?
Monica: I am very much in a new stage of my life, to be sure!
Were you, at the time, in contact with other punk artists like Bad Brains or Henri Rollins? Are you still in contact with them?
Monica: I knew Henry back in the day, when he was Henry Garfield and was pals with HR back then as well, before he became a bit… sporadic. My band Madhouse played with HR Band a few times! Haven't talked to either of them in 25 years or so…
With Anima Mundi you returned (kind of) to your roots, punk. In my opinion, a twisted kind of punk, where diversity of musical influences is still possible. However, this is (partly) for another audience than those who follow MR or FATM, not? You want to have this kind of diversity simultaneously? Was it just a one-time project, or can we expect something more?
Monica: One-time project. Brought on by the Bush era.
Small concerts vs. Festivals – I prefer small concerts, since the eye contact with an artist is so important, to see the expressions on their faces during a performance means everything to me. However, I can imagine that an artist prefers the platform of a bigger audience, that only a festival can give. What kind of performance do you prefer?
Monica: I love both! I love intimate surroundings but I also love putting on a big show! Right now I am experimenting, we'll see what the future brings!
To do a colleague a favor, I'll (almost) end by asking his standard two questions as well. What's your favourite record of all time and why?
Monica: The Damned: Machine Gun Etiquette. It was just an explosion of greatness to me that carries with it those great feelings every time I hear it!
Who wouldn't you mind being alone with in an elevator for 8 hours and what would you do?
Monica: Boudicca. I would love to hear her story.
(Boudicca was a Celtic queen, known as the leader of the revolt against the Romans in AD 61, ed)
What are the future plans? Live performances?
Monica: Right now just settling myself in with a new life and working away! I should be back in Europe in the Fall and possibly in the Spring as well.
Thanks for your time & this interview!
Photoshoot of the InfraWarrior show @ Wave Gotik Treffen by Marquis(pi)X
Buy some art from Monica Richards (music, jewelry, books, paintings,...)
Ward DE PRINS
15/07/2011
---
Het was in 1994 dat Das Ich en Faith & The Muse samen doorheen Europa tourden en zo ook in The Steeple in Waregem optraden. Ondergetekende stond erbij en keek ernaar. FATM nagelde me aan de grond met hun diversiteit en intensiteit. Na het concert spurtte ik dan ook onmiddellijk naar hun cd standje om zo snel als mogelijk hun muziek beter te leren kennen. Nu, 17 jaar en vele muzikale gedaantewisselingen verder, waarbij FATM keer op keer hun publiek wist te verrassen, treedt frontvrouw Monica Richards solo naar voor met haar schitterend InfraWarrior project. Dringend tijd dus om deze talentvolle, vriendelijke dame eens aan de tand te voelen over haar inspiraties, verleden en toekomst.
Je bent echt een allround kunstenares - muziek, schrijven, poëzie, schilderkunst, sieraden en kleding. Waar vind je de tijd voor dit alles? Wat is de gemeenschappelijke factor voor je? Hoe positioneert het muzikale gedeelte positie zich tussen al deze kunstvormen?
Monica: Dankjewel voor het compliment! Ik ben inderdaad met verschrikkelijk veel verschillende dingen bezig! De gemeenschappelijke factor is allicht mijn voorkeur voor Natuur thema's, het komt terug in alles wat ik doe. Ik kan het niet helpen. Ik ben al zo sinds ik een kind was. Muziek is slechts een aspect - voor mij is het zoals schilderen, het is zoals de gelaagdheid op een groot schilderij, het toevoegen van textuur aan het pallet. Daarenboven ben ik zeer visueel ingesteld, ook bij mijn muziek, zeer zeker.
Bij het creëren van een nieuw album of een nieuwe tour, lijkt het altijd gedragen te zijn door een globaal concept. Is er eerst een concept waarrond het album of de show is opgebouwd, of is dit eerder het gevolg van de synthese van de verschillende kunstvormen?
Monica: Al mijn werk vloeit eigenlijk in elkaar over. Ik besloot om Vrouwen & Natuur als onderwerp aan te snijden, en zo was de show dan ook geboren.
Je teksten zijn niet altijd gemakkelijk, niet alleen door de woordenschat, maar ook door het poëtisch of cryptisch karakter. Als Engels niet je moedertaal is, dreigt er veel van de schoonheid verloren te gaan, zeker wanneer je niet de moed hebt om de teksten echt te bestuderen. Ik denk dat een heel deel van fans waarvan Engels niet hun moedertaal is je teksten slechts gedeeltelijk begrijpen en zich meer richten op de instrumentale schoonheid en de schoonheid van je stem. Vind je dat niet jammer?
Monica: Zelfs degenen die goed Engels spreken hebben bij mijn teksten hun eigen interpretaties, dus het is niet zo verschillend. Zij kunnen aangetrokken worden door het refrein, of een sleutelwoord, daarom niet noodzakelijk het totaalplaatje - zoals een schilderij dat een verschillende betekenis kan hebben voor verschillende culturen, het krijgt voor ieder een eigen betekenis door het te ervaren.
Anafae, je grafische romans, samen met James Neely, accentueren je persoonlijke verbinding met de natuur in een futuristische woestenij. Tracht je de mensen te overtuigen van het belang van (respect voor) de natuur?
Monica: Nee hoor, ik uit enkel mijn eigen gevoelens, waar dit wel met elkaar verweven is.
In het eerste deel van deze roman, "Anafae, Liber Prima, Awakening", vermeld je het jaar 2046, dat is behoorlijk nabije toekomst. Verwacht je dat onze wereld zo snel dit chaotische en katastrofisch niveau bereikt? Heb je een pessimistische kijk op de mensheid?
Monica: Ik denk/vrees dat het er al is!
De nieuwste roman van Anafae heet "Dreams of Dragons '. Het laatste FATM album was ook "draak gerelateerd". Beide lijken wat meer Oosterse invloeden te krijgen. Ben je andere culturen / geschiedenissen naast de Keltische aan het verkennen?
Monica, Ja, ik dook in de Japanse Shinto religie tijdens het werken aan ankoku butoh, het is net als een andere laag om de wereld te begrijpen. Het gaat ook allemaal over het respect voor de Natuur en de Andere Werelden, dus niet in tegenstelling tot de Keltische of Indiaanse overtuigingen.
Je muziek is enorm divers. Tegenwoordig, met FATM & InfraWarrior, zou "Middeleeuws, Keltisch punk met etherische invloeden" een goede omschrijving kunnen zijn, en dan vergeet ik nog de Oosterse invloeden. Hoe zou je dit zelf omschrijven?
Monica: Ik weet niet eens of ik dat nog wel kan, hahaha! Mogelijk "pagan-electro-tribal-orchestral met een fractie rock gehalte"...?
Wat is het verschil tussen FATM & InfraWarrior / je solo-werk?
Monica: Infrawarrior is helemaal van mij, en ik denk dat je intussen wel kunt vertellen welke FATM nummers geschreven zijn door mij... mensen denken vaak dat ik enkel de zangeres van FATM ben, maar ik deed ook de helft van de songwriting. Het zal allicht opvallen dat, in vergelijking met het FATM oeuvre, gitaar in mijn solo werk niet zo vaak voorkomt... Maar dat is nu aan het veranderen, ik werk intussen ook met gitaristen!
Waar FATM me meer lijkt te verhalen rond bepaalde thema's en er zo meestal één samenhangende sfeer voor elk album werd gecreëerd, lijkt InfraWarrior mij meer op de explosie van je eigen ziel, je persoonlijke gedachten te zijn gebaseerd, waarbij vooral Moeder Natuur & Vrouwen (in het algemeen) de teksten lijken te domineren?
Monica: Dit lijkt me de perfecte stelling!
Je hebt altijd graag covers van andere grote bands te spelen. Nummers als "Hollow Hills" (Bauhaus), "Running up that Hill" (Kate Bush), "Soul in Isolation" (The Chameleons) of "Mesmerism" (Dead Can Dance). Meestal houd ik niet van covers, omdat ze vaak gebrekkig of zonder meerwaarde worden uitgevoerd. Bij jou schijnen ze altijd de juiste interpretatie te krijgen? Hoe slaag je erin?
Monica: Nou, dat is prachtig om te horen! Ik ben niet zeker hoe we dit juist realiseren, misschien kunt je horen dat alles begint vanuit het respect voor de (originele) artiest, waarbij we er wel onze eigen interpretatie aan geven, maar steeds in respect voor het origineel en de artiest. Soms proberen bands een cover uit te voeren als een exacte replica, terwijl anderen dan weer zo veel veranderen dat het geheel niet meer vertrouwd klinkt...
Iemand die ik persoonlijk mis in bovenstaand lijstje is David Bowie... van wie, denk ik, sommige nummers fantastisch zouden worden geïnterpreteerd door jou...
Monica: Oh, ik heb er al vaak aan gedacht om Bowie te coveren! Wie weet...
Je zou kunnen worden beschouwd als een ware cult heldin uit de gothic underground. Echter, de titel lijkt tegenwoordig meer en meer los te staan van een vast inkomen te wijten aan dalende cd-verkoop. Hoe haalbaar is deze levensstijl nog? Hoe ga jij er mee om?
Monica: De meeste van mijn helden zijn degenen die strijden tegen allerlei tegenslagen, dus ik denk niet dat het leven met ontberingen los staat van dit soort titels, of denk jij van wel? Maar daar moet ik toch bij vertellen dat FATM eigenlijk niet meer was dan een erg dure hobby, er was nooit een vast inkomen, het touren en onderhoud kostte ons zeer veel geld. En nu is het gewoon nog harder, dat is alles.
Je hebt al een aantal muzikale episodes in je leven. Hate From Ignorance, Madhouse, Strange Boutique, Faith & The Muse... en nu InfraWarrior. Is dit een nieuwe episode in je leven of lopen er projecten simultaan?
Monica: Ik ben absoluut in een nieuwe fase van mijn leven, zeer zeker!
Was je in het begin van je muzikale carriëre in contact met andere punk artiesten uit de regio, zoals Bad Brains of Henri Rollins? Heb je nog steeds contact?
Monica: Ik kende Henry Rollins in die tijd, toen hij nog gewoon Henry Garfield heette. En in die tijd waren we ook maatjes met HR, voordat het allemaal wat verwaterde. Mijn band Madhouse heeft nog een aantal keer gespeeld met de HR Band! Maar ik heb hun al 25 jaar of zo niet meer gezien of gesproken...
Met Anima Mundi greep je terug naar je oorspronkelijke roots: punk. In mijn mening, een verwrongen soort van punk, waar diversiteit aan muzikale invloeden nog steeds mogelijk is. Dit is echter (deels) voor een ander publiek dan degenen die MR of FATM volgen, niet? Wil je dit soort diversiteit tegelijk hebben? Of was het slechts een eenmalig project en mogen we hiervan niets meer verwachten?
Monica: Het was een eenmalige project, veroorzaakt door het Bush-tijdperk.
Kleine concerten versus festivals - ik geef de voorkeur aan kleine concerten, omdat het oogcontact met een kunstenaar voor mij zo belangrijk is, de uitdrukkingen op hun gezichten zien tijdens een optreden betekent veel voor mij. Toch kan ik me voorstellen dat een kunstenaar de voorkeur geeft aan het platform dat enkel een festival kan bieden, met een groter publiek. Welk type optreden draagt jouw voorkeur weg?
Monica: Ik hou van beide! Ik hou van de intieme omgeving van een club concert, maar ik hou ook van het aantrekkelijke van een grote show! Op dit moment ben ik experimenteren, we zullen zien wat de toekomst brengt!
Om een collega een plezier te doen, zal ik (bijna) afronden met het stellen van zijn standaard twee vragen. Wat is je favoriete plaat aller tijden en waarom?
Monica: The Damned: Machine Gun Etiquette. Het was gewoon een explosie van grootsheid voor mij. En deze gevoelens krijg ik steeds terug, elke keer als ik het hoor!
Met wie zou je niet erg vinden om 8 uur opgesloten te zitten in een lift, en wat zou je doen?
Monica: Boudicca. Ik zou graag haar verhaal horen.
(Boudicca was een Keltische koningin, bekend geworden als leidster van de opstand tegen de Romeinen in het jaar 61, nvdr)
Wat zijn de toekomstplannen? Zijn er weldra extra live-optredens?
Monica: Op dit moment herorganiseer ik mijn nieuw leven, en ben ik volop aan het werken. Maar in de herfst en eventueel ook de lente zou ik terug in Europa moeten vertoeven…
Bedankt voor je tijd en dit interview!
Foto's van de InfraWarrior show @ Wave Gotik Treffen door Marquis(pi)X
Koop iets van Monica Richards (muziek, juwelen, boeken, schilderijen,...)
Ward DE PRINS
15/07/2011
---