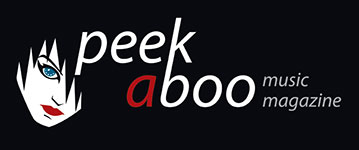 like this interview

---
VELVET CONDOM
There will never be a song by Velvet Condom called "A New Morning"!
05/07/2011, Chris KONINGS
---
Last year Velvet Condom were live in Brussels thanks to the people from Les Nuits Fantastiques. Velvet who you say? Well they're a duo from France and they make a blend of minimal electro and punk in the style of Crystal Castles. Sounds interesting so the best way to learn more about them is to ask them some questions…
Hi Nicolas, can you introduce the band for our readers?
Bonsoir Chris, well it always sounds like going to the AA when you introduce yourself but I'll try. Velvet Condom is Olivier and me doing music together since 2005 when we met in Strasbourg, France. It's all about writing sad pop songs with machines and guitars and lots of echo effect. We've been living in Berlin now for 3 years and still very happy about that. The city has influenced a lot the material of our new album we're going to release in a few months.
What are your influences? It sounds like Malaria meets Crystal Castles... (for the sake of namedropping)
Ok, that's a quite new comparison but I like it, it means that we sound more Berlin and more aggressive maybe than in the beginning when everybody told us we sound like Cure-Kraftwerk (the only bands most of journalists may know..). We like both bands yes, but we don't have to forget the guitar influences from My Bloody Valentine and the noise and shoegaze scene. And of course we do love the classics like Brian ENO, Bowie, Gary Numan, Cure,... I m a huge glam fan.. love the handclaps, the echo effects, and martial drums like Gary Glitter or Sweet.
We listen to a lot of different stuff cause we are passionate Pop culture lovers and also DJ-ing a lot. And thanks to Youtube you discover so much new stuff..(I spent the whole night listening only to early italo-disco...)
These days I'm listening to some post-punk no-wave stuff with some disco-funk elements like LIZZY MERCIER, MATERIAL, AURAL EXCITERS. We admire bands who reached the perfect mix between machines and Rock'n Roll, who make it danceable and dark, like SUICIDE.
A lot of the minimal stuff that I hear sounds so cold that there's hardly any emotion left. Did you do things different because of that?
Very interesting question. I think it's one of the reason yes, but we do like experiment a lot. We haven't released an album in the past 2 years cause we were trying a lot of things. We have at least 30 unfinished songs...
But we finally found a musical direction one year ago and are very happy about it. Berlin made us wanna sound harder, more aggressive, and noisier.
So we left the computer and started to work only with hardware (drum machines, keyboards) and a lot more guitars and effects. And of course, you re right, because I need to express myself more than it's possible to do with the minimal/cold wave format, more Rock'n Roll, more noise, more tragic,...
I'm reading this book about the start of Einsturzende Neubauten and all those other great bands in Berlin. Is the scene still alive in Berlin nowadays?
There's quite a lot of very cool acts in Berlin: JEMEK JEMOWIT, ANIA ET LE PROGRAMMEUR, DITTO DESTROYER, VIDEO RIDEO, RANDY TWIGG, ZORRO ZENSUR, SIXTH JUNE,.. I ve to admit most of these bands come from abroad.. but there's such a very creative wave in Berlin. The old Berliners (living in Berlin for more than 5 years..) would tell you it was better back in the old days.. that's the thing I hate the most to hear! THIS IS NOW !!!, I don't care about 10 years ago. It's all happening now with a new fresh impulse. Because of the record market most of these bands won't make it to a decent popularity but we don't give a shit, we are living an exciting moment in Berlin Music history. Too bad for those who ll overlook it. And I mean, who cares about a fat and arrogant Blixa. Neubauten, Malaria, Tödliche Doris,.. were great yes but it's time for something new.
You seem to have a bit of an obsession with duos, seeing names like Ralf & Florian or Bourvil & Louis on your Myspace...
Haha, yeah...that started with all the comparisons with Soft Cell (Do I look like Marc Almond? I hope not!! everybody says that..!) and the Sparks, and our artwork is quite focused on the "couple", so is our music. A 3rd person couldn't fit. And I noticed that most of the bands have 2 composers who write all the songs. We are very complementary, that's why it works well and I love to do music with O.
It's funny cause we almost met only DUO bands in Berlin, so I created a booking agency with Berlin based 2-piece bands : ROUGE CITY It seems to be the best line-up and perfect balance for most of bands I met the last years.
And as I knew that in the DDR the Louis de Funes movies were very popular I quoted Bourvil & Louis..
Self Injury really hit me, it's such a sad song. Most of your songs sound very sad. I guess it does give more inspiration than the happy life...
You're right, sadness is an unlimited resource for music. Maybe we do know this topic better than anything else. Self-Injury sounds very true, that's maybe why a lot of people like it. I try to write about things that really happened to me or to my close entourage. I think I would stop writing songs as soon as I am cured of sadness.
I don't want to write about positivity, like NIN or Suede did after getting out of drugs. There will never be a song by VC called "A New Morning"!
What's with the hidden track on Collapse In Slow Motion on your Myspace? Or is that unintentional?
It s the last song we recorded during the Safe&Elegant sessions. It has been written and recorded in one night, on one track only, no mixing, very rough. It was a way to show a very pure and lo-fi side of us, that s why we wanted to mask it as a hidden track at the end of the album. It's only released on the CD-Album, not on the download versions. It's called "Purple Emperor" btw.
Any new stuff on the way?
Oh yes. We're currently finishing the recording of the new Album which is gonna be a 9 track LP vinyl. The working title is "Stadtgeil", and we're very excited about it. It features all our influences and emotions of the last 2 years.
I saw that all your cd's are sold out so I guess things are going well or you guys... Another reason to make a new album! ;-)
We'd like to repress them but we focus on the new release. If any label is interested to re-release them..
A bit of a cheesy question, but what's your favorite album?
The last I bought is from GENEVA JACCUZZI, very nice sound!!
This year my favorite album was The Horrors "Primary Colours", it's a masterpiece!
Thanks for the interview!
Thank you for your relevant questions!
Nico
Chris KONINGS
05/07/2011
---
De Nederlandstalige versie vind je hier op Dark Entries.
Chris KONINGS
05/07/2011
---