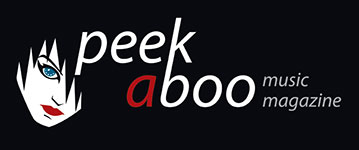 like this interview
---
COLD COLD GROUND
It is better to be hated than to be ignored.
23/06/2011, Didier BECU
---
Cold Cold Ground are the one of the most fresh discoveries on Danse Macabre Records. Peek-A-Boo describes those Finnish indusmetalrockers as a band who have the melodies of Project Pitchfork and the anger from KMFDM, they don't even disagree with this!
Please tell us who Cold Cold Ground are.
Hauptmann D:Hi. Cold Cold Ground is a four piece industrial rock band, formed in Helsinki in 2004.
I am Hauptmann D, the vocalist and the front man. I also do synth & sequencer programming along with Mr. Bunny, and we write most of the songs together.
NooZ is the bass player. He is obsessed with lights, which he hangs all over his bass and his body. He is also really unpredictable and dangerous, especially when drunk. Ha! ha!
H.Dine is our newest member. He plays drums. He's very skillful and it's really fun to watch him play, he's almost dancing while he plays. He's very hard handed and he won't let his equipment have it easy.
Mr. Bunny plays the guitar, programs electronic stuff and writes songs along with me. He also wears an evil bunny mask, because he's wanted by the police and thus no one can see his real face.
I described you as indusmetal but one of a kind kind, proving that this genre can still be fresh. Do you agree, I know you do….
Hauptmann D: Thank you. I'm glad you see us fresh in the genre. I have never thought of it from this point of view. I have just always wanted to make this kind of music and maybe we have managed to do something in an unusual way.
Mr. Bunny: We are influenced by lots of stuff. Music, movies, books, news and the people we know. Maybe the combination of all of them is unique, because no two people have exactly the same kind of life.
Your debut album is released on Danse Macabre Records, making it a bit easier especially in Germany. Did you already get some reactions?
Hauptmann D: I think the Germans have received our music very well so far and the feedback has been mostly positive. The music markets in Germany are very wide but among big possibilities. I also believe it's too easy to get lost in there.
I wish people in Germany and also Central Europe found us and had a taste of our insanity. I have to say that we are a band you especially want to see performing live, because that's the way you can see what we are really for!
You are from Finland, I guess with an attitude like yours you're not the kind of musicians who walk in line?
Hauptmann D: He! He! Well, that's true, we have been walking our own crooked line from the beginning. We have had difficulties to fit in any categories here in Finland which has made our path a bit harder, I believe. Over here we have also split the opinions of music journalists. Industrial based music can be a bit complicated to accept here, when heavy metal music dominates the scene so strongly at the moment. Some people seem to get irritated by synthetic sounds mixed with heavy guitars, which is nice.
Anyway we have kept pounding our heads against the wall and we are happy to notice that lately it has started to pay off.
Mr. Bunny:We want to irritate people, because that is fun. It is better to be hated than to be ignored. We have the same spirit as the punk rock bands of late 70's, we just express it differently.
You described yourself as The Droogies from A Clockwork Orange, that's quite an aggressive approach?
Hauptmann D: That is actually a description that label Danse Macabre made about us, but I can easily agree.
The movie sure is a fine piece of art and makes people think about their own approach to violence and exploitation of weaker ones. We are an aggressive band, especially when performing live, but we stand for weaker ones and despise hypocrisy and self-importance.
Mr. Bunny: Yeah. We play with themes like violence and exploitation, but we are not "evil". Aggressive, yes, but we are not social darwinists and we don't think that it is ok for the stronger ones to dominate the weaker ones. Actually exactly the opposite. Our aggression stems in part from the frustration of seeing all the wrongs in this world and not being able to do much about it.
Having said that, perhaps this sick world does need a kick in the ass?
Hauptmann D: Yes. Totally, a big fat kick. We all are fucked up more or less. We are filled up with mental dirt, but some of us can hide it better than others. It seems like people can't think about nothing but their own benefits. There's no charity in my point of view. We are not here to change the world (because nothing really can change the way it's going), but at least what we can do is to remind people not to trust anyone. Fight back, "they" just want to take advantage of you!
In Finland you already shared the stage with KMFDM and Project Pitchfork and this kind of sums up your sound, the aggression from KMFDM plus the melody from Project Pitchfork = Cold Cold Ground.
Hauptmann D: Interesting. Well, why not.. I like those both bands and I'm glad we have had an opportunity to share the stage with them!
Mr. Bunny: KMFDM and Project Pitchfork are great bands, but our influences are very wide. I don't think you can sum up our sound that easily, he! he!
Are there any shows coming up outside Finland?
Hauptmann D: On September 7th we will be performing In Berlin at K17 Club as part of a Danse Macabre showcase during Popkomm event. There's not yet any other shows confirmed outside Finland but we surely will go when requested.
What's your favourite record of all time and why?
Hauptmann D: Hmm. This one is hard.. I must say I don't have any particular record that I would consider as a favorite of all time, but there's one album I keep going back very often, that is Nick Cave's Boatman's Call. I like the album because, for me, it's hopeless and hopeful at the same time. It's relaxing. But I really can't say if it was my fave one. I'm more like a guy who gets obsessed some individual song that I keep listening in a repeat mode day by day and night by night.
Mr. Bunny: For me that would be "Shot" by The Jesus Lizard. Many old school TJL fans don't like that album, because it was their first major label record and it sounds a bit slicker than their older ones, but for me it's perfect. It has so much variety and still it sounds coherent and almost all the individual songs are just great. Also, everybody should listen to David Yow's lyrics on "Blue Shot" or "Too Bad About The Fire" - that guy is kilometers ahead of ordinary rock music lyricists. No ordinary "baby, baby" or "everything sucks except me" crap there. His lyrics feature topics and themes which a normal rock singer wouldn't dare to even hint at.
Who wouldn't you mind being alone with in an elevator for 8 hours and what would you do?
Hauptmann D: Now it's getting even harder... Well, a psychiatrist wouldn't be bad at all. Maybe I could be able to get my head fixed because I couldn't run away.
Mr. Bunny: The most interesting ones are all dead. Maybe I'd choose Barack Obama. I would ask him how it feels like to rule the world. I am sure we would have an interesting discussion.
Tell us why people have to buy your album!
Hauptmann D: Because the whole Cold Cold Ground is a spectacular concept and you must not miss a single part of it. "This Side of Depravity" is the first entry of CCG that gives you a hint of our fucked up minds wrapped in good tunes. So BUY IT, and stay awake for the follow-up album, that we have already started to record. It will take this shit to a whole new level.
Thanks for the good questions. Cheers.
Didier BECU
23/06/2011
---