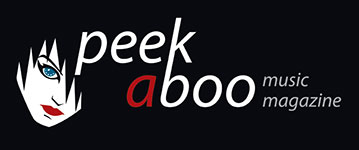 like this interview
---
LOVE LIKE BLOOD
Our musical development is a pure natural thing, we never wanted to end like "cheap sounds like Sisters band"
22/06/2011, Kurt INGELS
photos: © Marquis(pi)X
---
When Dark Entries journalist Kurt was on his annual trip to Leipzig he saw Love Like Blood and as he knew that this legendary gothrock band would be at the Shadowplay Festival as well, he decided to chat a bit with the boys.
A click here will lead you the Dutch version on the Dark Entries website.
Translation: Didier BECU
Well, it was a surprise when I seen the name of Love Like Blood popping up on the 20th edition of the Wave Gotik Treffen. Can you still remember playing at the first Wave Gotik Treffen. I suppose it was different to what the WGT has become over all those years?
Actually I don't remembered the first WGT at all, when the WGT promoters called me a year ago I was honestly surprised that we'd played on their first festival 20 years ago and you're right, it was a totally different picture back in the days, as the WGT 2011 appears now or even the last times we've played there, but this was pretty usual at those times: Love Like Blood was a kind of newcomer still and so the WGT and the Gothic revival or hype had just begun more or less over here.
Even better, it seems like more 'last' concerts will follow since the band is also on the bill of the Belgian Shadowplay Festival in July. Will there be more 'last' concerts, maybe even a goodbye tour througout Europe and who got the Eysel brothers in the right mood to mount the stage again?
It's been simply the request of the WGT booker asking if we're able to enter the stage for this special 20th anniversary show in 2011. We had a band meeting and discussed it. Well, actually there hasn't been a real discussion, since everybody agreed on doing this as our farewell from stages. Therefore, there will be no "goodbye tour", for sure. All discussions or offers about that have been and will be rejected in a second.
The doors are still open for festivals or special show cases in different countries, if any local show promoter wants to make a serious offer, like the Shadowplay Festival promoters did, please get in touch, but there is no open end, 2011 is the one and only and final last chance for us, the fans and friends of saying "Goodbye!".
My affinaty with the band goes way back, when I found the first 12" of "Sinister Dawn" back in 1989. The shop owner had put a little label on the vinyl cover 'sounds like The Sisters of Mercy'. Do you agree with that comparison of the earlier Love Like Blood days and how far were The Sisters Of Mercy any influence. I mean, when I listened to the record I had to admit it was gothic rock but not really sounding Like the Sisters Of Mercy to me.
That's pretty harsh if a record shop has to put stickers on your (overstock) records "sounds like …" , oh my goodness. Hey, believe me, we had to face so many comparisons over all the years...and we have no damn problems with it and therefore I guess we're used to it! Sure, first it really pisses you off, but later we go along with and say to ourselves "Ok...If they think that's cool, we don't mind, it will help sell records". Still, I guess, it's to some extent their business that bands get compared to the genre or masters of the current point in each time. So we learned to handle it, we're neither sad nor happy to be compared with "The Sisters Of Mercy". I like their old stuff, by the way.
Can you put into words why and in which atmosphere Love Like Blood was formed in the eartly days. What were your dreams, goals and motivations and how do you look back upon them now?
Well, Kurt,you want us to write our "memoires"? Hard and tricky to answer this in our days!
When we got together back in the days, we've been truly school boys, record collectors and pretty much into Punk and Punkrock all the massive Brit Rock. That time ruled. We loved bands like Gene Loves Jezebel, The Chameleons, New Model Army, The Alarm and as well the more darker stuff like Joy Division, Bauhaus, Sisters Of Mercy, Cocteau Twins and and and and.
It was just pure love to this kind of music which inspired us to setup a band and we were so enthusiastic about any little tune or song we wrote and played. Everything was pure crap at that time, our equipment and the rehearsal room, but there was this one true idea and fact: "Hey, we're running a band, hey we're cool".
We've been extremely motivated without any "masterplan", but with an unexplainable focus on the important things, our music. Therefore we decided to record a demo tape, to organize our own concerts and tours and finally to initiate our own record company on which we released our first records. After all the decades, I'm astonished how straight forward we've acted.
We had the same dream as all the young bands, being famous, being a rock star, playing shows all over the world, practicing and living the shit you're in love with. Often I'm asking myself "how did I manage all this business hell at that time"ut that's not the point, looking back many many memories appearing, legends, stories, experiences of 15 years Love Like Blood is a great and an inestimable present for everyone being a part of it!
I suppose "Within The Realm of a Dying Sun" will open the concerts for Love Like Blood as it opens with great attitude the first real album "Flags Of Revolution".
Well I am just guessing here (or eventually hoping)… According to me the album remains one of the gothic rock highlights of the '90 and the album really got it going for Love Like blood… Were you aware of the impact the album would have and the response that would follow shortly after it?
Oh, we haven't sorted out yet which song will open the show, but "Within The Realm of a Dying Sun" definitely is on the set list. As far as I know "Flags Of Revolution" still is the best seller of our discography, so that's quite a bit self-explaining. We had no idea and haven't expected that already our first full-length album will be that successful. Actually we realized this success at first a couple of years later. This album opened the doors to more interest of the clubs and enabled us to play so much more concerts.
To play live as much as humanly possible was a very important thing at that time to get more popular and find new followers and people from the music business which helped the band a lot. But you can never be aware of any effects an album will have, the moment of songwriting and recordings is the challenge to do it as perfect as possible and you really don't care about the moment when it's done.
In those days scene music was mainly electronic and in Germany the Neue Deutsche Toteskunst was born to aim for huge success.
In my opinion Love Like Blood was one of the real goth rock bands back then, Did you ever really aim for being a gothic band or was the total sound just something that came by accident?
That's so long ago I heard about and talked about the "Neue Deutsche Todeskunst", gently saying: we never were friends of that type of music, even had a kind of aversion, often we missed an elementary quality in it.
That style of music had been pretty hip, so that's ok if the people like it. We've been one of the rare bands just playing the classic rock set. Believe me, we were not aiming for being a Gothic band but we seriously wanted to sound like a Gothic band. It starts with special harmonies, melodies, the drumming and beats, a typical guitar sound and finally the voice, but at that time we always said: the only we care is to not sound too German. That has been more important than "being Gothic".
Later on the band would integrate more metal influences ("Exposure" album) and the music would become more powerful. Something that is brightly illustrated on the cover album "Chronoly Of a Love Affair" (2001) neatly divided into chapters of a 5 years timespan. Was this an evolution that came naturally or just an obvious choice for the band not willing to repeat itself and musically explore more possibilities?
A little bit of everything, but I think we managed that each album remarkably sounds exactly like Love Like Blood. We have always been open-minded and we definitely wanted not to get stuck in a kind of cliché overloaded music genre.
We loved the more and more upcoming Gothic Metal bands and their music and we always carried a bit of more heaviness in our hearts.
But honestly, we just had a big inner smile about reactions that we're now quite too heavy. Fucking bullshit, same people years later bought albums from Paradise Lost, Type O' Negative, so what's the deal? Our musical development is a pure natural thing, we never wanted to end like "cheap sounds like Sisters band" and we always just wrote and played only the music we love.
I am of curious which songs will be played on the concerts, fans can make a selection on your facebook pages… Could you tell is what the tracklist looks like already?
We respect the fans a lot and the friends still out there supporting us and I can promise that our set list contains all the cool classics. I can't hand over the set list at this point but can promise that no one will be disappointed.
It's very tough creating a final set list out of all the songs we wrote, so the wish list sent in by our fans helped us so much to choose the songs for the farewell set.
I do hope for "Johhaneburg", "Dear Catherine", "Walking In Demimondes" and why not "Sword Lillies", the oler stuff I know, but it seems they stick on me really well and it would be an emotional experience to hear them again live after such a long long time… Oh yes and the beautiful "Angie" cover…
You will not be disappointed, believe me! Though, we are not focusing on our cover versions, besides maybe one. Let's see what happens!
Damn, seems like Love Like Blood really enjoyed / enjoys covering songs… the most obvious being "Love Like Blood" from Killing Joke… the song that literary made the band…?
Not the song and not the band, but the songs title. Honestly, like most bands searching for their bands name, so we did. This sounded best for us on that specific day and it still describes as best our feeling for our music and intentions, that's all its about.
What where you guys up to all those years since the last record… are you still busy in music, rose a family, made a career next to music…??
Yep, indeed, no music career anymore! Yorck is still working at Nuclear Blast so he is still a part of the music biz somehow and I'm running my own IT-company and for sure the whole family stuff.
We're twelve years older, settled down, making our day to day business for living... That's it!
Do you still feel an affinity for the gothic scene of today, what are the main differences with the early '90 according to Love Like Blood.
I can't answer this since we're all totally off the scene. Looking at it from the outside, I seems to be fairly quiet. Less bands, less releases, less record sales, less concerts, less everything. Am I right?
What can the audience expect after all those years from Love Like Blood, who will join The Eysel brothers on stage and… who knows the live concerts will bring the appetite for new songs..? On the website of the band, dated 'september 2004' Love Like Blood is not done…
Who knows , but to be honest with you and everyone who puts their beliefs in our music, we only plan to catch up with the farewell and we will do this in the best possible way we can, the way you know Love Like Blood.
Love Like Blood will get on stage in the exact same line-up of 1997-1999.
And you will witness Love Like Blood celebrating their classics in an unexpected powerful, tight and emotional way on a very few very exclusive concerts.
It's definitely time to say "Goodbye" and we truly appreciate the grand possibility we receive in 2011, the farewell, for us and all our friends.
Thank you Kurt for your endless support in LOVE LIKE BLOOD, we remember you all well, you have always been a great supporter to Love Like Blood from the beginning on...!
Cheers, Gunnar Eysel
Kurt INGELS
22/06/2011
---
Nederlandstalige versie via Dark Entries Magazine: klik hier
Kurt INGELS
22/06/2011
---