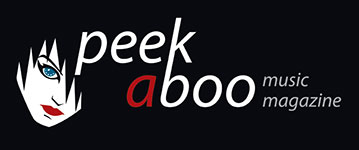 like this interview
---
CHRIS & COSEY
Music can be regarded as art.

Art can be regarded as music.
18/06/2011, Didier BECU
---
Peek-A-Boo is more than proud to announce an interview with one of the most legendary musical acts we can think of: Chris & Cosey. Of course there's a reason for it. Not only do we like them, but they'll soon land in Belgium as they will play Saturday 1st October at the Vooruit in Ghent
You started with Throbbing Gristle, a band that was the beginning of the industrial scene. How does it feel to play such a prominent role in the history of music?
COSEY: I don't think about it generally, only when it's pointed out to me and then it's good to know Throbbing Gristle had such a significant impact ,in many ways, in music history. When we first began we had no idea how it would be received at the time, let alone in the future.
CHRIS: I honestly don't think about it unless someone cites it, such as now. When I do have to consider it then I find it quite a daunting notion to get my head around, you know... the potential responsibility of that role.
Now stuff like Throbbing Gristle is seen as ground breaking, but how were the reactions back then? I mean, I can imagine that it wasn't that easy to convince labels and concert promotors.
COSEY: We weren't at all interested in labels or concert promoters, we were focussed on making the sounds that provoked a sense of real being. We were totally independent and outside the music business in terms of the usual practice of bands pursuing contracts and a career. Throbbing Gristle wasn't about acceptance of any kind - quite the opposite in fact. The biggest and most challenging reactions were from the audiences. Our live performances often met with violence but we took these outings as research for further sound experiments.
CHRIS: As Cosey says we had no interest in convincing labels and promoters about Throbbing Gristle as we had our own agenda going on and they weren't included in that equation. Well not in any conventional way. We were 'outsiders' and not part of any movement - punk, rock, electronic etc. that's why we started our own - Industrial.
Once the band broke up, you started Chris & Cosey and for the second time you changed the face of music as you're often cited as the band who started the minimal electronic movement.
COSEY: Again in retrospect we can trace the roots of music and see our place in the forming of new genres but we were always following our own interests and were inspired by advances in technology that enabled us to use that knowledge to make new sounds, which we creatively assembled into what has become known as the Chris & Cosey sound.
CHRIS: Once again I have to agree with what Cosey said. Although I do sometimes wonder what would have happened if we'd had more recognition at the time - where would we be now in terms of our career. More, or less, successful? Not that it bothers me, I just wonder sometimes.
Perhaps it's because of the use of different instruments but I always thought Chris & Cosey were much more accesible. When you started out was it mean that you were making something as the perfect alternative pop?
COSEY: We had a passion for very good popular music, the structure and manipulation of emotions via particular sounds, key changes and effects and we wanted to experiment in our own way. I guess it started with Hot on the Heels of Love and similar Throbbing Gristle tracks. But we had no interest in becoming popular, just making music we both had an affinity with, lyrics that spoke more of the inner self and dynamics of human kind, and that we enjoyed and actually created the effect we were after.
CHRIS: I've always been an aficionado of pop melodies, Abba being my all time favourite. This undoubtedly had an influence on our music, both in Throbbing Gristle (to a lesser extent) and most obviously in Chris & Cosey. I'm not such a proponent of pop music structure - the whole verse, chorus, bridge, verse, chorus approach - although I appreciate it when it's done well. I agree our music can be more accessible but I would never, ever call our music pop - although I suppose some of the early Chis & Cosey material could be termed 'outsider pop'.
What do you think of the electronic boom at the beginning of the 90's? I mean not many techno-ravers will be ware of it but you were one of the founders of that sound.
COSEY: Well, unlike our own music it was primarily a hedonistic, drug based culture that had some good music and provided a good time for many, but overall I don't perceive it as being like our music in terms of what it could offer an audience or indeed structure. It's pretty head banging/numbing stuff that facilitates a drug enhanced state of escapism. I like to think our music can be enjoyed hedonistically but also gives something constructively personal to people.
CHRIS: Looking at the bigger picture I think the vast majority of people into that music at that time - civilians for want of a better term - weren't aware of us at all, but I do think, well we know, that quite a few insiders: musicians and producers etc. followed our sound closely.
I guess a band with your status has been overwhelmed with bands or artists who want their tracks to be remixed by you? Do you consider such offers?
COSEY: Yes we consider offers but not many. We are just too busy with or own work, but if something really tweaks our curiosity and inspires us then we'll do it for the enjoyment of doing something different.
CHRIS: We probably turn down at least two remix offers a week now, sometimes more. Over the years that's a lot of offers, so we've developed a strategy for only accepting remixes we think we'd enjoy or could do something special with. Certainly not for any financial incentive, which can be very tempting when someone REALLY wants us to accept a remix by throwing wads of money at us, but we have our principles.
You are currently involved with a music project around Nico's Desertshore. Tell us about it, is Sleazy's presence still felt?
COSEY: Sleazy passed away last November. Consequently he cannot physically be involved but we had many discussions with him about the Desertshore project prior to his passing so we have his ideas in mind for when we work on the album.
CHRIS: Sleazy was actually working on the Desertshore project when he died last year. We are at a stage now where we have the majority of his material and equipment he was using, plus a lot of work Cosey and myself had already done and now we also have many of the guest vocalist parts. We'll recommence work on the Desertshore album later this year for a 2012 release on Industrial Records.
Cosey recently did some exhibitions too, one even at Tate. Can you tell us something about it?
COSEY: I've been working a lot on my Art over the past 12 years both new actions, video and visual art as well as refocussing and revisiting past works for specific group shows. So yes my work has been in many exhibitions worldwide including Tate Modern and Tate Britain (and again this summer - opening this month). I also performed a solo show in the Turbine Hall at Tate Modern so that kind of addresses your next question about art and music. There's a list of my past and present exhibitions on my website.
This I always wanted to ask : is music art? Or, has music to be art?
COSEY: I don't regard them as mutually exclusive. It all depends what music you make and how you present it.
CHRIS: Music can be regarded as art. Art can be regarded as music.
What are you current plans in terms of recording?
COSEY: Ha! We have so many. There are four Carter Tutti albums awaiting final stages of mixing and production, we are working on remixes for other bands, collaborating on numerous projects and of course there are the Throbbing Gristle re-releases to consider. We have a very, very full schedule and busy time ahead of us. Some of these releases are for this year and some for 2012.
You're playing in Gent soon, what can we expect?
COSEY: A very uplifting performance of reworked Chris and Cosey tracks.
CHRIS: It's an 80 minute set from our Chris & Cosey back catalogue but reworked, remixed and mashed-up into a live full-on 21st Century performance.
What's your favourite record of all time and why.
COSEY: I don't have one record, there are so many ground breaking and influential records but to be purely self indulgent I'd say any ABBA track because their sound immediately evokes Chris in my mind and emotions.
CHRIS: Sorry but I don't actually have a single favourite record, I have many - too many to list and those change from decade to decade.
Who wouldn't you mind being alone with in an elevator for 8 hours and what would you do then?
COSEY: Seeing as it would freak me out the only person I could be with would be Chris. He'd calm me down and we'd get up to all sorts.
CHRIS: Cosey, and I'd fuck her brains out. Oops sorry - I meant I would make love to her many times...
A special message for our readers could be....
COSEY: Focus on your 'self' and deny the superficial.
CHRIS: Question EVERYTHING!

Didier BECU
18/06/2011
---