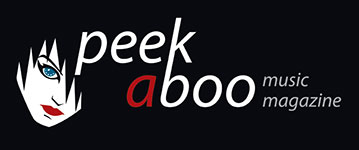 like this interview
---
HANIN ELIAS
I think life is like school for the soul and I needed to discover something else for myself.
15/06/2011, Didier BECU
---
Once bloody Roger Whitaker sang what he would do if he were a rich man, sometimes in my sick fantasies I imagine to whom I would give a statue. I know, everyone has to have a fantasy but in my dream there are not many statues to give away but Hanin Elias would have one. Hailed as one of the first Riot Grrrls ever, Peek-A-Boo is more than proud to present you: Hanin Elias.
Dear Hanin, to me you mean a lot but can you tell us how you see Hanin Elias in that thing called music industry?
Hanin: puuuh...I failed in the industry, I was always too human and too nice to survive and get a piece of the cake.
I guess, I don't like pressure and authority very much. I'm bad in mathematics and too romantic and rebellious to have success in the way that the business wants you to function. I just need to live from day to day and without long-term strategies in my head that pull me to the top. I just do what I feel and that makes me unpredictable for the music industry. I don't respect the box in which they categorize my music and my name, I always change and then they can't sell me anymore.
Once you weren't that satisfied with it as you decided to make a break. How come and what did you decide to return on the front, Hanin?
Hanin: Yeah, I was sick of how I was supposed to be turned into a slave for contracts that I signed. I moved away to French Polynesia for a while and became free, didn't do anymore music until the contract ran out, but I need to do music, it's my destiny and I'm back with "Get it Back" and confront people with my unpredictable being :)
The music industry changed a lot. Some say it's a revolutionary, what does a revolutionary like you think about the so called freedom?
Hanin: They will take it all back and put new restrictions on it. As long as they find ways to take our money they will do it and we have to find ways to get it for free again. So many songs are not listenable on Youtube because of restrictions, that's a bore. They shut down the free movielinks and also they will observe our musical taste. Where is the freedom in that? Our computers track us down wherever we are.
For me Hanin Elias is punk. What is punk for Hanin Elias?
Hanin: I see that as a compliment (laughs). Punk is a state of mind, it has nothing to do with the clothes you wear or the music you listen to....
You began with Atari Teenage Riot. Hated by some, adored by others, but I guess you must be very proud to be in such a revolutionary band, not?
Hanin: I was never proud of it, it just happened.
Even if you have a solo career, people will still say Hanin out of Atari Teenage Riot. Never got bored of this?
Hanin: It sometimes bores me because i moved on. I'm not in Atari Teenage Riot anymore, I still like the songs and messages we had for the time we existed, in the formation I was in, the messages, the power and the style were very important for me in the 90s.
I liked it when it was still chaotic and alive, when there was real rage and resistance! Now everyone has access to all the information and I see my mission in Atari Teenage Riot as completed.
You went to French Polynesia, that seems like an enormous contrast between the industrial Berlin and the exotic paradise that Polynesia is, not? You wanted that silence? I mean Hanin Elias and silence is something I cann't connect
Hanin: It's not the silence that I wanted, just a different structure, a different way of existing. I think life is like school for the soul and I needed to discover something else for myself.
I learned how to fish and plant gigantic potatoes, I lived off the land and learned French and some Tahitian, discovered a new way of thinking and a new mentality. It was magic and gave me my power back but also transformed me. I felt numb and sucked out after all these years of living in our heartless world, where everything that counts is being cool and successful. I wanted to be something else.
For your new album you got signed to Rustblade Records. I guess such a little label is what you wanted, not?
Hanin: I just met this really nice guy (Stefano) who seemed honest and respectful.
Then we decided to put some releases out on his label in italy, I trusted him and I didn't care if the label is small or big :)
Naive or not, that's how I function!
I adore your new album and for me it's one of the best albums of this year so far, but having said that, I really hear that you tend to explore new areas, not even mentioning the 80?s!
Hanin: Thank you sooo much! The album is very varied because I worked with so many different inspiring people on it!
Over the last years I met them and we worked on songs.
Diego Sagredo from Chile, Marcel Degaz from Hamburg, Sindaddy from the USA, Yeti Popsatr from Belgium, Mismerizer from Paris, Mutfak from Berlin,Tikahiri from Tahiti, Tying Tiffany and Lorenzo Montana' from Italy,Vigilante from Chile....
I always loved the eighties sound but that's not the only influence on this album.
There are some brilliant popgems to be found on there, another thing I didn't expect from you.
Hanin: I love Hits!
Will this album bring you back on stage, Hanin?
Hanin: I surely hope so! I just had my first gig after years and I really enjoyed it! Next show will be in France on a festival called Chauffer dans la Noirceur on July 14th!
What's your favourite record of all time and please state why?
I would say "Pet Sounds" from The Beach Boys but also Chameleons "Script of the bridge" but it changes all the time...
The Chameleons, hmmm… I even like you more, Hanin! With whom wouldn't you mind to be alone with in an elevator for 8 hours and why?
With Asia Argento!
We became friends in Rome and she is so much fun to hang out with! I think i wouldn't get bored 8 hours in an elevator with her!
Do you have a special message to our readers?
Oh see the birds, they don't seed , they don't harvest...but still they have everything they need...refuse the rat race :)
Didier BECU
15/06/2011
---