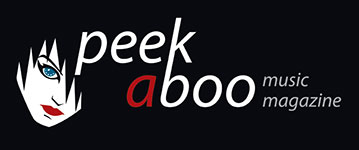 like this interview
---
THE EXPLODING BOY
The Cure or not The Cure, that's the question!
15/06/2011, Didier BECU
photos: © Marquis(pi)X
---
The new album by The Exploding Boy is called "The Black Album" and somewhere you can hear that, as their neo-postpunk perfectly embraces the gothsound, or do they really play indiegoth as they say themselves? Peek-A-Boo had an exclusive chat with Nick from The Exploding Boy.
Well hello!, so many people have problems with putting a label on your sound, I called it neo post-punk with a very dark edge….what do you say?
NICK: We don´t know ourselves what to call it, maybe indie-goth…but post-punk is probably the most correct definition…
Or we can just call it great and amazing dark music (laughs)
The success from "Afterglow" in 2009 was huge, especially in Germany and Belgium, I guess this must have surprised you, or not?

NICK: Not really, we were confident with our first album as a ground base to lean back on and when the Afterglow album was done we really had the feeling we created something special, and luckily our feeling was right!
It seems like you didn't wait that long to come up with a follow up album to "Afterglow", or?
NICK: Two years is a perfect length of time between two albums, you get time to develop and the audience has not forgotten about you yet…hopefully?!
How are things in Sweden, I understand that the success is bigger outside or do you think "The black album" will change that?
NICK: "The Black Album" won´t change a thing in Sweden.
We have our fans in Sweden, and they do show up when we play, but there's only 9 million people living in Sweden, compared with almost 60 million(?) people in Germany, so one or two shows a year is more than enough in Sweden.
Hmmm, a title like "The black album" really does remind me of AC/DC or (worse) Metallica.
NICK: Well, sometimes during a bands career they do their biggest and best album, their "The Black Album", and this is ours…
Actually we had plans to call it "Album Of The Year", but all of the demos we did for this album where called something with the word Black, like "Black Lies", "Black Rain", "Black Smoke", so it was just natural to call it "The Black Album".
Talking about darkness, you do have indeed some dark sound, or?
NICK: Yes, off course, the darkness in our sound is very essential, without the darkness we would be nothing.
I think a big part of the darkness comes from where we live, up in the north, darkness is a way of living.
And in the summer time when we have the chance to enjoy the light and the sun we hang around in dark gothic clubs around Europe…
Is it a coincidence that The Exploding Boy is also a B-side by The Cure?
NICK: Yes…or, well, a long time ago Johan saw this title on the backside of the "In between Days" single by The Cure and he thought it would be a great band name, or for a solo project. He was playing in the band Fake Moss at the time, and several years later when he needed a band name "The Exploding Boy" just popped up….
The Cure or not The Cure, that's the question!
You have played at the Waregem Gothic Festival here in Belgium…any idea why you are so popular in the "black scene"?
NICK: I think it is because of our sound, the melancholic and, actually, the very catchy tunes.
Another thing is that we fill up a gap in music, the gap between indie-pop and goth… we have like our own genre.
I did a nasty thing. I reviewed your album in a splendid way but I also said that you are a band which isn't spoiled by the success and that, for the sake of the music, I do hope you never get that famous….
NICK: That is not our intention, to be the biggest band in the world.
…but, we would like to be the biggest band within the genre, neo post-punk as you called it.
You have to be famous in a way to be able to do this, you need people to buy your records, and to come to the shows, otherwise we could never afford travelling round Europe as we do.
What's your favorite record of all time, and please state why.
NICK: It´s such a hard question, for me personally it could be "First, Last & Always" by The Sisters Of Mercy, "Black Celebration" by Depeche Mode or "Rio" by Duran Duran…or "Kings Of The Wild Frontier by Adam & The Ants.
These albums always end up on my top five… And why…well they are great, and all milestones in different ways.
With whom would you want to be alone in an elevator with for 8 hours, and what would you do?
NICK: God, I would teach him a couple of things….or just beat him up for not making my wishes come true…ha ha.
Do you have a special message to our readers?
NICK: Like always, support the scene, bands, clubs, shops, everything, and The Exploding Boy off course!
Hope to see you soon!
Didier BECU
15/06/2011
---