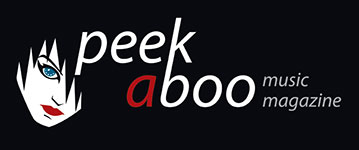 like this interview
---
LA LUNE NOIRE
We are quite ordinary people, who just happened to be dressed in black most of the time.
06/06/2011, Didier BECU
---
La Lune Noire is a Dutch electro wave band with Sven Vogelezang on drums/synthesizers/programming and Victor Verzijl on vocals / guitar / synthesizers.
Inspired by the likes of Gary Numan, Front 242, Killing Joke, Depeche Mode and And One, La Lune Noire reminds you to the new wave era of the 80's, but with a modern sound and their own touch.
In 2009 they released their debut album Nitrogen. A year earlier composer/writer Victor lost both his parents, brother and a friend and got cancer himself. This gave him the inspiration to write new songs with dramatic lyrics, catchy song lines and powerful, yet intimate music. In 2011 their second album Exster was released and the former studio band now turned their eyes to the stage and enough reason for Peek-A-Boo to have a chat with some black talent from Holland.
How did you come up with a name like LA LUNE NOIRE?
The answer is quite simple. All the other names we came up with were already thought of by other bands. We wanted a name that represented the music that we make, the way we dress and who we are (and I think we succeeded). Later we found out that it's also the name of a French comic, but we are not named after that comic.
I hear a lot of influences within your music, but most of all the dark synthpop from the 80's
That's right. The music from the 80's is the music we grew up with and we still love. Think of a combination of Gary Numan, Front 242, The Sound, Depeche mode and Killing Joke and add the new sounds available nowadays and you will end up with La Lune Noire. It's powerful, yet intimate. Wistful, danceable, catchy synth lines, punky guitars, haunting harps and lyrics that really have something to say. All these things are echoes from the 80's that can be found back within the music of La Lune Noire.
The music of the 80's is hot nowadays, does that matter to you?
Not at all. We don't care (and don't know) what is hot and what's not. We just make music because we enjoy making music and our style happens to be electro wave. If grunge was hot again, we'd still make electro wave.
Everything you musically do, you do it on your own. Why is that?
We never really looked for a record company. There are thousands of bands out there looking for a contract and we did not feel the urge to waste much time begging for it. So the simple conclusion was to start our own record company (Svinx Records). That way you have total control over the music, the lay out and distribution. The music is not limited, because someone from a record company tells you what to do and what not. It gives you total freedom. Luckily, we live in the age of digital distribution, so our songs can be downloaded on websites like iTunes and Amazon. You won't find our Cd's in the record stores. The backside of doing everything yourself (including making the video clips, remixing, remastering and designing) is expertise and promotion. We don't own an expensive studio and record everything in Cubase. We did not study to be a music engineer, but we are fast learners.
La Lune Noire is from Holland. Is there still a black scene over there?
Yes! It is not as big as it was years ago, but still there are a lot of people out there dressed in black. We meet them more and more on digital networks like Hyves and Facebook. It's an easy access to meet bands and get acquainted with the music. On the 15th of October we organize our own festival called BLACK-OUT Festival with only electro/wave/synthpop/post punk acts. Let's hope a lot a people turn up and prove my statement above :-)
In Belgium the bands get a six-pack of beer after a gig instead of money. How is the situation in Holland?
Much the same. Luckily we usually get some refunds for travelling expenses. We don't go on stage for the money anyway. We just enjoy doing it. If the show went ok and we can sell some CD's afterwards, we're happy :-) Every penny that we get, goes back into the music anyway (like any hobby, music only costs money), so we don't have the illusion of really making money with our music.
Do you believe you can lift the gothic music (or whatever you want to call it) to a wider audience?
We don't make music with the intention of reaching a wider audience. We just kick on our own sounds and if someone else does so as well, that's fine. We don't think any band can do that anyhow. That's up to the media, DJ's and promoters.
Are you really dark?
We are quite ordinary people, who just happened to be dressed in black most of the time. We are heavily into dark sounds, but also enjoy bands like Madness and Fischer-Z. What is dark anyway?
I understood you were just a studio band before.
That's right. As a studio band, you have all the time to concentrate on writing songs and not 'waste' time on rehearsing for gigs. It also takes a lot of time to mix en master. We really didn't think of going on stage, until someone asked us for a gig, about 2 months prior of the release of the first album Nitrogen. We decided to go ahead and afterwards liked it so much, that several other gigs followed. On the 26th of August we are the support act for Clan of Xymox, which is a show we are really looking forward to. If only Gary Numan would call us as well for a support act (or the other way around), we'd be on cloud 9 :-)
You are organizing your own festival; this is your chance to promote it.
BLACK-OUT Festival will be held on the 25th of October at the Popcentrale in Dordrecht, Holland. For the price of only EUR 5, you'll get to see 6 upcoming new wave/electro/synthpop/post punk/EBM bands: SCHWARZBLUT, LA LUNE NOIRE, MODEL DEPOSE, NAFTA-2, FOOLS OF LIBERTY and BERNARD FATE. More info on the bands and the festival can be found on the website: http://black-out-festival.nl/
What is your favourite record all times and why?
Victor: for me, it's Are 'friends' electric? by Tubeway Army. Perhaps there are better records around, but the music of Gary Numan had such a great impact on my musically awareness. This is the song why I wanted to buy (and bought) a Moog synthesizer and why I wanted to write songs myself.
Sven: I would say Time Wind by Klause Schulze. This album gets you easily into a deep trance, without using any drugs. At high school I used to listen to this song on my headphones and wander away to the mysterious sounds of this album. Still brings back good memories!
With whom wouldn't you mind to spend 8 hours in a closed elevator?
Victor: With my brother. He passed away 3 years ago and 8 hours is by far not long enough to catch up with each other. He missed the fact we made 2 albums, I wrote a song about him (The King is Dead) and never saw us live on stage (as La Lune Noire). We would have so much to talk about. I miss him a lot.
Sven: With Mirjam, my wife and love of my life. I would just like to take the time to enjoy her warmth and love. Just a moment to be alone together. Good idea by the way!
Any last words to Peek-A-Boo?
We love the magazine as much as the song!
Didier BECU
06/06/2011
---