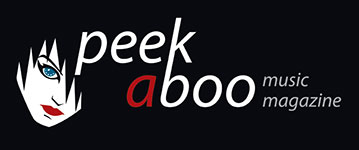 like this interview
---
THE MARCH VIOLETS
I am pretty dark and twisted, and I have a dark sense of humour, but I also like some bright fluffy things and lots of different styles of music.
07/06/2011, Didier BECU
---
Peek-A-Boo is very proud to announce you an interview with a real legend: The March Violets!
Soon you can see those inventors of the real Goth sound at Shadowplay but now it's time for a chat with your favourite magazine (or at least we hope it is!).
Historically seen you are one of the pioneers of the Goth sound. Was there a band that came up first with that sound or was it more like a bunch of bands who were taking the influence from each other's sound?
The Violets were influenced by the music we had been listening to, and that inspired us to make our own kind of noise. We had a soundtrack of Bowie, Punk and the New Wave, U2, Suicide, T Rex, Bauhaus, The Stooges and New Romantic... we also had shit like The Birdy Song, the Smurfs and the Goombay Dance Band to rebel against, and the films and TV of the time, and the horrible political situation at the start of the 80s.
I can't speak for them all, but I don't think that the original 'wave' of bands at that time in the North of England looked at each other and thought "oh that's what we should be doing". We knew each other, and went to the same clubs and gigs. We danced to the same tracks and did the same drugs. But we were all very consciously doing our own thing.
The 'goth' thing was really a tab that was added later, and especially after a bunch of bands that seemed to me to be copies of the original bands had surfaced and stereotyped the sounds. I guess the Sisters were the most copied/parodied, both in style and imagery: usage of that Caslon Antique font must have gone through the roof. There was a flood of drum machine bands in the second half of the eighties who seemed to just totally rip off Depeche and the Sisters. And though I hear quite a bit of the Violets' sound in various bands right up until now, no-one really fancied trying to make the male/female vocal thing happen... too much work really.
You seem to have a clear idea of what you are calling the Goth sound... that's fine, music should have specific resonance with individuals, and certain feels and sounds have special significance, depending on what you were doing when they were your soundtrack.
It's not so obvious to me. I find it a bit more difficult to pin it down. I do hear influences but they relate back to the stuff I mentioned at the start, and they are maybe even second or third generation... music made without actually hearing the original material. I might not have even heard of some of the bands that to you are the obviously important major players in what you are labelling Goth sound. Though I will almost certainly have heard the bands that, if you follow it back, are their true roots, even if they haven't.
God, I am so fucking Old school! I need to get out more.
Is there any specific reason you think, why it all happened in Leeds?
The right people in the right place at the right time. A big mix of students and locals so a very young musically active scene and audience. Lots of Punk attitude, good promoters, amazing bands coming through to influence us and make us want to form our own... You only have to look at some of the gigs to see how important it was: everyone from the Adverts to the Vibrators, the Damned, Gloria Mundi, Penetration, Siouxsie, and Suicide. etc etc. Try October 1978: Ultravox, Wire, The Damned, The Only Ones, Cabaret Voltaire + Joy Division, Wayne County, 999. Plus the Futurama festivals. And close up little sweaty gigs too...if you've seen the Psychedelic Furs or Cramps from 5 foot you have been touched by genius. It inspires.
Your first single has been released on the label by Andrew Eldritch, Merciful Release. Today these things are legendary names but I guess back then it was a complete DIY-thing?
Pretty much. We were just mates doing stuff together and trying to make shit happen. And it did.
Are you still in touch with Andrew Eldritch or not?
Well I've been in the Sisters of Mercy for about 15 years now, so you could say that I'm in touch with him.
Comedy Respect if you print this one Didier!
Don't give a fuck about credibility, you know…so yeah I print this!
With the Goth sound, it was like if music got an extra soul…I mean through musical notes bands let you feel that this isn't a happy world. In England lots of those things were due to Thatcher and her evil decisions. Do you think I can draw the line by saying that somewhere we had to be thankful Maggie for inventing the dark, cold sounds?
I guess the evil which is kind of responsible. The Right Wing Greedy Capitalist "fuck you I'm alright, greed is good" mentality she started, that led to today's utterly rotten corrupt banking/financial situation, had a massive part to play in getting us angry and active. They are back in power, again, in the UK.... And guess what? So are we!
Those sounds were also made with a drum machine, do you still use them these days and did you went that far by giving your drum machine a name?
I still have them in the studio today, and have just finished programming a song for the new Violets LP. Live we tend to use Adat or a computer as the old kit can be a bit flakey... the Linn Drum is from 1983, the Dr Rhythm from 1979!
No, we never really gave it a name, we were just glad it didn't steal our cigarettes or fart in the tour bus like normal drummers. Maybe we should give it a name for this new Album... any suggestions?
"Belgian with stupid questions" would be nice, but then again too dumb, not?
The March Violets were never that much of press darlings. If you see that it's only decades later that this press is seeing you as influential, does this make you bitter?
And twisted! ha ha. We did get some press but didn't join in the game of sucking up to journalists that some bands played. And we never took out an advert, and they don't like that at all. We were pretty indifferent to the press back then, I do prefer doing interviews by email, and it must make your job really easy having the bands write their own stuff?
I'm not a journalist; have to work daily my ass off in a horrible factory.
That's how it should be, not some big journalist ego trip that used to happen, where they make or break a band. You've no idea what wankers most of them were... they would just sit in the bar at the gig and make stuff up or write about their train journey to the interview.
And Classic Rock Magazine just made me an official Cult Hero... Number 36 as it happens. I'm gonna get some t-shirts made!
In fact when you were doing your old stuff back in those old days, were you ever aware that you were creating something that would evoke a whole generation
Nope. It was all an adventure of new highs and firsts... first record, first autograph, first Radio session, first front cover, etc. Of course we believed we were absolutely brilliant and new and innovative, and better than anyone else, every band should think that, if you don't, go and get another job.
You are one of the inventors, so respect to this answer: what does Goth mean to you?
Well, dark and introspective I guess. But I play an awful lot of gigs/festivals and meet a lot of 'goths' and as far as I am concerned they are 99.9% really nice friendly people who are not idiots, not miserable like the stereotype, and never really cause much trouble. Some people don't want to be labelled 'goth' and that is their right. Personally I see 'goth' as a small part of my own personality... I am pretty dark and twisted, and I have a dark sense of humour, but I also like some bright fluffy things and lots of different styles of music. I like new stuff with my old stuff.
I always think it's funny (or sad?) that the country who invented the Goth movement (the UK I mean) is also the country that gives the least respect to these inventors. I mean if you compare Germany and Belgium with the UK…..
I think you are probably right, I've always found that people over here (Germany and Belgium) are a bit more open-minded. The alternative scene in the UK always has to struggle to survive, though the people involved try really hard and have great passion. There seems to be a natural acceptance for the darker moods over here, without the stigma. You know that at the Whitby Gothic Weekend in the UK some arseholes in a hatchback actually shot at Rosie, our female vocalist, and her partner, just for looking different?
Can you imagine yourself that a movement like the one from the Goths could happen today in Leeds or is this just unimaginable?
There is always something new ready to happen.... but it will probably be commercialised and killed within minutes, or be made illegal. I'd like to see it though... a new movement of soul music, some energy and love and real intent.
Soon you'll be performing at the Shadowplay-festival. Tell us what the audience can expect?
I think I'll wear a big hat and stand at the front... Rosie will look very Gorgeous and completely upstage me, Tom will play some incredible spikey Guitar, Jo Violet will throb on her bass and look sexy as only chick bass players can, and we will unbelievably sound exactly the same as we did in 1982 (or better). We'll play a lot of stuff from the singles, and some new songs from the forthcoming EP 'Love Will Kill You'.
What's your favourite record of all time and please state why?
I'm picking 2 just to be awkward
The Psychedelic Furs - Beautiful Chaos - Because it's all good.
David Bowie - Hunky Dory - Perfect Pop
(These aren't really my all time favourites... I want to keep some things secret)
With whom wouldn't you mind to be alone with in an elevator for 8 hours and what would you do then?
Kylie Minogue, and then I'd probably take a shower.
Any special message to our readers?
Play Loud Play Purple
FAVOURITE MAN: Lord Buckley (look him up)
FAVOURITE WOMAN: Cleopatra
FAVOURITE MOVIE: Mad Max 2
FAVOURITE BOOK: the AA book of British Birds
FAVOURITE COLOUR:Blue and Gold
FAVOURITE PLACE TO GO:For a Curry
FAVOURITE CARTOONCHARACTER: Stimpy, no, Ren, no Stimpy
Didier BECU
07/06/2011
---
Nederlandstalig interview via de Dark Entries website.
Didier BECU
07/06/2011
---