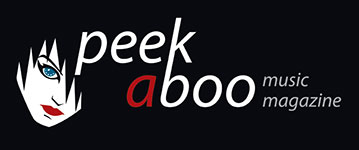 like this interview
---
RADICAL G
It ain't easy but difficult is also an option, right?
26/06/2011, Didier BECU
photos: © KOVASPHOTOGRAPHY
---
RadicalG. Famous in America, neglected (so far) in his home country. RadicalG puts his latest efforts in a new album that will soon be out according to Glenn...
Glenn, not everyone knows who RadicalG is, so here's your chance!
RadicalG, euhm solo project, dark, electronic, mysterious, spooky, sensual music to dance to, a gloomy atmosphere hooked up with many genres from EBM, ELEKTRO, little twist of INDUSTRIAL and TECHNO.
It's a total concept, hard to put in a genre, a stand alone project which reminds you of the good old days of the 80's and elektro stuff supported by a stunning VISUAL.
Am I right thinking that RadicalG is the project of one man alone?
Actually it is, I got some help from people around me, but speaking of the musical part, yes it's a solo thing.
The Black and white gimmick with the ears was a photoshop joke from my best friend, damn, you see where those things end up! Right now i'm performing in black and white make up with this pointing ears on stage, I'm a clown (laugh) seriously, I did the whole musical production by myself, with a little help from my machines and a lot of courage.
Of course the live performance sounds more dry. It's very hard to take the whole studio with me on stage, it may look big and nice but ,to be honest , it doesn't mean more live at all.
I chose the compact Ableton solution combined with the most necessary Synths I use in studio, a Nordrack2, and a Poly evolver, an analogue filtermachine, a Akai controller, my TC Fireworkx for my vocals and a zero latency motu interface.
The easiest set up ever, i guess, but oh so effective on stage.
It seems like you've been influenced by everything, as long as it is electronic?
Yes that's almost right, I do listen to a lot of electronic stuff but I do got love some heavy rock music, as long I can understand what they're singing about, but the main influence is from the electronic 80's period I agree.
Don't get me wrong, I'm a concert lover when the schedule lets me be. e.g. I recently went to see Jamiroquai & Sade, great artists and the week later I saw Combichrist and Nitzer Ebb, I like a lot, as long as I'm in the right mood for it.
You also got the recognition from contemporary electronic übermeisters like Dave Clarke or Laurent Garnier. Such things must flatter your ego or is it in the end just music?
Well it is strange, I never had the intention of ending up in Bigtime players charts but sometimes (yeah often) it happens, I think major players like Dave still have their musical knowledge from the early electronic days, maybe thats why he likes some of my stuff.
RadicalG sounds 80's but is an active present concept of today, and totally different from what we hear these days. Its so large , I love dark vocal songs but I can also do a straight-on electro song like "Dinner with Satan", so difficult to put a stamp on my music, electronic?
Yes sort of, alternative? In a way yes of course, Electro? ahhhhh… whatever, I just make MY MUSIC so call it what you want, spread it !!!
You seem quite interested in the 80's sound as well.
I'm pretty sure those days were gold, music had a meaning, artists were allowed to put their opinion in their music, thats why there's so much feeling inside. Everything has a start, and the elektro revival keeps going on, I wish I was born 10 years earlier, it probably would have been easier for RadicalG to promote his music for sure.
RadicalG's an international act, even touring South America, is this great experience for a small Belgian?
Yes it is definitely, it's a hard life don't get me wrong, people think that playing in another continent is like taking a plane, get off, and play and party.
I have to disappoint them, but it is the most coolest thing in the world, entertaining people or even better, make people listen to your music, people you never met before, people who've never seen your name before.
By the way: Brazil was rough and heavy, Rock 'n roll has a different meaning over there. (laughs)
You supported Lords Of Acid and you have remixed one of their tracks, so I guess you're pretty close?
Yes, I remixed their next single "little mighty rabbit" from the forthcoming album. I supported them during their US tour in March this year, I played full packed venues in cities all over the USA, we did like 18.000 kilometers in 27 days and 24 shows.
It was so much fun to tour with them, I won't go into detail on this one but people who never've seen a Lords Of Acid show need to see one, AMAZINGLY CRAZY for sure, I don't need to tell you more with Youtube around right?
One thing is sure, US loved RadicalG and the most important thing on this tour was to spread my music in the biggest country in the world, let's hope we can close the license deal asap to get the album out there as well, I wanna hit the US again with a tour, and not as support this time (laughs again).
There's so much great Belgian stuff if only our narrow minded press would open their closed eyes?
Uhu , we should be famous outside Belgium to return back here and get some recognition, I just can't see why, if they want to book me next year over here they probably pay 4 times the fee proposed today, and the funny thing is, it works: strange. I don't really care, I just keep producing my music, that's my job right?
I'll get an update from my manager every month, it's always a surprise where I end up, but rarely in Belgium, I can tell you we got some shows in Belgium in September to promote the album, October I'm off again for a US tour and I will tour JAPAN for sure, did I tell you I 'm leaving belgium this year? Ill send you a postcard man
Great, choose an exotic place then! There's also a new album coming out. Tell us about that?
Long story by now, but yes September it is, "Darkness falls" will be available in stores and digital on all platforms. It's going to be released under Sonicangel, distributed by PIAS for europe.
The album itself contains 4 songs from my former album but reworked and mixed again and 7 new songs and yes, don't tell me its dark, I know, I produced this album in one of the toughest periods of my life, but it sounds fresh and unique. The boring straight-on bleeps these days makes me sleepy on a dancefloor or concert hall, electronic music lost some identity these days, and thats what I'm trying to avoid with a diversity of genres on my album, "Resistance in me", "Justice failed today" and "commander of the wheel" are below 110 bpm, in compare to other songs of 132 bpm, ah you know what I mean…
I can tell the electronic fans already there's an full electronic remixed album coming out (digital exclusive) with all kind of RadicalG'ness' remixed and songs I've remixed lately for other artists as well and I'm working already on my new EP, but I guess it will be an exclusive US release.
Where do you see yourself in 5/ 10 years?
There's one thing I learned in life, I never look into the far future. God knows what's waiting for me over there, I enjoy every day in life, doing what I like. It ain't easy, but difficult is also an option right?
What's your favourite record of all time and why.
Hard one, (think) "Depeche mode" for sure, I guess "in your room" or "never let me down again" are grifted in my brains, AMEN
Who would you not mind being alone with in an elevator for 8 hours and what would you do?
GOD! I would ask him why he made such mistakes in the creation of our humanity.
If he can't be there for this appointment, I'll just keep waiting in that elevator until he shows up but i need to know the answer, such a bummer.
Didier BECU
26/06/2011
---