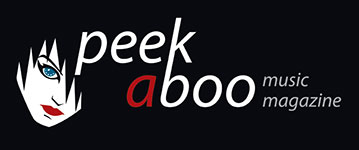 like this interview
---
MERCIFUL NUNS
Bands which are generally associated with the Goth genre nowadays, I don't really like.
24/06/2011, Didier BECU
---
I said Merciful Nuns were one of the last goth-Mohicans and leader Artaud even agreed. Still some week to go and they're on the Shadowplay Festival, but now they're on Peek-A-Boo for an indepth interview!
Dear Artaud, exactly twenty years ago you started with The Garden Of Delight. I see you as a sort of goth icon, someone who never gave up on his own dreams. How do you see those twenty years?
Artaud:Thanks. Well, 20 years seems to be a long time, but in fact its just a glimse of time in face of the aeons.
To someone like you, I absolutely have to ask. What does goth mean to you?
Artaud: If you are referring to the musical and cultural roots of Goth, then it means a lot to me but if I look at what has been done to it over the years then it doesn't bear any relation to what once held a deeply rooted fascination for me.
In this particular sense I have taken my leave from the scene a long time ago. Bands which are generally associated with the Goth genre nowadays I don't really like. Worse still, many of them I find even embarrassing. It's simply too colourful and superficial for my liking. Perhaps it is for that very reason that I felt inclined to write albums – to rekindle that which I felt had been lost. A sense of departure, a renaissance of unexplored musical and spiritual levels. Preserved and transformed from a time before time, even before the Goth genre was defined, when it was still conviction.
If I hear your music, I always feel like if you're trying to create some atmosphere rather than writing a song for the song's sake. If you are in your writing process, what are your inspirations?
Artaud: It may sound a bit arrogant but ultimately all I had to do was focus on myself, my feelings and perceptions in light of the debut album Lib.I, in conjunction with reflections upon the passage of time from the very beginning of my musical career and let it all flow out pure and unhindered. That's how Hypogeum II was incepted.
This might sound strange but your lyrics often deal with mythology. Do you think that the listener really has to be interested in that, to taste your music at a maximum? To be quite honest with you, I enjoy your band so much, but, in all honesty, I rarely know what's it all about!
Artaud: We offer both: the musical side as well as – you called it – the mythology side. My passion for spiritual themes and religion of any kind is based on one fundamental question:
Where do we come from? As soon as we delve into this question deeper and liberate ourselves from the idea that everything here on Earth happened through sheer coincidence, we invariably arrive at the conclusion that all forms of religion and faith generally have a common denominator.
This common source I call "Ur-Mythos" – archetypal myth in English - the original and pristine faith founded upon time honoured knowledge. Parallels between the early civilisations of ancient Sumer and Egypt, Neolithic cultures, the Maya etc. are convincing and irrefutable; so much so that I find the insularity of localised religion rather incomprehensible. For me, occultism doesn't even come into the equation, for occultism thrives exclusively in the shadow of Christianity.
It is, effectively, a Christian interpretation of evil; and since I categorically reject Christianity as a viable world-theory I could not possibly entertain its interpretation of evil. Most world religions are based on the interpretation of the written word; and herein we find the cardinal flaw! Interpretation is a tool of people for the people.
On the one hand it is meant to be simple and easy to comprehend yet intimidating and power preserving on the other. The archetypal myth, however is complex and thus difficult to comprehend. In this sense I much rather pitch the truth as conveyed in more closely related theories against it: Theories, traditions and legends from antediluvian times and in parallel with many of the early civilisations.
For example: is it so inconceivable that God could have been an antediluvian astronaut? A traveller, a missionary, a human being far advanced compared to us? In virtually all religious and cultural traditions we find irrefutable evidence for visitations from human-like "teachers" or "Gods". As I said: a theory… but does anyone really still seriously believe that we are all alone in the great expanses of the cosmos?
Sometimes people refer to the term "old school goth rock" when it comes to your music. Personally I think that's the best respect they can give you?
Artaud: You can see it as reminiscent of a time during which I discovered my passion for music.
We have to be honest, Goth rockers are a dying breed. Ever feel like you're one of the last goth-mohicans?
Artaud: Well I thought I really am indeed the last of the lost ones, but from the very start of The Nuns we got a tremendous response from all over the world and I am very pleased with the positive reaction and the overwhelming selling of the Nuns stuff.
Is the situation different in Germany?
Artaud: No, it's the same all over.
The band released quite a lot in a short time. It seems like you're having the time of your life?
Artaud: Obviously I am obsessed by doing good quality music.
To ask you something about Sisters Of Mercy. Can you imagine yourself touring for decades without releasing anything new?
Artaud: No. But in case of the Sisters it works. However, why?
I'm always thrilled to know the answer to this question, simply because I'm trying to find the answer myself. What attracts you to the dark things of life?
Artaud: Nothing. I only search for truth. The reason why we all are here as mentioned above. Even though my lyrics are often imbued with themes of the great beyond, I am nonetheless sufficiently awake to recognise the beauty of the here and now.
What are the immediate future plans for Merciful Nuns?
Artaud: Actually we play a few summer Festivals and after we will publish a special DVD/CD work which includes a full concert taken from the Berlin gig as well as some kind of an emotional soundtrack.
You soon will be at Shadowplay Festival, what can we expect?
Artaud: Hopefully a good show of course. Don't miss it!
What's your favourite record of all time and why?
Artaud: I don't have any specific record, but in the light of the upcoming Shadowplay Festival I will name the "Unknown Pleasure" Album from Joy Division. As far as I can remember this was my first album which we can later refer to as Goth.
Who wouldn't you mind being alone with in an elevator for 8 hours and what would you do?
Artaud: Forget this, I'll take the stairs.
Didier BECU
24/06/2011
---