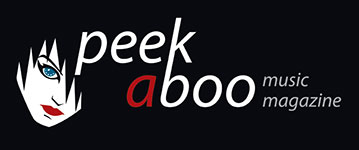 like this interview
---
TECH NOMADER
In Spain logical things do not exist.
01/07/2011, Didier BECU
---
Do you like old school EBM? A band that contains the rhythm of Nitzer Ebb and has the raw power of Prager Handgriff? Then you have to give Spanish Tech Nomader a chance. So, Peek-A-Boo decided to talk to them.
Hello, begin by telling us who you are?
Jordi: Tech Nomader are Jordi J.P and Tommy "Herr Culet". We actually live in Barcelona. I was born in this city, but when I was 7 years old my family moved to Venezuela, so my culture/idiosincrasy is a 'mix', kinda weird for some Spanish people. I'm actually 34, a solitary man with a strong inner self game.
Tommy: Good morning Peek-A-Boo-Magazine!
Thanks for your interest in Tech Nomader. If I understand your question well the answer should be: We are Tech Nomader, right? How many points does the right answer count in this test? just 90?
Your sound is definitely an old school EBM-one. Is it the kind of genre you always have been in love with?
J: Well.... my very first musical touch was not related with EBM, but the same spirit or vitality. I've heard EBM (Ionic Vision, Nitzer Ebb, Orange Sector, etc) in the year 2000 more or less, after that moment my musical taste derived into the actual stuff.
T: Jordi and me are getting old, this is true. We both love EBM, this is also true. But we both hate school. Remembering the past, the damn good old days we had to go to school, EBM has been created. On my back there is a tattoo which says: "Love Music - Hate School" (to hate fascism is obligatory and not worth a tattoo).
To be honest, I described you as a band without any wish for innovation but a class band who succeed in writing memorable tunes.
J: Yes, you hit the idea. We just want to have our own "band sign", our own band sounds, not to create a new 'EBM style' neither innovation. We love to follow the rythms and beat ideas created in the 80's-90's but mixed with the actual sounds.
T: Thanks for the wonderful verbal flowers. Nobody ever said nice words like you before!. Besides I am sure that nobody will ever forget any contact with Jordi. He is the responsible one who should be mentioned in the first place and therefore memorized.
You're definitely a band who has something to say. Can you tell us what "Joseph Guillotin" is all about?
J: We decided to make that song after a concert in Marseille, kinda "tribute" to that memorable and wonderfull gig. "Joseph Guillotin" is just a funny song about the guy who designed the Guillotine, but instead of putting criminals into the beheading artifact, he puts all his fans.
You recently released your debut "Domotica" on EK Products. Excellent stuff if you ask me, how were the reactions?
J:Thanks a lot for your words on the CD review. I think people liked this new release more than our first album. All of them concluded it has better sound and stronger attitude. Tech Nomader is constantly improving tunes and growing step by step, and now we have consolidated ideas wich are not reflected on "Domótica" but those will be into the next album!
T: "Domotica" is our first (and last ;o) Album released by E|K - Elektro Kommando but our debut is "New Seed" released by Electric Tremor Dessau (and sold out). The fans of Tech Nomader always have been adorable fans and therefore their feedback, which is our energy to continue, is again incredibly positive.
You're from Barcelona. Is there something like an EBM-scene over there?
T: My origins are in Austria. Sure, maybe there are 20 Fans of old school EBM in Austria. Jordi presented me to EBM-freaks which are spread all over Spain. It´s an excellent scene, I really love the Iberian EBM-stompers.
J: Definitively not. We can talk about a dark scene, gothic scene in general, but not EBM-scene in Barcelona. We can count the local EBM bands with the fingers of one hand, and the fans who constantly follow this bands with two hands.
The biggest scene here is dedicated to other kind of genres, more like... harsh electro, gothic rock, alternative, etc. Have a night out in a Spanish gothic club and you will notice: maybe 2 or 3 EBM classic tunes against 50 different styles... maybe 1 or 2 EBMers dancing between 50 dark-goths. But usually its less than that.
On a song like "Liebe und Schmerz" you sing in German, not such a logical thing to do for a Spanish band?
T: Jordi's favourite German word is "Sitzpinkler" (he knows many more dirty words). He has a lot of friends in Germany and his best German teacher lives quite close to him: me. Besides in Spain logical things do not exist.
J: I sing that song in German just because Tommy teaches me how to do it. We make songs in Spanish, German and English. Our next album will be just German / Spanish, our native languages.
No more English for the next release!
You also worked with Autodafeh. How did you get in touch?
T: Did we?
J: In the times of "Domótica" release one of the remixers had a problem with the label, Then the label decided to delete their song from our album. We did not want to have less songs on the album and then we were forced to search urgently for another remixer. We asked for this favour to the closest people at the time, and Mika Rossi (the mastering technician of the album and a band member of Autodafeh) accepted the proposal. Thanks to this band we saved the song's slot.
What's your favourite record of all time and why?
J: This is a difficult question. The answer changes from time to time. Right now maybe is.... Nitzer Ebb "That Total Age" due to the highest quantity of musical ideas it brings to me (clanging percussion, aggressive bass riffs, vocal arrangements, upbeat tempos, etc)
T: Jimi plays Monterey - because Jimi had sex with his burning electric guitar
Who wouldn't you mind being alone with in an elevator for 8 hours and what would you do?
T: Not with Jimi Hendrix and his burning Stratocaster but I wouldn´t mind being alone with Salvador Dalí. Being alone with Kapitän Rummelsnuff could be nice too. He knows a lot of traditional songs which could be sung to shorten the time until the rescue-team arrived.
J: 8 hours inside that boring machine? I swear you I will not be more than 30 minutes inside that shit, I will scream, fart and piss so hard all around that the people outside will think there's a strange creature inside. It can be dangerous for anybody to get hung-up with me in that stupid elevator, so... I would prefer to be alone during the situation.
Do you have a special message to the readers?
J: Joseph Guillotin is still watching your movements, I swear you will not escape from his beheading machine. Take care! You can be the next Tech Nomader's inspirational idea. We need you guys! The reich of the beheadings sooner or later will conquer the world. Thanks a lot and keep in touch!
T: This week is the Gay Pride in Barcelona and if you know the Lyrics to our song "Nomad" you maybe understood the words "... non-Nomads are gay". These lyrics do not exclude that Nomads cannot be gay. Important is not the sexual attitude, important is to stomp and party all together!
Didier BECU
01/07/2011
---