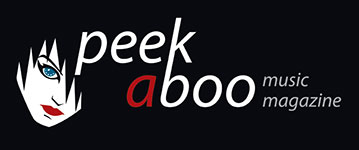 like this interview

---
NO MORE
'We are preparing a mind blowing show of raw, pure Rock'n'Roll.'
28/09/2017, Sophi KATZ
---
In 1981, this German band landed the underground hit-single SUICIDE COMMANDO, which spread internationally like a virus regardless of genre and scene. Whether in New York's Limelight or in any European indie-club, at the Love Parade in Berlin or on the soundtrack to the subway graffiti artists' movie "Dirty Handz": "Suicide Commando" was played everywhere and reached a status that made the track feasible for prominent remixers like DJ Hell, DJ Vitalic and Echopark.
At the end of 2008 NO MORE (condensed into the duo Tina Sanudakura and Andy Schwarz) got back on stage after a short hiatus of 22 years. They started to play successfully all over Europe from Stockholm to Paris, from Warsaw to Rome, from Athens to Copenhagen, from the BIMfest in Antwerp to the M'era Luna Festival in Germany.
Right on time for the release of their first "real" album since 1986 - MIDNIGHT PEOPLE & LO-LIFE STARS - they supported DAF on their German tour. Inspired by their tour across Europe, NO MORE present their impressions in the best Gonzo-journalism manner and with their unambiguous and "clearly defined" Post-Punk-Electronica-Kraut-Glam. One was again reminded of the early NME quote in 1982: "young Germans who appear to have fallen out of Lou Reed's Berlin album".
NO MORE return to the incantation, the mantra, the loop with the album SISYPHUS in 2012. SISYPHUS, clearly gloomier than the preceding albums, is best compared to NO MORE's 1982 cult album A ROSE IS A ROSE.
In 2015 NO MORE presented the third album of their second Spring: SILENCE & REVOLT. The band was founded in 1979 – a time that in music stood for change and innovation. Punk and New Wave swept away the 70s, and NO MORE was part of it from the very beginning. Today's music scene, however, has long forfeited any claim to a signature style. Andy Schwarz and Tina Sanudakura ask themselves:"What do we miss most?" The answer is: Pop! For Tina Sanudakura and Andy Schwarz this realisation was one of the departure points for the new album "Silence & Revolt". Melancholic euphoria or euphoric melancholy? So it is hardly surprising that these two musicians apply different standards to the concept of Pop than the mainstream lemmings.
In contrast to "Sisyphus", which is based on repetitive loops, NO MORE now also use traditional song structures. "Silence & Revolt" presents a sound liberated from the constraints of time.
Andy Schwarz - vocals, guitars, bass, percussion, programming
Tina Sanudakura - keyboards, theremin, der grüne kreis, electronika, programming
Let's shake, rattle and roll…
How did you came up with the name No More?
Tina: It refers to the Stranglers song "No More Heroes" but we thought that Heroes narrowed it down, so we dropped the Heroes.
Andy: Fatal decision but sometimes you have to stand by your mistakes.
Which bands or artists have affected you the most so far?
Tina: Bowie, Eno, Roxy Music, Velvet Underground, Dylan, Public Image, Johnny Cash. But it's not so much about the bands, it's more about their principles, the perspective and their techniques to grab the Zeitgeist or something like that.
What are your songs about and do you hold back things you would like to scream out or you just go for it?
Andy: They can be about everything but I have to say that I don't fancy that question. If I would answer: the songs are about love - it wouldn't say anything about them except that they are about love. A song isn't better just because it is based on "real" feelings.
Have you ever been in other bands/projects before besides Nijinsky Style?
Tina: We were in bands at school.
Andy: At the beginning of NO MORE, I joined Kiel's first Punk band "No Horizon" and after that another Kiel band "Inzucht Und Ordnung" but only for a short time
Would you like to start an other band/project alone or with others? In which genre?
Andy: No.
Which kind of music do you like to listen to? Any guilty pleasures you want to share with us?
Tina: Except for the all time favourites, it changes from time to time. At the moment it's a lot early 60s / late 50s stuff.
The Belgian band Suicide Commando took their band's name from a No More song, which is a classic hit, do you like their music?
Andy: We played with them once and we were impressed and really enjoyed it. But for me it's more a live thing. I wouldn't listen to it much at home.
Which instruments do you play besides a guitar and bass and which instruments would you like to learn to play?
Tina: I play keyboards and theremin but I would like to learn and play bass.
Andy: Piano. I love playing piano although I can't.
Do you miss the time in the 80s or do you enjoy this time as much to perform your shows?
Tina: Maybe I miss being young but THE 80s, whatever that is, no.
Andy: I definitely have more fun nowadays.
How was the atmosphere when you had just started with No More at the end of the 70s and what motivated you to bring music out into this world?
Andy: There was a certain greyness in the air. There was the German Autumn (Der Deutsche Herbst) with all the terror attacks, kidnapping and so on. And this bleakness went on. So the British punk movement came right on time for us.
Tina: We thought: this is it. You don't have to rehearse for years, you can go out and just do it. Not only play music but also record, produce, distribute and so on. So we did.
Are you more inspired during the day or during the night to write lyrics and make music?
Andy: Inspiration is overrated and more or less a romantic construction. It's work. Inspiration is for bongo players. At least most of the time. So the daytime doesn't matter to me.
Are you working on a new album we can expect soon?
Tina: At the moment we're thinking about a lot of things and how to do them. That's all I can say at the moment.
If it was up to you would you like to release music on CDs, vinyl or cassette and why?
Andy: I would like to have CDs that have the size of a 7" single - because you could have nice cover art - and that didn't allow more than 45 minutes of music - because it forces the artist to focus on the essential things - maybe in 24 bit and 96 kHz quality - for more listening pleasure.
People that don't know our subculture / underground scene have a certain vision of it, how do you think they come to such a way of thinking?
Tina: I don't know what "they" are thinking, so I can't say anything about it.
Andy: I don't think there is something like "our" underground scene. At least I don't feel like being a part of something like that.
Who would you like to direct and shoot your music videos if you could choose?
Tina: Us.
Any artists who you lwould ike to collaborate with for the cover of your music album?
Andy: Andy Warhol.
Tina: Karl Lagerfeld.
How is it going on stage and what was the most memorabele night and why?
Andy: Sweat, adrenaline, euphoria, breaking hearts and being together, that's what it's about. Every night should be memorable.
With which bands would you like to go on tour?
Andy: I would like to tour with Lana Del Rey. She's great and the only Pop star at the moment.
In which country would you like to play when you are on tour and do you prefer to play for a small audience or big audience and festivals or in a club?
Tina: We make the best of every situation, there are pros and cons for each.
Andy: I agree. I really would like to play in Romania, Israel, Argentina and the UK.
Are you excited to perform at BIMfest 2017 in December and are you preparing a mind blowing show or a raw, pure, "rock and roll" gig?
Tina: One of our first gigs after our coming back in 2008 was at BIMfest and we're still grateful that they gave us the chance to perform. So we're really looking forward to it.
Andy: We are preparing a mind blowing show of raw, pure Rock'n'Roll.
What are your personal thoughts on our subculture these days? What would you like to see differently or do you prefer that it stay like it is?
Andy: I don't think about such things anymore, this is something we did in the 80s. One should think about more important things.
If you could design a game which kind of game would it be and which character would you choose to be?
Tina: We're interested in a lot of things except games and rap.
https://nomore.bandcamp.com
Sophi KATZ
28/09/2017
---