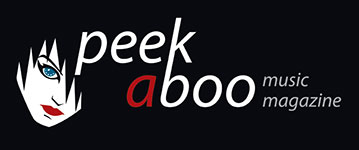 like this interview
---
NO MORE
We still have that D.I.Y. and the "You say this is impossible - ok, let's try it" - attitude.
29/09/2015, Didier BECU
photos: © Marquis(pi)X
---
Of course you know Suicide Commando, that song! But do you know the band? They're named No More and they have a superb new album out! So definitely time for a chat with Tina and Andy from Kiel, Germany!
Hello, this year No More celebrated its 36th (!) birthday. That's a quite long history. How would you describe this period?
Tina: This is somewhat true, but we had a short break of 22 years in between. There's No More "Mark I" from 1979 to 1986 and "Mark II" from 2008 up to now. We only did some reworks and new songs for the Remake/Remodel Compilation in 2006. So there are the first 7 years and the second 7 years.
Andy: We don't live in the past, but the early years are still with us. It was exciting, especially the very beginning. It was an incredibly fast time. Within a few months we played, released tapes and records, made a fanzine, organized festivals and so on. We were lucky to start in such an exciting time, but we could have done better, in many ways and for various reasons.
Tina: So here we are again, trying to fail better this time.
Andy: Our second spring is as exciting as the beginning of No More, because we do so many things we've never done before.
Your early sound is described as post punk, when reviewing your newest album I had (well) post punk in mind. Do you think you changed a lot in style and attitude?
Andy: Yes and no. During the first 7 years we changed style so many times. You may call it all post punk, but it ranged from punkish no wave to more electronic minimalism to some kind of dark wave and everything in between. Nowadays we know how to include all the things we're interested in without having to make sudden and drastic changes in style.
Tina: But we don't deny our past, so there are still ingredients from the "good old days" that we use today, as long as they don't smell funny.
Andy: As for the attitude, we still have that D.I.Y. and the "You say this is impossible - OK, let's try it" attitude.
Tina: But we are far more relaxed now because we knew right from the start that it would be a marathon.
No More is a German band, but if I didn't know it, I would never associate you with a German sound. Agree?
Tina: It's not up to us to decide that.
Let's talk about THAT single, Suicide Commando. Do you consider this song as a curse or a blessing? I mean, most people think it's the only song you wrote!
Andy: A lot of people who love the song, don't even know that's a No More song. Without that song we wouldn't have the opportunity to do what we do now.
Tina: Let's say that it's a blessing and a challenge.
No More is Andy and Tina. Can you tell us how you work? Is it a collaboration, or a melting pot of ideas that need to merge?
Tina: One of us has a basic idea and then we build up step by step. We usually don't fight about the ideas as such, only about the way how to work them out.
Andy: Sometimes this basic idea already contains everything and you only care about the details. Sometimes we only have the feeling that it could be something worthwhile, but don't know where it will lead us.

You have a new album out: Silence & Revolt. How are the reactions, and of course you will say it's the best thing you've done so far!
Andy: There's no reason to release an album if you don't think it's the best work you did so far.
Tina: We were surprised that people especially like the "pop factor" of the album and nearly all reviews so far were enthusiastic.

Strange title…Silence & Revolt. How can you be silent, but revolting?
Andy: It depends on the context. When Erdem Gündüz - the standing man - did his silent revolt by just standing on the Taksim Square during the Gezi Park protests, it was a strong form of revolt. Authorities have no excuse for doing something against this form of protest and when they do, they reveal their true face. While protesting in the "usual way" gives them an excuse to react in a violent way. But on the other hand this only works when you make this form of protest noticeable, for example via the social media.
Tina: Revolt seems to be connected with noise. But when everybody screams, silence gets the attention.
Andy: You may also revolt in silence just by doing things differently. Sometimes action speaks louder than words.
Tina: But there are more possible interpretations of "Silence & Revolt". It's only a starting point for your own thoughts.
According to the band you make pop. In a way you do, I guess, do you miss pop these days in music?
Andy: I miss "real" pop songs. Pop doesn't just mean "nice singalong tune". A real pop song can have a social resonance field, it can shake your inner self, it can give this moment of "now I've got it". It can become part of the soundtrack of your life. And it's an individual experience that you can share with others.
Apart from pop, I also hear quite a lot of psychedelic music. In fact I always did in your music, do you think No More is in some way a psychedelic band?
Andy: We're not into drugs and never have been. I wonder if you could make psychedelic music without them.
Tina: Sometimes people tell us that our music has a visual quality that evokes images and emotional landscapes. But I wouldn't call it psychedelic.
I noticed you played this album in Germany. Any chance for seeing you in other countries too?
Tina: We've been touring a lot all over Europe during the last years and we will try to do so with this album as well.
For a band that has been 36 years around and probably saw it all, what's the difference between the music scene now and then?
Andy: We were young and stupid. Now we are old and wise.
Tina: So you see, you can't have it all.
Andy: The game is more or less the same, for good and for bad. Times may be a bit harder now, but we've always been and still are underground, so we know how to deal with it.
Tina: Playing live is so much better than in the 80s. In the beginning it was a mix between excitement and agression. That was OK, but it soon turned into "Everybody's cool"; bands and audience. That spoiled the fun. Nowadays we don't pretend to be cool anymore. And with an audience that usually gives us a warm welcome, it's so much more fun.
Andy: Music doesn't seem to be that important to people's lifes anymore, because there are less connections to social and political issues. There's no teenage revolution and therefore you don't need a danceable solution.
Tina: So you have to work harder to get things going. But that's OK with us.
Well, we end with some funny questions. What's your favourite record of all time and please state why!
Andy: Come on, it was already hard to choose ten albums that changed our lifes (editor laughs). OK, I choose "Evening Star" by Fripp and Eno. It still brings back this feeling of being a teenager, sitting by the window after school and dreaming away.
Tina: Bowie's "The Rise and Fall of Ziggy Stardust and the Spiders from Mars", because it's the only timemachine I can afford.

With whom wouldn't you mind to be alone with in an elevator for 8 hours and what would you do then?
Andy: Lana Del Rey, we would play twister and sing Burt Bacharach songs.
Tina: Gerhard Richter, teaching me how to paint.

The final words are yours….
Tina: The best is yet to come!
Andy: Always!
Didier BECU
29/09/2015
---