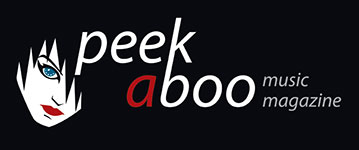 like this interview
---
GOD MODULE
It's just a long process involving many hours producing and making an insane amount of small changes until it gets to the point I have to make myself stop and consider the song 'done' before I lose my mind...
25/09/2015, Britta Tabrit
---
God Module is back with a brand new album and an upcoming tour, so Britta thought it was a good idea to talk with Jasyn Bangert!

Tell me about your year 2015 – about the fondest memories but also about the disappointments so far.
This year has been full of a lot of ups and downs for me. In April I had to undergo a second surgery on my neck to fix an issue with my spinal column. This was within a year of the first surgery I had for this issue which caused us to regrettably cancel a few European festival dates, including Wave Gothic Treffen in 2014. Sometimes great things emerge out of tragic and upsetting situations and that is what I believe happened in regards to the new record Prophecy. When all was said and done, the year ended on a high note. I made a full recovery from a very sketchy situation and now I have a new record that I am very proud of and I am going back on tour very soon to promote it.
You are about to release the new album on October 16th on Metropolis Records. It's called Prophecy. What's the prophecy of this record?
If there was one, it would be that everything passes, but nothing ever truly ends.
I have had the chance to pre-listen to Prophecy. Really brilliant stuff! Describe how "making music" works, practically spoken.
Personally, I have to have some sort of inspiration that I can draw from to start the process. The rhythms, melodies and hooks in any song I write have to be in my head before I can put them into music. At that point I use various hardware and software synths/samplers to translate those ideas into music. When I feel the structure of a song is almost complete, I use the feelings I get from listening to the song to come up with what I want the track to be based on lyrically. After the words are written and recorded, it's just a long process involving many hours producing and making an insane amount of small changes until it gets to the point I have to stop myself and consider the song 'done' before I lose my mind (laughs!).
I would say the album is quite fast and powerful. Tell our readers how different it is to previous albums.
I think this record has some of the hardest tracks and some of the older more melodic songs I have put out in a long time. It is really all over the place and that is simply a reflection of where my mind was at the time I wrote it. I think that lyrically, it is less personal than a lot of God Module material because what I was dealing with at the time was so personal that I needed to escape a little inside my head. There are stronger sci-fi elements in some of the lyrics than there have been since the first album Artificial, but I don't think there is one major theme running throughout the record. This in itself makes the album different from previous releases such as Empath and Séance.
You are soon touring the US. How many shows are planned? What can your fans expect?
We are doing 34 shows in North America, starting late September and ending in early November. This shows will be very visual. We have new lights and props that will help out. Musically, I would love to just play the new record, but I personally know how much that sucks when you go see a band and they play too much new stuff before you have a chance to get to know it. So, we will keep it down to 2 or 3 new songs a night ,mixed with songs we know people want to hear from all of our past releases.
Is there anything else planned? Some more gigs in Europe maybe? Festivals?
Yes! We will be playing the Dark Munich Festival in April and around that time we will also be doing another date in Germany and a short tour of the UK. We are also trying to add a couple of other festival dates in Europe to our plans for next summer.
Does it make any difference whether you play in America or abroad when it comes to the fans, venues etc.?
Aside from us not being as active in Europe the last few years as we would like to be and missing performing overseas, I think it is about the same. There are some amazing places to play and some not so amazing ones everywhere we have played over the years. The fans make it worth doing. We appreciate the support of everyone who buys our music and merch or comes out to see us live. Without this, I couldn't do what I do and for that I am very grateful!
Which bands influenced you the most?
The Cure, Skinny Puppy, Depeche Mode, The Misfits (Danzig), Front 242, Gary Numan and the list goes on and on...
One last thing: Tell us your life motto!
Not to rip off Aleister Crowley too much, but I am a firm believer of doing whatever you want as long as it makes you happy and doesn't hurt anyone else. The most annoying thing in the world to me is when people push what they believe is right or the way things should be on to other people. I honestly could not care what anyone wants to believe in as long as they keep it to themselves and do not use it as an excuse to be an asshole. Sadly that is not the case with 90% of the human population on this planet.
God Module on Facebook: https://www.facebook.com/godmodule?fref=ts
Britta Tabrit
25/09/2015
---