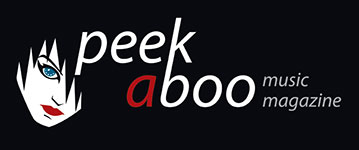 like this interview

---
MODE MODERNE
We make NEW music, we wear leather jackets, we put pins on our jackets and cardigans and do drugs in graveyards
03/01/2014, Didier BECU
---
As the band say themselves: in music you can discover the music from big bands, but also from lots of obscure ones. That's the beauty of being a musicfan, I guess. It even becomes more beautiful if you get the chance to see such bands on stage. On 22th March you can watch some of these gems on the 41th edition of Fantastique Night in Brussels. Peek-A-Boo was glad to have a chat with Mode Moderne.
The legend goes that your band was born when listening to New Order, Jesus and Mary Chain and OMD records. Are these bands a main influence?
Yes we love those bands, all of those bands and other bands too, top secret bands that are really really obscure because we made them up
Are you agreeing that I think that you make "old music with a brand new jacket" on? I mean, I definitely hear the 80's….
We make NEW music, we wear leather jackets, we put pins on our jackets and cardigans and do drugs in graveyards
Talking about the 80's. Are they the most important decade if it comes to music?
The most important year for music was when cro-magnon pounded out the first "four on the floor" on the swollen distended belly of a wild bear
Why do youngsters like you listen to music from the past? It seems like you're saying that today's music isn't any good (lol)
Youngsters like me?? There's a lot of great new music, have you heard our records?
You seem to have obsessive fans as well. Tell us about the Serbian girl with her tattoo…
She put my words on her body sadly they were not directly from my mouth
Makes me think of a funny question. What's the most weird thing you would do for a music hero? Tell us also who the hero is!!!!
I would uncross my legs for Howard Devoto circa 1979
Do you think it's a wise thing to devote life to music?
Ask again in 20 years
One of your songs is called REAL GOTHS. A funny name. Are/were you ever Goths?
On the sub-culture spectrum we have always leaned black but to put it simply we are mod-rocker-goth-punk-twee-marxists
You soon will be in Belgium. Were you here before?
Never before! We will require a few supplies upon arrival
As far as I'm concerned you've already been gigging in Europe. How was that?
Yes. We travelled across the planet to play four and a half shows. It was shit. This time we are playing almost twenty-five shows, touring with our friends COSMETICS. It will be infinitely better.
If I'm right you're Canadian. Is there a big difference with the scene there and here in Europe?
Apparently the Canadian economy withstood the global recession but nobody buys our merch at shows so... Hopefully you Europeans will buy some records so we don't all have to get jobs on oil rigs
Let's end with two questions I always ask. What's your favourite record of all time and please state why…
Morrissey – Vauxhall & I because it puts us in the mood
With whom wouldn't you mind to be alone with in an elevator for 8 hours and what would you do then?
Robert Forester and Grant McLennan, just sit there and listen to them write a full Go-Betweens record in 8 hours
Perhaps you can also tell us why people should come and visit your gig!
Because you need more dancing and making out in your life
Phillip Intile
Didier BECU
03/01/2014
---