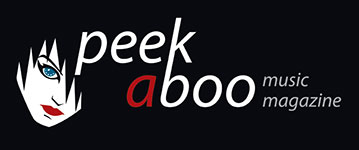 like this interview
---
ILLUSTRATION SONORE
Nothing was really planned for this album, it came out naturally after 2 years of existence of the band.. We didn't pray for it neither, we just did it ourselves!
21/01/2014, Kris NAGELS
---
Illustration Sonore

I/S is a synth duo composed of Cristina (aka Froe Char) and Dasz (also in Dolina and Ame de Boue...).
I/S started in 2010 and have played many concerts in Belgium, France, Germany and Italy.
I/S uses variations of electricity to control oscillators and frequency modulations.
I/S likes to connect synths with drum machines and a to add lot of delays over it all, for confusion.
I/S can be described as synth-gaze, dark-wave or no-future pop.
I/S abuses of the technics of patterns, arpeggios, cadavre exquis, collage, and the art of masks.
I/S draws its inspiratrion in synth pop and surrealism.
I/S takes seriously the results of chance and magic in creation.
I/S has no artistic pretentions but has sexual intentions.
I/S has no fetishism for the old nor obsessions for the new.
I/S drops a little light on human emotions.
I/S means Illustration sonore.
I/S stands for free minds.

After a 2 tracks contribution to the last compilation "Circuit d'actes" on La Forme Lente, their first LP "Undisciplined strips of Emotions" is coming out in november 2013 on Medical Records
For the people who don't know Illustration Sonore yet, how would you describe your music?
Daniel: It's hard to describe our own music because it has many directions. When I'm asked, I simply describe it as "a kind of darkwave" even if darkwave has many different meanings depending of the period and the place it is used. Our friend Erwane (Merci la nuit) has invented "synthgaze" (a contraction of synthpop and shoegaze) to jock about bands who don't stop watching their synths while playing drowned and melancholic synthpop, like us... But I think our music is much more dynamic and rhythmic than shoegaze!
Christina: I don't want describe it! It's contemporary music, another emotional waves into the sea..

The new full length album "Undisciplined Strips of Emotion" is out on Medical Records, what song on the album are you most proud off and why?
Christina: Obviously, i'm proud of all the album, but i prefer the firsts songs we made together as Divinatorium or Die Gefhulduselei, that are born with bass guitar and others instruments or black lights and vision & prayer, the firsts made with the stuff we use right now. But if i've to choose, i think i will say flying lights, cause it's always so melodic, easy, and emotionally direct.
Daniel: My favorite song is "Blacklights". It's one of the first song we made together. It's so simple but I can't be bored of it… It always makes me wanna dance like a fool.

The Album is full of emotion, darkness & mystery, the songs "Black Lights", "Our Bodies" and "Vision & Prayer" are outstanding tracks. Is there a lot of Vision & Prayer needed to produce such a strong album?
Daniel: Thank you for you nice words. Personally, I am blind concerning the music I make. I move forward and after some time, I look back and try to make things coherent. It can take much time. Nothing was really planned for this album, it came out naturally after 2 years of existence of the band..
We didn't pray for it neither, we just did it ourselves!
Christina: I think Daniel don't really get your questions eheh. For me there's a lot of vision in our music. For sure, there's not a prayer in this album, cause we made everything in a materialistic way, but i think there's always a secret struggle, inside-out, to take the means of the things we do. These songs are full of images and feelings, the whole spectrum of human conditions into the world we used to live.
You have your own record label called "Spielzeug Muzak", why did you choose to release the album on Medical ?
We think the best reward we can have as musicians is to make our sounds travelling as far as possible. We feel like if we were travelling ourselves. It was a complete fate that the US label Medical records contacted us precisely when we were finishing the very last mixes for the album. And we are very happy of this coincidence. In fact, we just discovered this excellent label!

Christina, almost simultaneously with the I/S album release, you released the "Froe Char - Fossils" album, your own project. It's so fragile & intense with glooming synths, it feels like you needed to express some ideas and emotions in a seperate project, something you couldn't share throught I/S, is that correct?
Yes, it's correct but it's normal. I can't share everthing with someone else... as Daniel can't share everthing with me. I've my memories and places where go when I do music alone. It's something like a trip... Alone i can go everywhere. In two, we have to choose together.
It's not better or worse, only different, and I love each other.
Last year 12 september you played a live gig at Bar Nadar Antwerp and now Underground Wave has organised a new show the 24th of january with Illustration Sonore playing live together with Merci La Nuit and :codes. What can people expect?
Daniel: What can be more exciting than a meeting under the waves?

Christina: It will be stronger than last time, we are 3 bands, all friends, it will be very fun. People have to come!

24.01 Illustration Sonore live @ De Kleine Hedonist - Antwerp - B

Kris NAGELS
21/01/2014
---
De Nederlandse versie van dit interview kan uw lezen op www.darkentries.be
Kris NAGELS
21/01/2014
---