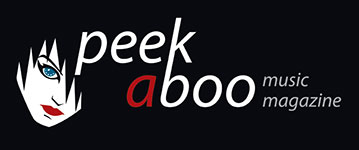 like this interview
---
ESCARLATINA OBSESSIVA
We are already working on a new album! Can't wait!
13/01/2014, Guillermo CORONEL
---
Punk Movement has their followers and lovers around the entire world and with this opportunity we´re going to present you a representative band of this genre from South America, more precisely from Brazil. This is the interview with Escarlatina Obsessiva. Being one of the most important bands of the alternative scene in Brazil, they are working on a new very promising album to this year, which could be one of their best, at least according to their point of view. As you see, there are high expectations for this release. As Peek-A-Boo Magazine brings art from the entire world, we couldn´t forget this Brazilian band.
Please tell us what we could find in the music of Escalating Obsessive?
Since we usually work with symbolism, the chief goal of our work is not in the work itself, but in the perspectives it unveils to the listener. It's very subjective, it can carry infinite messages, and there are as many "findings" in our songs as there are people listening to it.

How could you describe the scene in your country, and what do you see different in others areas in the world like Europe or North America?
Although we are in a huge country, the Brazilian post punk/Goth/deathrock scene is not so big and, unfortunately, we do not have in Brazil a lot of venues, producing live gigs and supporting the bands. Most part of the promoters here plays only with Dj's, cover bands and international attractions. But there are a few events that still support local bands. Regarding this, Zaf decided to produce/organize a D.I.Y. Festival here in our town to support post punk, Goth bands; it's the Woodgothic Festival and we already made 4 editions since 2008. It's an event totally focused on Goth / post punk / deathrock bands (the majority come from Brazil), and we have more than 15 bands each edition, that's usually divided in 3 nights of presentations. It's really bad, but it's an incentive to Brazilian post punk bands to have this kind of festival, where they can show their work to people from all over the country, and also from abroad.
I see that in Europe and North America there are really more events supporting local bands, so there are more options for the bands and audience.

Please tell us about your musical influences, what artists were important in your career?
A lot of bands and composers, from punk rock to classical music, and other kinds of music, as such as Arabian and Greek music. Everything that has the real flame and sincerity in it...

What could you tell us about the new material of the band?
We are already working on a new album. We can surely tell you that this album will be the best of our career, or the most important until now, and we believe it will have something like 14 or 15 songs; it will be almost a double album. We expect to put it out this year. We really can't wait!!


Where we can listen to your music?
You can listen to it on YouTube (we have some official videos up there), on Reverbnation (reverbnation.com/escarlatinaobsessiva), on Zorch Factory website, where we have 3 albums for free download (http://www.zorchfactoryrecords.com/official-releases/itemlist/category/35-escarlatina-obsessiva.html). You can buy all the albums with us, you can contact us on Facebook (facebook.com/escarlatinaobsessiva) and our most recent album, The Organ Grinder Songs, is Also available in high resolution on all major download & streaming platforms (Deezer, iTunes, Amazon MP3...)


How do you see the evolution in the band from the beginning until nowadays?
It's been great, cause things worked naturally since the beginning, and as soon as we recoded our first album, we made some cool gigs, and we started to have a cool audience, with people interesting in our songs and gigs... And all this turns into a conjunct, where factors naturally interact one with each other, and most part of this have a repercussion in the new works, acting thus over the evolution of the band, and vice versa. It's a chain reaction, and since you begin, you don't know where you can get to, and how different your last song will be from your first one...


Now about your experiences sharing the stage with international musicians, do you think that musicians can to learn something making contact with others bands?
I'm sure that we can learn a lot and exchange experiences with musicians from other countries. When we met Alien S Pagan, from Cemetary Girlz, for the first time we found a lot of similarities, so much that we decided to make a band, and we did it! The same happened when we met Bettina Koster, from Malaria! She is really an exceptional woman and I wish we could meet her again someday. We made a song together and we saw her in action, writing lyrics and arranging it on a song, and it was really awesome! Also with Sullen Serenade from Texas, we did a nice mini-tour with them...:) We also shared the stage with some other bands from abroad, and it's always a great experience.


How do you perform your concerts? Tell us about the contact with the people with the band? Describe it to the readers who would want to know about more about Escarlatina Obsessiva.
Well, you can contact us via Facebook: you can find us looking for the band's name; both Zaf and Karolina Escarlatina also have personal profiles. By now, we have some footages of some live presentations on YouTube... you can check them out also looking for 'Escarlatina Obsessiva'. We intend to soon make a tour abroad, so it won't take too long till you have the opportunity to check us out live! Thank you for the interview, and greetings from Brazil! Cheers!!
Guillermo CORONEL
13/01/2014
---