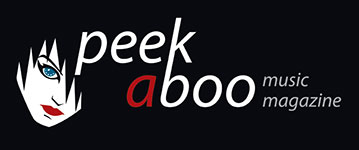 like this interview
---
PSYCHOGENERATION
Our society has become one big Frankenstein that spits out and convicts it's monsters with the regularity of a clock.
17/02/2014, Xavier KRUTH
---
Psychogeneration was the revelation of the past period for me. I feel somewhat guilty of not having heard of this band before. When we were looking for a band to accompany Doganov on the next Dark Entries Night on Friday the 14th of March, dj Wildhoney suggested to ask them. After listening to a couple of numbers on the internet, I was sold. Psychogeneration plays a mix of gothic rock and metal, and works according to a very ambitious concept. But let the gentlemen explain it themselves.
Psychogeneration started in 2005, though you evolved a lot since. How did the band saw the light and which changes have you been through?
Stefaan: The band in its current form raised from the ashes of a former metalcore project under the same name. The project in the earlier form didn't last for long. After the first gig already, members were leaving. Erstwhile drummer and prominent contributor Jansy didn't want to throw in the towel and started looking for new members. Soon, guitar players like my nephew Filip (pure Kult, The Dead Poets, Amentia) and myself (Pure Kult, Amentia, Ersatz) were found and set the tone for a new beginning. It quickly became clear in the new constellation that metalcore didn't feel right and through the contribution of the new members, the music evolved towards wave, gothic rock and symphonic metal. For Jansy, it revealed that he would be more fit as frontman and singer. It was he who came up with the idea to furnish the new formation with a concept, build around an underlying story about the frightening rising number of psychopathic cases. With these changes, the new Psychogeneration was born. Meanwhile, we were looking for a bass player and a drummer, and after some search, our eye fell on Roger (Mortifer, Decision) and Bram (Aphrodisia, Morrighan's Cry).
The name of the band refers to psychopaths, a concept central in your music. On Wikipedia, I read that 'Psychopathy as a personality disorder, it is characterized by enduring antisocial behaviour, diminished empathy and remorse, and disinhibited or bold behaviour.' From which point of view do you approach the subject?
Stefaan: In fact, the underlying moral in our concept story is that, rather than immediately condemn psychopaths, we should try to understand where it went wrong in the biography of these people. We do this based on a fictive character, Jonatan Brofist (or Natan), that we created in the course of our first album. Song by song, we describe the undeniable tragedies that 'triggered' Natan, that formed him a second personality and eventually led him in a psychopathic life. Our story doesn't treat serial murders in themselves. It is more of a quest on how someone can grow into a psychopathic pattern through what he has to endure mentally.
You took inspiration from the stories of well-known psychopaths. Who were they and why were their stories inspiring?
Stefaan: From an early stage it was clear that we all shared an interest in the atmosphere that you can find for example in Alfred Hitchcock's film PSYCHO. This certainly contributed to our exploration of this subject. This was also the time of the world chocking process of our Belgian Marc Dutroux, which undoubtedly also contributed to the realisation of our story.
Jansy: The story was already completed and the first songs were written when a big part of our 'fictive' story became reality: pedopriests, psychopaths (like Kim De Gelder), family drama's… all these elements became part of the news at a fast rate. It looked more like these facts were inspired by our story, while it was not even released. What interests us most is the question: 'how does one become a psychopath?' Is it hereditary? Is it a sum of factors? Can a normal, sane person loose grip on his life and commit unthinkable deeds through calamities in his life? And what is necessary to get you this far? Everybody has his boundaries; his limits… Are we then all potential psychopaths? Potential time bombs, so to say? According to the papers, it seems so! So should we look down disapprovingly and write them of as monsters? While we could also be responsible for their creation? Our society has become one big Frankenstein that spits out and convicts it's monsters with the regularity of a clock. But to answer your question about which well-known psychopaths inspire us, we can already reveal that we will travel back in time and meet a lot of renowned psychopaths on our third double cd. From Bundy to Manson, but also involving historical figures as Vlad III of Wallachia who would become famous through Bram Stoker's roman 'Dracula'. History is full of psychopaths and murderers who are in many cases more known than philanthropists. That makes us think. By processing all of this in our lyrics, we give a certain atmosphere to our songs.
If I understand it well, you want to release 10 cd's that form a greater whole and involve different storylines. Can you explain this more in detail?
Stefaan: The basic idea is, just like the name of the band, a concept. It thus seemed logical that everything we want to achieve with the band would be set in the framework of that concept. This vision came up spontaneously trough many evenings of meeting with the band and brainstorming about the story. It became clear that we would not be bound to one dead end, but found several point of views that could serve for the next albums. To give an example: the first album evolves into the second one through a turn in the story in which our main character is shot and dies at the end of the first double album. His organs are donated, and so the sickness of his mind is transmitted. This happens in the course of the second album.
This must mean that the lyrics are very important to you. Is there a set of norms and rules the texts must meet with?
Stefaan: Jansy - who seems to be a born storyteller - accounts for all of the lyrics. The first phase was the joint brainstorming for the story and the unexpected turns. From that point, Jansy moulded everything in a story and fitting lyrics. The texts are written in a narrating style, as if they could just as well be from a book or a movie.
Jansy: The lyrics often define the atmosphere and the length of a song. If a big part of the story must be told, the text will be written first. It will then be divided in stanzas and made to rhyme. Meanwhile, Stefaan works out a composition that reflects the mood of the lyrics. He adjusts the length of the song to the number of stanzas. Whenever there are changes in the mood of the character, they must be perceptible in the music. Personally, bands that write incomprehensible lyrics irritate me, or bands that just matches well-sounding words and thus appeal on poetic freedom. When you cannot discern what a song is about, it loses its strength in my view. Feelings in combination with music can be more powerful than images. That's why Psychogeneration has become a musical project rather than a movie or a comic… Meanwhile, we want to leave all opportunities open and will maybe be experimenting with these media in the future.
In 2012, the first part of your 10 cd project appeared: The Rise Of Jonatan Brofist. There is a specific story behind this cd. Can you tell us more about it?
Stefaan: To be clear, the 10 cd's will eventually take the form of 5 double cd's, thus with 5 big storylines. Our debut is the first half of our first double cd and deals with the birth and growing up of our main character Natan. It immediately becomes clear that his life was not a gift. His mother dies during his birth and he spends his first years with his father who suffers from alcoholism since his wife's death and abuses Natan. Eventually, the father commits suicide and the young Natan is placed in a monastery, where he gets abused again by a priest. In this period, Natan isolates himself completely from the world and creates his own personality in the mirror. At the end of the first cd, Natan is a young adult and meets a girl with whom he wants to marry. On their wedding night, they drive home with the car and have an accident. Natan's future bride dies…
Jansy: Those who want to read the complete story will be able to download it from our website soon. As with each story, we don't like to give away the plot, but you can guess that it will not be a happy end…
How long do you think i twill take to work out the whole concept? Do you have a concrete plan and timetable? What are the next steps?
Stefaan: It is very difficult to estimate how much time will be needed to elaborate the story. This depends of different factors like the financial side and the fact that each band member has a family life too. But we have perspectives. The second cd is in its final phase. Only the synths have to be recorded again by our keyboard player Jonas (Void Of Sadness, Azylya), who joined the band last year. After that, everything has to be mixed and mastered.
Filip: While the release of the second cd is still ahead, we as a band are already eager to write and play new songs. Today, some five songs are ready for our third cd. We already play two of these songs live, and it's a pleasure to notice that the public likes them. Our music evolves and the songs from the third album so far sound harder than the older songs. We also play the songs in a lower D-tuning because we feel they come over better this way. For me, it is essential that we continue to evolve on a creative and artistic level while keeping a united course. That's a challenge, but I think it is also our strength as a band. Each of us has a lot of understanding and patience, and as far as I am concerned, timing and deadlines are secondary. I see our project as a hobby and an outlet to supress daily stress. Nevertheless, it remains my ambition to fulfil the 10 albums and we will succeed in that!
Jansy: Every band member in Psychogeneration is a multi-instrumentalist, so anyone can come up with a completely achieved song at any moment. It can also be just a song line, a guitar riff or a drumfill, where we can contemplate several ideas and look where it would fit in the story.
And, we have time and that's a great luxury. On the other hand, it can also be a curse because you have a tendency to keep reworking and improving things. Compare it with a painter who works on a wall-wide painting and keeps adding or improving details. There comes a point where you have to make up your mind and decide: it's finished! But then again we still have some shows to book to be able to pay for the production.
Stefaan: It remains a financial struggle to realise all the recording. Up tot his point, we pay everything ourselves. We have had contacts with some labels, but we haven't had the luck to make a deal that could help us further on the way. Until now, we did everything ourselves: the recording, mixing, getting the cd's mastered and pressed, the promo for the band, making contacts with organisers, booking… you name it. None of us has much experience, so we are continually exploring how things work in this world.
Psychogeneration originates from the metal-scene, but what we hear on your first cd sounds more like gothic rock? Can you agree with that? How do you see the connection between the two scenes?
Stefaan: I certainly agree that you can categorise our music under gothic rock, but you can't define the style of Psychogeneration by this alone. We tried several times without success to describe our own style.
Jansy: That varied from new-wave-metal, industrial-gothic-rock, progressive-symphonic-metal, gothic-doom… it's all difficult to define.
Filip: Yes, you will find very varying influences with the several band members, ranging from glamrock over new-wave and dark wave, until gothic rock, gothic metal, symphonic, progressive, doom and death metal. Ultimately, me and my nephew Stefaan are at the base of our sound. Our biggest influences are bands like Paradise Lost, Anathema, Moonspell, The Mission, My Dying Bride, Type 'O Negative, et cetera... who all combine several styles by themselves, each in their own unique way. We didn't make it easy upon ourselves, but it was not a conscious choice. Our music grew organically, without compromises, and in which niche we fit isn't that important to me. By the way, I think we sound softer on disc than live.
Stefaan: I agree with my nephew. We don't make a conscious choice to play this or that genre. We just make our own thing. But we experience regularly that our style scares of organisers because it sounds to hard to some and not hard enough to others. In our little Belgian country, it doesn't seem easy to get integrated in such a scene because it is almost non-existent. Despite this, we would like to convey to organisers not to frighten away from the sound of our recordings. We can assure that we can awake curiosity live and keep the attention, even for people who are not acquainted with our genre. We offer them something special by blowing them away with feeling and symphony.
Jansy: Actually, we like all genres in the rock and metal style. The styles that attract you the most are often defined by periods of your life. When you make music in such a period, it influences the layout and the atmosphere you can find in the songs. This is why it is difficult to situate us in one specific genre. We could as well be writing an industrial song tomorrow as a melodic metal ballad, according to the atmosphere and the storylines…
What's the role of concerts in the concept of Psychogeneration. I understood you pay particular attention to that.
Stefaan: Concerts are indeed a way to visualise our concept story. In fact, we are not yet where we want to be as far as live shows go. We would like to build out our show in terms of costumes and fireworks into acts that take place during certain songs. We would also want to work with video projections that would be strangely connected with the development of the story. We have a lot of ideas about this. For example, we would like to represent the moment where Natan develops its other personality with an interaction between our singer Jansy and projections on the video screen. That way, it would seem that his other personality comes to life in his mirror image. Of course live shows are important for a band like us because it is not so simple to explain to fans that there's a whole fascinating story behind our music. Once they see us live, they get a clearer view on that.
Jansy: People come to 'watch' a show, right? And that's why we want to entertain our public with special effects. Like Stefaan already mentioned, we're not as far as we want to be with regard to live shows. But we have to be realistic. We cannot realise this on small stages. At almost each show, we add a new element. It is fascinating to watch it grow.
Stefaan: Thanks for the interview. I hope we can mean something for each other in the future, since you are vital in the Belgian wave and gothic scene. Keep up the good work!
This interview originally appeared in Dutch on the Dark Entries website.
Psychogeneration can be seen live on the Dark Entries Night on March 14th in the Kinky Star (Vlasmarkt 9, Ghent). The show will start strictly at 20u45.
Xavier KRUTH
17/02/2014
---