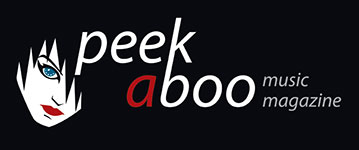 like this interview
---
DOGANOV
If the club survives? Not if it is up to us…
03/03/2014, Xavier KRUTH
photos: © dark.edge photography: https://www.facebook.com/dark.edge.ART
---
Doganov will certainly please those who like the combination of hard beats and guitars. When we first heard their demo 'Pre1ncarnat1on', we knew that we were dealing with a band of big potential. So it is an honour to have them as guests on our next Dark Entries Night, on March 14th in the Kinky Star in Ghent. But before that, we felt the urge to have a conversation with these gentlemen.
Tell us, how did Doganov come into existence?
Doganov originated from the ideas of Karl and Fré. They were writing music together for a long time. So the question that came to mind was : 'what shall we do with it?' The answer was: play it live.
You work in a formation with two guitar players, one keyboard player/programmer and a singer. Do you consider the lack of a bass player and a drummer as a shortcoming, or rather as an opportunity to handle things differently?
We have tried to play with live bass and drums, but it was not completely how it was supposed to sound. Electronics is our sound base. And though the guitars are prominent, they often have a serving function. That equilibrium forges the sound of Doganov to a large degree. So, as an answer to your question: it is definitely the second option. If you choose not to have a drummer and a bass player, you HAVE to do things in a different way. Not only live, but also in the writing process. And like we already said… this line-up benefits the music the most.
Your music makes me think of a combination of Rammstein and Nine Inch Nails. Can you live with that?
Of course we can. They're big names. People often say that they hear combinations in our music. Never one specific band, and that's how we like it. Some bands keep coming back, while other surprise us.
Rammstein is the reference that's used the most, and we can understand that. We can also guess which songs. It will not be 'I am the dark'… you'll have some trouble to hear Rammstein in that song.
Which other - possibly surprising - influences are important for Doganov?
We try not to be influenced too much by other bands, to do our own thing regardless of trends and what's fashionable; Of course we listen to other music, but then again, we're not sticking to one genre. The influences in our music are thus not so specific or clear. There are influences of electro, metal, dance, ordinary rock… And the lyrics can change a song completely, because they create a certain atmosphere. By just putting our feeling in our music, we create Doganov.
As we say in Dutch: each bird sings its own tune. Well, if all these birds play and sing together, you get Doganov. The influence of ornithology is not to be underestimated.
Your motto is 'Something dark to dance to'. I understood that you have connections with the dance scene. Dancebility must be an important criterion for a Doganov-song?
When a song is 'doganovised', it is always danceable in some way. Danceability is rather a consequence than a criterion. Liking it ourselves, losing ourselves and be touched while playing a song: that's the most important criterion. That's not just with music, but also with art. A Doganov song is of average length. We don't do long compositions of 10 minutes or more.
Several members of Doganov have a lot of experience in other projects. I also read that you did production and songwriting for other artists. Is Doganov now your main project? Which side-projects are still on the run?
Doganov is our main project and there are currently no side-projects. The last feat of arms in that regard was a remix of a song by I:Scintilla. That's a band from Chicago, US.
We didn't receive any offers anymore to write music for other people. But it is certainly fun to do.
'Pre1ncarnat1on' is your first release. You released it yourself. It became a rather short EP with six songs. Are you satisfied with the result? How are the reactions?
Yes, we're satisfied. And we know where we can improve and adjust if there would be more budget. We ultimately did everything ourselves. Recording, mixing, artwork… And the reactions are overwhelmingly good. Not only in Belgium. We have some good foreign reviews also.
In 2013, we did some shows in the Netherlands. We got very positive and constructive reactions there. People say that it's fine to hear something dark and heavy that still contains melody and on which you can dance and headbang at the same time. We're very cheerful about such comments!
If I am not mistaken, you still have material that didn't show up on 'Pre1ncarnat1on'. Do you keep it for a next release? Which are the future plans of Doganov?
We keep a lot of things for a next release. The future plans for 2014 until now: playing live, writing new songs and grow.
And what can we expect from you live? Will you leave the club entire?
Doganov is as strong as a house live. That's very important to us. We put a lot of energy in making our music sound well live. Doganov races as a train over the public.
And if the club survives? Not if it is up to us…
A last message for our readers?
Don't leave anything left of the room!
This interview originally appeared in Dutch on the Dark Entries website.
Doganov can be seen on the Dark Entries Night on March 14 in de Kinky Star (Vlasmarkt 9, Ghent).
Xavier KRUTH
03/03/2014
---