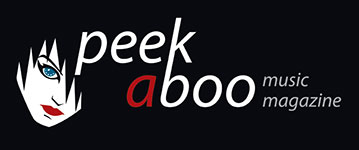 like this interview
---
DOGANOV
Doganov has the tendency NOT to listen to others...
02/02/2016, Xavier KRUTH
photos: © John Serré
---
Conducting Chaos is a great name for the debut of Doganov. The group thrives on chaos, on the razor's edge between electro and metal. The band already impressed us with the first EP Dark Something To Dance To, and the performances were such a burst of energy that we were simply blown away. Now the debut is released, we had no choice but to interview singer Carl Cleeren.

Conducting Chaos is your official debut. We think it's great. How did the recording process go?
Thank you. We have done everything ourselves. The recordings, pre-mixing, artwork... Only the final mixdown (Dee-J La Muerte) and mastering (Frank T. Wallace) was done by someone else. It was a process of writing and recording at the same time. Every week we met in the studio and did our homework apart. We had to put a deadline: 10th October, 2015, when everything had to be ready and presented. We succeeded. The music was there. The artwork was finished. We solved the legal issues regarding the cover of Front 242 and all the CDs were pressed. We also have played live a couple of times in between. That was a very pleasant change.

The earlier EP, Something Dark To Dance To, also was impressive. It appeared on CD in a very limited edition, to the frustration of some. Are there any plans to publish it on CD?
You can still purchase it at our concerts and it is available on all channels online: Spotify, Deezer, I-tunes, etc. In addition, you can buy both CDs via merch@doganov.be.

Conducting Chaos guarantees a mix of loud guitars and electronics, but I think the album is a bit more electronic than its predecessor, which perhaps lies in the fact that you now work with only one guitarist. Do you have that feeling too?
Not really. Yes, it sounds different. A band evolves, you know. But it was never the intention to use more electronics. Doganov often is a matter of feeling. If the music invites you to go in a certain direction during the writing process, then we follow. And if it really does not work, then we drop it. Not everything we wrote is on the CD. And yes, there is "only" one guitarist, but he is man enough to stand against all that electronic violence.

Another reason why it sounds more electronic may be the mastering by Frank T. Wallace, a famous name in the dance world.
We know Frank for a while. He has his own vision and he is always open to suggestions. He just delivers good work! We did not have to think long about it.

On the other hand, the mix was done by Dee-J alias Didier Moens of La Muerte, and we associate him more with heavy guitars. Was it a conscious decision that Didier and Frank are the two core elements of your music - guitars and beats?
Yes. Didier is our live mixer. He knows Doganov well. And he is also a musician. That in itself is a fine approach. He was also the only one we trusted to 'give' our music to. In retrospect, it was a very good choice.

Your CD also includes a cover of Front 242, Headhunter. An ode to the musical heroes of all time?
Funny... We didn't intend to put Headhunter on the CD. This is mainly done at the behest of others. We saw what our version did with the live audience. It was well received. Ultimately, it was Didier who pulled us over. Crazy, because Doganov has the tendency NOT to listen to others... And if that is simultaneously a friendly wink to Front 242, that's good. Is it an ode? No idea.

What are the prospects for Doganov now?
To play live as much as possible. We are negotiating with organizers. The only thing we can say with certainty is that we play in Poperinge on 5th November at Dubhfest.
Xavier KRUTH
02/02/2016
---
De Nederlandstalige versie kun je op Dark Entries lezen.
Xavier KRUTH
02/02/2016
---