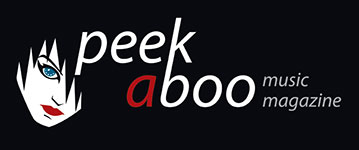 like this interview
---
DAS ICH
Basically even a home concert in your living room can be the most beautiful experience as long as you have the feeling that your music draws a direct line of nonverbal understanding between you and the audience.
24/01/2016, Britta Tabrit
photos: © Marquis(pi)X
---
Britta Pirkko had the opportunity to talk to Bruno and Stefan, the masterminds of Das Ich.
Thanks a lot for taking some time out for a short interview with Peek-A-Boo. So let's start with a simple question: How are you doing?
Bruno: so far 2016 started well for us, we had a beautiful show at London. It was a little grief-colored as David Bowie died when we left London.
Let's talk a bit about the year 2015. You played some great shows. Can you say which one was the most impressive for you?
Bruno: The greatest one was definitely in Mexico at Orus Fest – what a crowd, what an atmosphere. Also all the other Latin American shows had been a blast. Wonderful people and amazing countries. We also loved the Summer Wave Festival (2015), the biggest international event in Brazil.
Do you prefer larger or smaller venues?
Bruno: It depends on the crowd – sometimes big crowds might be a bit impersonal in case thjey don't catch fire. And vice versa. For example, we had a wonderful and turbo energetic show in London at Slimelight. Basically, even a home concert in your living room can be the most beautiful experience as long as you have the feeling that your music draws a direct line of nonverbal understanding between you and the audience.
Das Ich performes in its original line-up again. Stefan has made a full recovery! That was awesome to see! How did it feel to be complete again?
Stefan: I'm still a little unsafe sometimes and afraid of some shows, but each time it goes better. It was tremendous long and unbearable hard work to get back to the light of the stage and I'm really thankful for the help of my wonderful friends from my band.
You've recently toured South America at the end of November. Have you ever been there before?
Bruno: In fact, this was already the fifth time on this continent. We actually had a bigger tour last time, but it is always impressive to be in this place of the world.
Which cities did you visit? Do you feel any differences to European gigs?
Stefan: We visited Mexico City, Santiago de Chile, Buenos Aires and Lima. Of course some of the clubs don't have great PA-systems and light, but this is easily compensated by the amazing crowd!
2016. What can your fans expect? A new album? Shows? Any plans to work with other artists?
Bruno: We are working on the new album without any pressure or deadline. Many shows like a Russian tour in February and the Wave Gotik Treffen, and some other shows.
Maybe something else?
Stefan: Most likely, a rerelease of some older stuff on vinyl.
Bruno, you are active in politics. Which intentions animated you to join a political party?
Bruno: I always was a politic person, having massive interest in global issues. Especially when you tour the world you get more and more perspectives, you learn to understand that quite often people suffer for the same reasons.
I understood that it makes sense to think globally and act locally. And I love people and the idea of solidarity and an equal world. This planet is so much sucked out by global capitalism and the emperors of today: the multinational corporations. We have lots of democracies, but not globally spoken. This is a vacuum – we also need a voice on a global level to set barriers for those corporations who just look for one thing: making the stock market stronger and bringing money to the investors. This ,happens at the cost of us all. Since socialism broke down in Eastern Europe it seems as if global capitalism made huge steps into a new direction that resembles totalitarianism. Before that there had been always a competition between West and East about which system is more democratic and social.
In that period, capitalism tried to have a human face. And don't get me wrong, I'm not a communist. I believe in the idea that with the digital change there comes a change to start a global participation for knowledge and education. A benefit which doesn't only lead to more wealth for everybody, but also to the idea that this world is big enough for all of us.
Besides your music and politics, tell us what do you love to do when you're at home.
Stefan: Playing computers, going to the movies.
Bruno: Drinking coffee with friends, relaxing or nightclubbing and dancing through the night.
Please, choose a pair of shoes: Doc Martens, Converse, Rangers or New Rock Boots
Stefan: Espandrillos (laughs) or Docs.
Bruno: New Rock Boots – as they hold forever.
And finally: Some kind words to the Peek-A-Boo readers? Or a good advice maybe...
Bruno: I loved Siouxsie and the Banshees (laughs). Thanks for taking the time to read this to the end!
Stefan: And thanks to you for writing it!
Thank you, guys, thank you!
Britta Tabrit
24/01/2016
---
Britta Pirkko kreeg de kans om met Bruno en Stefan, de meesterbreinen van Das Ich, te praten.

Heel erg bedankt dat je tijd hebt voor een kort interview met Peek-A-Boo. Laten we dus beginnen met een eenvoudige vraag: hoe gaat het met jullie?
Bruno: 2016 was tot nu toe uitstekend voor ons, we hadden een mooie show in Londen. Het was een beetje verdrietig gekleurd omdat David Bowie overleed toen we uit Londen vertrokken.
Laten we een beetje praten over 2015. Je speelde een aantal grote shows. Kan je zeggen welke het meest indrukwekkend voor je was?
Bruno: De grootste was zeker in Mexico op Orus Fest - wat een menigte, wat een sfeer! Ook in alle andere Latijns-Amerikaanse shows was het een bom. Geweldige mensen, en wat een geweldige landen. We speelden ook op het Summer Wave Festival, het grootste internationale evenement in Brazilië.
Speel je liever in grotere of kleinere zalen?
Bruno: Dat hangt van de menigte af - soms wordt een grote drukte onpersoonlijk als het volk niet mee wil. En vice versa. Zo hadden we een geweldige show in Londen in de Slimelight. In principe kan zelfs een huisconcert in je woonkamer de mooiste ervaring zijn, zolang je maar het gevoel hebt dat de muziek een directe lijn tussen de muzikant en het publiek creëert.
Das Ich is er weer in zijn originele line-up. Stefan is volledig hersteld! Dat was geweldig om te zien! Hoe voelde dat?
Stefan: Ik voel me nog steeds een beetje onwennig en bang voor een aantal shows, maar elke keer gaat het beter. Het was een enorm lange en ondraaglijke weg om terug naar dat licht van het podium te gaan. Ik ben echt dankbaar voor de hulp die ik van mijn geweldige vrienden uit mijn band kreeg.
Onlangs toerde je in Zuid-Amerika. Ben je daar al eerder geweest?
Bruno: In feite was dit al de vijfde keer. Nu hadden we een grotere tour dan de vorige keer, maar het is altijd indrukwekkend om daar te zijn.
Welke steden heb je bezocht? Is er een verschil met de Europese optredens?
Stefan: We brachten een bezoek aan Mexico-stad, Santiago de Chile, Buenos Aires en Lima. Natuurlijk, hebben sommige clubs niet het zelfde PA- en lichtsysteem, maar da wordt ruimschoots gecompenseerd door de geweldige menigte!
Wat kunnen de fans verwachten in 2016? Een nieuw album? Nieuwe shows? Ben je van plan om te werken met andere artiesten?
Bruno: We werken aan een nieuw album, zonder enige druk of deadline. In februari komt er een Russische tour en er is ook het Wave & Gotik Treffen, en een aantal andere shows.
Misschien nog iets anders?
Stefan: Meest waarschijnlijk zal er een heruitgave van sommige oudere spullen op vinyl zijn.

Bruno, jij bent zelf actief in de politiek. Waarom ?
Bruno: Ik was altijd geïnteresseerd in politiek en had altijd belangstelling in mondiale vraagstukken. Zeker als je de wereld rondtoert krijg je meer en meer perspectieven, je leert begrijpen dat mensen vaak lijden wegens dezelfde redenen. Ik begreep dat het zinvol is om globaal te gaan denken en ook lokaal te handelen. Ik hou van mensen, het idee van solidariteit en een gelijke wereld. Deze planeet is zo uitgezogen door het mondiale kapitalisme en de keizers van vandaag (de multinationals). In heel veel landen heb je democratieën, maar globaal bekeken is dat heel wat anders. Er is een vacuüm en we moeten dan ook op mondiaal niveau een stem krijgen zodat we die bedrijven belemmeringen kunnen opleggen, want nu wordt de aandelenmarkt sterker en groeit het geld van de beleggers alsmaar. Dit gebeurt allemaal ten koste van ons. Sinds het socialisme in Oost-Europa tenonderging, lijkt het wel alsof het mondiale kapitalisme grote stappen naar het totalitarisme maakt. Er is altijd wel een tegenstelling tussen West en Oost geweest, maar nu krijgt het kapitalisme een ​​menselijk gezicht. En begrijp me niet verkeerd, ik ben geen communist. Ik geloof gewoon in het idee dat je in het digitale tijdperk er kan voor zorgen dat er globaal onderwijs komt. Dit leidt niet alleen tot meer welvaart voor iedereen, ook zullen we begrijpen dat de wereld groot genoeg is voor ons allemaal.

Naast muziek en politiek, vertel ons wat je graag doet wanneer je thuis bent.
Stefan: Op de computer spelen en naar de bioscoop gaan.
Bruno: Koffie drinken met vrienden, mij wat ontspannen of gewoon de hele nacht in clubs rondhangen

Kies een paar schoenen: Doc Martens, Converse, Rangers of New Rock Boots
Stefan: Espadrilles (lacht) of Docs.
Bruno: New Rock Boots - ze houden altijd alles goed vast.

Heb je een goed advies voor de Peek-A-Boo lezers?
Bruno: Ik hield altijd van Siouxsie And The Banshees (lacht). Bedankt voor je tijd om dit tot op het einde te lezen!
Stefan: En jij ook bedankt!

Dank je, jongens!
Britta Tabrit
24/01/2016
---