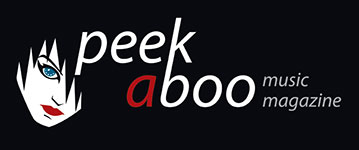 like this interview
---
VAGUE SCARE
I guess our songs are mostly dark, and some are colder, but we like to keep a pop edge on the way we write our songs.
22/01/2016, Patrice HOERNER
---
A few days ago, I discovered a band from Eastern France, Besançon to be exactly. Vague Scare makes cold, dark new wave. The first song I heard was War Walk, and I immediately realized how powerfully it is. So I listened to more songs, and it was more than a discovery! Peek-A-Boo had a chat with members Laur and Fred.
Who is Vague Scare?
Fred (synths/guitar/backing vocals) and Laur (vocals/ synths) We started in 2014, but it took us some time to find a way to be able to play our songs live. We first wanted to have a third member, but we couldn't find any, so we realized after a while that a duo would work too.
How would you define your sound?
We rarely think about that, I guess our songs are mostly dark, and some are colder, but we like to keep a pop edge in the way we write our songs.
What are your inspirations?
Mainly stuff we see, read or hear. Musically, we sometimes get inspired by a specific synth sound, and some elements from 70's glam rock and contemporary pop, although I reckon it's not the first thing you hear when you listen to Vague Scare.
What kind of messages can we hear in your songs?
Our songs are mostly about personal feelings or fictional stories, so there's no message in them, though a song like So Human is about the fact that humans like to think that they're on the top of the world, but if you look at how humans treat other humans, animals and nature, then you realize there's absolutely no reason to be proud to be a human being.
What are Vague Scare's goals?
We first started Vague Scare because I had a few vocal/synth ideas to work on, and we're quite surprised to see all the good feedback we've been getting so far... Now it would be cool to be able to play more shows!
Any shows planned? If so, where and when? Where would you like to play?
We've only played two shows so far, but we want to play everywhere!
Do you plan to release an album? How many songs do you have?
We have 11 songs and we are currently working on some new ones. Our song Some Dreams is out on the new Cold Beats Records compilation (Spain), and we're thinking about releasing an EP, but we'll see... We've done pretty much everything ourselves so far, from taking pictures to recording (and we never did that before!), but we're open to collaborations, of course.
How do you see the future?
I Can't Get It Bright is the first song we wrote, so... But let's try and stay positive and make the best out of it!
What bands do you see as role models?
We don't really have role models, and we have quite a wide taste in music. We both like various bands for different reasons, from The Beatles to Ramones, and of course Depeche Mode or The Sisters Of Mercy. I guess we can't deny the 80's pop influence in our music!... I still can't believe David Bowie is dead, he was such a big influence too. Glam and goth are orphans now...
Feel free to say anything you want.
Thanks for your interest, and supporting new bands like ours. Keep up the good work, and all the best in 2016!
Stay in touch with us:
https://www.facebook.com/VagueScareMusic/
http://vaguescare.bandcamp.com/
Patrice HOERNER
22/01/2016
---
Voici quelques jours, j'ai découvert un tout nouveau groupe tendance dark, cold et New-wave! Un duo qui nous vient tout droit de Besançon, à l'Est de la France! Le tout premier morceaux que j'ai entendu a été "War Walk" et j'ai réalisé avec quelle puissance ils ont composé leur propre morceau. J'ai donc été creusé davantage et écouté d'autres titres disponibles. C'était bien plus qu'une découverte, imaginons que vous retourniez directement au sommet des années 80. Cela vous rappellera tous ces sons que nous aimons tous quand nous étions jeunes et Vague Scare réussi à combiner tout ce mélange tout en douceur. Bien qu'ils soient encore à leur début, ils savent appuyer parfaitement là ou il faut pour nous offrir une rythmique solide.
J'ai donc pris contact Avec Vague Scare et réalisé une interview avec les membres, Laur et Fred.
Qui est Vague Scare?
Fred( synth, guitare et backing vocals) et Laur (chant, synthé). Nous avons démarré en 2014 mais cela nous a pris un peu de temps pour trouver un moyen de pouvoir trouver un moyen de jouer nos morceaux en mode Live. Dans un premier temps, nous voulions un troisième membre au sein du groupe, ce que nous n'avons pas trouvé et finalement on s'est dit qu'à deux cela irait bien aussi.
Comment définiriez-vous votre style musical?
On pense rarement à cela, je suppose que nos chansons sont surtout Dark et même plus dans le Cold pour certaines, mais que nous gardons aussi ce petit côté Pop quand nous écrivons nos chansons.
Quelles sont vos sources d'inspiration?
La plupart de ce que nous voyons, lisons, écoutons... Musicalement nous sommes parfois inspiré par un son synthé bien spécifique et certaines de nos chansons empruntent le glam rock des années 70 et du pop contemporain, bien que nous sommes d'accord pour dire que ce n'est pas la première chose que vous entendez en écoutant nos morceaux.
Quels messages délivrent vos chansons?
La grande partie de nos chansons délivrent plutôt des sentiments personnels ou alors des histoires fictives, il n'y a donc pas de messages à proprement parler, quoiqu'un titre comme "So Human" par exemple, aborde le sujet que l'être humain aime à croire qu'il est au dessus du monde, mais que si vous regardez comment les humains traitent d'autres humains, les animaux et la nature, alors vous réalisez qu'il n'y a absolument aucune raison d'être fier d'être un humain...
Quels sont les objectifs de Vague Scare?
Nous avons démarré Vague Scare car j'avais quelques idées de compos, synthé et chant (Laur) à travailler, et nous avons été surpris de voir le retour que nous avons été capable de recevoir. Il serait maintenant sympathique de pouvoir jouer davantage de shows.
Des concerts planifiés ? si oui, ou et quand? Ou aimeriez-vous jouer?
Nous avons seulement joué deux fois jusqu'à présent! Mais nous sommes prêt à jour n'importe ou et n'importe quand la ou les gens désirent nous voir!
Avez-vous prévu un album ? combien de chansons comptent votre répertoire ? Contact avec une maison de disque ?
Nous avons actuellement 11 titres et nous travaillons pour en réaliser des nouvelles. Notre morceau "Some Dreams" est disponible sur la nouvelle compilation CD de l'espagnol "Cold Beats Records"; nous pensons à bientôt réaliser un EP, nous verrons bien. Nous avons beaucoup fait par nous-même, de prendre nos photos et jusqu'à enregistrer nos réalisations (alors que nous n'avions jamais utilisé ces technologies auparavant), mais nous sommes ouvert à tout type de collaboration bien sûr!
Comment voyez-vous l'avenir?
"I can't get it bright" est notre toute première chanson que nous avons écrite...alors essayons de rester et d'être positif et faisons le meilleur de tout cela! Nous n'avons pas particulièrement de modèles types, nous avons plutôt un large goût musical. Nous aimons des groupes variés pour différentes raisons, allant des Beatles aux Ramones, en passant, bien sûr, par Depeche Mode, The Sisters Of Mercy etc... Je suppose que nous ne pouvons pas dénier l'influence pop des années 80. Je ne peux pas croire encore à la perte de David Bowie qui nous a quitté deux jours auparavant. Il a été d'une telle influence!! Glam et goth sont orphelins...
Quelque chose à ajouter ? Sentiment libre d'ajouter ce que vous voulez !
Merci de votre intérêt et de supporter des nouveaux groupes comme nous ! Continuer le bon travail et tout le meilleur pour 2016!
Rester en contact avec nous :
https://www.facebook.com/VagueScareMusic/
http://vaguescare.bandcamp.com/
Patrice HOERNER
22/01/2016
---
Een paar dagen geleden ontdekte ik een band uit het oosten van Frankrijk, in Besançon om precies te zijn. Vague Scare maakt koude, donkere new wave. Het eerste nummer dat ik hoorde was War Walk en onmiddellijk besefte ik hoe krachtig het nummer is. Dus luisterde ik naar meer, en het was meer dan een ontdekking! Peek-A-Boo had een gesprek met de twee leden Laur en Fred.

Wie is Vague Scare?
Fred (synths/gitaar/backing vocals) en Laur (zang/synths). We begonnen in 2014, maar het kostte ons heel wat tijd om een ​​manier te vinden om onze nummers live te kunnen spelen. We dachten eerst aan een derde persoon, maar die konden we niet vinden en dus beseften we na een tijdje dat een duo ook wel kon werken.

Hoe zou je je geluid omschrijven?
We denken daar zelden over na, ik denk dat onze nummers meestal donker zijn, soms wat koud, maar we hebben toch graag een poprandje in onze nummers.

Wat zijn jullie inspiratiebronnen?
Vooral dingen die we zien, lezen of horen. Muzikaal kunnen we ons gewoon laten inspireren door een specifiek synthgeluid, ook een aantal elementen uit de jaren 70 zoals glamrock en hedendaagse pop, hoewel ik denk dat je dat op het eerste gezicht niet hoort als je Vague Scare beluistert.

Wat voor soort boodschappen stoppen jullie in je songs?
Onze nummers gaan meestal over persoonlijke gevoelens of fictieve verhalen, dus een echte boodschap is er niet, maar een nummer als So Human gaat over het feit dat mensen graag denken dat ze superieur zijn, maar als je kijkt hoe ze andere mensen behandelen, of de dieren en de natuur, dan realiseer je je dat er geen reden is om trots te zijn dat je mens bent.

Wat is jullie doel?
We begonnen Vague Scare gewoon omdat ik een paar ideeën had om uit te werken, en we zijn heel verbaasd over alle goede feedback die we krijgen... Nu zou het cool zijn mochten we wat shows kunnen spelen!

Zijn er al shows gepland? Zo ja, waar en wanneer? Waar zou je willen spelen?
We speelden slechts twee optredens tot nu toe, maar we willen overal spelen!

Ben je van plan om een ​​album uit te brengen? Hoeveel nummers heb je?
We hebben 11 liedjes en we zijn momenteel bezig met een aantal nieuwe. Ons nummer Some Dreams staat op de nieuwe compilatie van Cold Beats Records uit Spanje, en we denken na over een ep, maar we zien wel... We hebben vrijwel alles zelf gedaan tot nu, dat gaat van het nemen van foto's tot de geluidsopnames (en we deden dat nog nooit!), maar we staan ​​open voor samenwerkingen.

Hoe zie je de toekomst?
I Can't Get It Bright is het eerste nummer dat we schreven, dus... Maar laten we proberen positief te blijven en er het beste van te maken!

Welke bands zie je als rolmodel?
We hebben niet echt rolmodellen en we hebben een heel brede muzikale smaak. We houden van diverse bands wegens verschillende redenen, van The Beatles tot Ramones, en natuurlijk ook Depeche Mode of The Sisters Of Mercy. We kunnen niet ontkennen dat de jaren 80 onze muziek heeft beïnvloed!... Ik kan nog steeds niet geloven dat David Bowie dood is, hij is zo'n grote invloed. Glam en goth zijn weeskinderen geworden...

Het laatste woord is aan jullie.
Bedankt voor jullie interesse, en het steunen van nieuwe bands! Volg ons op: https://www.facebook.com/VagueScareMusic/
http://vaguescare.bandcamp.com/
Patrice HOERNER
22/01/2016
---