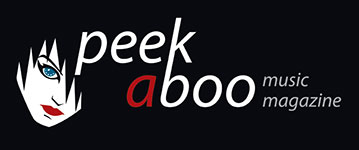 like this interview
---
ROSARUBEA
We will experience our performance at Black Easter with deep involvement and care.
29/01/2016, Dimi BRANDS
photos: © (2) Emanuela Zini (4) Loredana Guinicelli (3+5) Luca Baldi
---
RosaRubea is one of the many acts on this year's Black Easter. Dimi Brands had a chat with the band.
Hi Daniela and RosaRubea, congratulations for your new album Chrysalide which made it to the number one spot in my list of 2015. Now, as you know, I've been a big fan for years, so probably I'm not the most objective person, but what are the reactions so far?
Daniela: Thanks Dimi for offering us the opportunity of this interview. We are glad you appreciate Chrysalide, so much. Indeed, the album means a lot to us, that is why we have put great care in every single detail of its production. We don't hide a certain pride, so far Chrysalide had excellent reviews on the international web channels and in the Italian specialized press in which some critics placed it among the best albums of 2015. And those who have bought the CD have rewarded us with their appreciation so far.
RosaRubea is a multimedial project which involves music, poetry and visual art. Cyou, tell us something about this process?
Daniela: RosaRubea wants to share art in its widest sense: as a work of heart. When we create, we enter a sacred territory, which we want to keep sacred while we present it on stage, just as a ritual. That is why we try to reproduce the magic, immediacy, unexpected of creation, with all the emotions it conveys, through music, words, visuals and acting. Art gets to the core of life.
That also explains why, in the process of creating, sometimes visual artists and painters collaborate with the band. In the past that was with the painter Massimo Bertocchi who conceived the covers of our previous albums, and now it happens with the photographer Luca Baldi, the author of all the pictures of Chrysalide. Besides, we start working with interesting personalities on our next video.
The cover of Chrysalide is really beautiful, it looks as though you transcended from your body. Does this image reflect itself in the lyrics also? Are you transcending in these too?
Daniela: Thank you. Chrysalide means rebirth through metamorphosis. That is why we wanted to celebrate this, starting from the cover: the chrysalis, wrapped in its veil is lying at the foot of the altar, while the butterfly is ascending onto it. The lyrics, as the music, express each a different nuance of the metamorphosis, pain, love, endurance, loss, rebirth, passion, hope.
I've talked with IANVA too, and asked the same question. Since they're also from Italy, and there's a lot of great dark folk music coming from your country, is there something like an Italian scene?
Daniela: I think musicians are more interested in music than the so-called "scene", which rather falls within the critics' prerogatives or some listeners' need of aggregation. I guess critics can find and need to find, similarities among different bands, which may have been inspired by a specific sound or genre, but, honestly, I think music goes beyond any border. That said, I don't think we can talk of an Italian "dark folk scene", but rather of single bands, each one with its specific taste, whose influences are manifolds, and can be found especially in the Italian songwriters' tradition, in classical or even ancient music.
It also seems that Italian dark folk bands like to include other genres in their music, more than bands from European countries. Just like IANVA and Roma Amor, Rosa Rubea is more than strictly dark folk. It's easy to categorize RosaRubea in the dark folk corner, especially with you, Daniela, as singer and former singer of Camerata. I don't like to label music, but it's handy for people who don't know the music. So, how would you like to describe Rosa Rubea's style?
Daniela: I understand the need to find and give hints and references for orientation. However, as RosaRubea, we want to feel free from any label and simply convey our feelings and emotions through music and share them with free listeners. We want our music to be as a breath, as life itself; I like to think of RosaRubea's music as a music of metamorphic desire, red and alive, a spiraling crescendo of passion which is marked by experimenting with singing and both classical instruments and electronics: a music which breaks the limits and travels towards the unknown.
You've played at The Villa Festival, with RosaRubea and also with Cropcircle, how did the people react to the new material?
Daniela: I am happy to say that the people showed a deep involvement during RosaRubea's performance. We were thrilled ourselves and felt the vibrating atmosphere. The warm audience was captivated by the new material, and that was a great reward for us. We really enjoyed playing at the Villa Festival once again. As for Cropcircle, I participated on their new CD Soundtrack For An Unquiet Night, on the song Preludio - Atlantide. I recorded with them the soundtrack for my poems De l'Amor sospeso e de l'Amor rubeo, it also was an enthralling experience, much appreciated by the audience, and a pleasure for me to share the stage with Cecco and Stefania Domiziana.
You are playing at the Black Easter festival in Antwerp in 2016. What can we expect, and are you thrilled to come to Belgium? By the way, is this the first time you perform in Belgium?
Daniela: We look forward to playing at the Black Easter Festival. It is our first time in Belgium, neither have I ever played there with Camerata Mediolanense, so it is going to be a thorough novelty that we will experience with deep involvement and care.
All pictures I saw of you have a very sensual nature. It seems they want to paint the picture of Daniela as a seductress, which they manage to do very well. Is Daniela in ordinary life also a vamp, or is it just an image you or the photographer want to create?
Daniela: Ask my lovers! Anyway, the public image is always limited. Honni soit qui mal y pense!
Camerata was and still is a very influential and much loved band. Their success is mostly due to your vocal work with the band. But your ways split, what was the reason?
Daniela: Singing and performing with Camerata Mediolanense has always been an intense and fertile experience, as long as it lasted - almost twenty years! Our ways split, as sometimes happens in life, and a new life is born.
RosaRubea is also a very poetic name, it is the Latin for "Red Rose". Is this to show the romantic side of the project? How important is love in Daniela's life?
Daniela: "RosaRubea" is the alchemical "Rubedo", the ultimate phase of the Opus Magnum or Opus Chemicum, announcing the transmutation of vile metal into gold. So the name does not hint at a romantic side of the group, but points at the alchemical path of purification. Love is at the core of this purification, so it is fundamental in all its nuances.
Daniela, you are a soprano singer. Besides dark folk projects, did you also perform elsewhere?
Daniela: Classical music and opera are the highest expression of music in Western culture, so studying them means to feel and experience the most refined nuances of the Western soul and maybe of the soul in general. Yes, I have sung opera, especially the Baroque repertoire, and the Lieder of the late XVIII century or the early XIX century's operatic arias of Bellini, for instance. I did it, for example, with Camerata Sforzesca, Camerata Mediolanense's side project. I have not abandoned opera nor classical music.
RosaRubea is truly your project, I think, while in Camerata you were more a band member, am I right? With Rosa Rubea, do you have a complete control, and how does it feel to be the front woman?
Daniela: RosaRubea was founded around 2009 by Pino Carafa, an electronic music composer who later quit the band. As it has always been an open project, other talented musicians joined: Zeno Gabaglio, Marco Bosio, Michele Fiore, Yann Turrini, Ermanno Fabbri. It is true that in RosaRubea I am the author of the concept and in it I have put my heart and soul since the beginning. The synergies with the other musicians are fundamental though. In Camerata Mediolanense, I was an interpreter, although I had contributed in choosing some repertoire, including covers and some of the arrangements with the other band members. To be the frontwoman is a good thing if you are inclined to it: I feel good!
Camerata's inspiration comes from history and mythology. Where do you find inspiration for RosaRubea?
Daniela: Inspiration comes from life itself. RosaRubea's work is a work-in-progress: it hints at the metamorphosis life encourages us to face. In this respect, there is both an autobiographical side and an archetypical side; the process of birth-death-rebirth is reflected in RosaRubea's music in its infinite nuances and implications: an unborn child, the hope of youth, widowhood, passionate love, the eternity of after-death experience, the marriage of the fire and the rose, self-sacrifice, the sublimity of love.
On the Tre Ert Tre on CD-R, you have covered Lather by Jefferson Airplane and Dancing Barefoot by Patti Smith), are these two important artists for you? Which other artists influenced you as a singer, and which artists and bands do you like listening to?
Daniela: There are songs or singers you love since the very beginning: love at first sight is a matter of fact. That was the case with Patti Smith and Grace Slick, two voices with such a different character, but both intense and unique, just like that of Nico, another singer whom I liked to cover. Yes, I have always loved their authenticity, both as artists and as women.
The voices of the Italian singers Antonella Ruggiero or Patti Pravo in her best years also touch my soul, just as that of Kate Bush; and as for opera, I love the French Véronique Gens, for instance, and Sandrine Piau, and the Greek Theresa Stratas. These are just a few examples. The sources of inspiration are manifold.
Last week, I was watching Fellini's Rome. The movie and the atmosphere made me think of you and the atmosphere you bring with RosaRubea, because the music also sounds a bit like a soundtrack. Do you feel the same way about that, and if so, which movies do inspire you?
Daniela: Thank you for thinking of us while watching a film! Indeed, RosaRubea's music might be perceived as filmic; the visionary side of it is just behind the corner. If I think of the films that most impressed me, I realize that the soundtrack has a great part in them: Nosferatu by Werner Herzog, Il Portiere di Notte by Liliana Cavani, The Piano by Jane Campion, La Double Vie De Véronique" by Kieslowski. The music marries the vision.
Dimi BRANDS
29/01/2016
---
De Nederlandse versie van het interview kan u lezen op Dark Entries via deze link: www.darkentries.be/nl/interviews/?iid=607.
Dimi BRANDS
29/01/2016
---