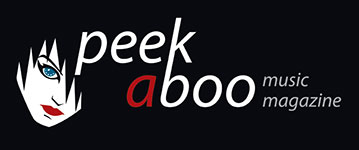 like this interview
---
KONER
We want to spread our own sound. It will be a long road, and it certainly won't be easy, but we want it!
01/02/2016, Didier BECU
---
Recently, the Belgian electro-dance duo Koner released the new single Die Babbie. Peek-A-Boo thought this was a good reason to have a chat with Peter and Els.

It's my job, but let's forget this. Describe Koner!
Koner is Els Mortelmans and Peter Bellaert. In the past we worked together on several successful projects. A few years ago, we had the need to go into the studio together. Just to make music, there was no other purpose. We both need to create something together, because we like to work with each other. It started as an experiment, but now it has become the project Koner.
Koner is a duo. Can you say who does what?
Peter composes music and Els writes most of the lyrics. However, there is a huge interaction between us. Most of the songs are created because Peter has an idea and starts to work on it. We discuss what we feel, then Els completes the text, while Peter continues to create the music. Thereafter, the voice is recorded. Each song is a story in itself, every song is different. Peter uses various instruments and the voice of Els is the tool. That makes each song unique. Occasionally, Peter is also behind the microphone (Els laughs...) Currently we are doing everything on our own. The fact that we both have a lot of experience in the music business is an advantage. That could obviously change, but we'll see!
Koner is a new name, but you both have lots of experience. Do you consider Koner as a dance band, I have the impression that you want to push your limits, and especially charm the new wave audience.
The name Koner is not new. Peter used to work under the pseudonym Brian Koner, so the choice was quickly made. We see Koner as a band, not a fixed genre, it's rather an adventure. We both have a lot of musical experience in different genres, and you hear it in every song. People evolve, so music does too. However, the sound of Koner will always be recognizable, because our music is simply a reflection of our personalities, feelings and thoughts.

Recently you released your new single Die Babbie. Immediately I thought of Liasons Dangereuses, especially Los Ninos Del Parque. Was this track in your mind when you composed Die Babbie?
Since childhood Peter is a fan of Liasons Dangereuses, so it is obvious that he was inspired. But indeed, it has the same drive, without being a copy.
I am not so fond of remixes, but in your case it showed all different directions.
We do not really want these different directions. It was only our first release WTF that had several remixes, but that was simply because some of our friends spontaneously offered to do that. It is not our intention to make a series of remixes of each release, but it is an enriching experience to see how others interpret your music.

Will there be a Koner album and can you tell us about it?
We already have enough songs to fill an album, but we want to wait. We are making new songs right now and it is very important for us to have enough good songs from which we can make a selection.
Peter, when we asked you to sum up your favourite records, you hit us almost senseless with your technical knowledge of music. I suppose you follow everything closely. And, I wonder, can Els follow?
Peter has a lot of technical knowledge, but also Els too. Just like Peter, she worked as a DJ. She has a lot of stage experience in singing and dancing. In short, we complement each other and learn every day. We are perfectionists by nature, so that makes us an equal team.

In December, you played a couple of shows. A foretaste of what is yet to come?
That is absolutely true. Our goal is, in addition of the studio work, to play some gigs. We are looking forward to it and we also feel a great need to have contact with the people who buy our music. Peter is behind the synths, Els will do the vocals and our good friend VJ TSFX will take care of the visuals. A concert should stimulate all the senses...
Let us go back to the past. You are both experienced musicians who know the Belgian music scene. What has changed now, both good and bad things!
We think perople used to be more interested in the experimental genre, the unknown... That seems lost now. Trends are hotly followed, because of the rise of social media, and that seems almost impossible to break. Everything is pre-chewed, and most people just swallow. Don't get us wrong, we don't judge! It just makes it much harder to launch a new style that is not mainstream. The free download of music, combined with television programs that link singing talent to a successful musical career without having to fight for it, has turned music into a disposable product. The magical distance between the artist and the fan is reduced. However, people make or break the music (mostly anyway). Koner just needs to be heard by potential fans (laughs).
And now the future, what do you want to achieve with Koner?
We want to spread our own sound. It will be a long road, and it certainly won't be easy, but we want it! So that's already a good start. And believe us, nothing can stop us, because we are a very strong team. We trust each other, and that's kind of normal if you know each other for almost 20 years.
You have an international sound, I suppose you want to achieve something with Koner abroad. Do they know Koner in other countries?
The songs of Minimalistix were worldwide hits. Hopefully these fans will also discover Koner. If only a few can appreciate our music, then we are happy.

With whom wouldn't you mind to be alone in an elevator for 8 hours and what would you do then?
The inventor of the time machine, so we get the chance to meet all the composers who inspired us (and unfortunately are dead).

We are friendly people, so you have the last word.
We'll go on and on and on...
Didier BECU
01/02/2016
---
Onlangs bracht het Belgische elektro-danceduo Koner de nieuwe single Die Babbie uit. Peek-A-Boo vond dit dan ook een goede reden om een praatje te maken met Peter en Els.
Het is wel mijn taak, maar laten we dat voorlopig eventjes vergeten. Omschrijf zelf Koner eens!
Koner bestaat uit Els Mortelmans en Peter Bellaert. Wij hebben in het verleden samengewerkt aan verschillende succesvolle projecten en voelden enkele jaren geleden de nood om samen de studio in te duiken. Gewoon om muziek te maken, zonder enig ander doel voor ogen. We hadden beiden behoefte om samen iets te creëren, omdat het altijd al klikte tussen ons. Wat begon als een experiment, is uitgegroeid tot het project Koner.
Jullie zijn een duo. Kan je zeggen hoe jullie precies werken, wie doet wat?
Peter componeert de muziek en Els schrijft de meeste teksten en neemt de zang voor haar rekening, maar zowel voor de muziek als voor de tekst is er een enorme wisselwerking tussen ons. De meeste songs ontstaan omdat Peter een idee heeft en eraan begint te werken. We bespreken dan wat we voelen en daarna werkt Els de tekst uit, terwijl Peter verder aan de muziek knutselt. Daarna wordt de stem opgenomen. Elke song is een verhaal dat zich onderscheidt op het vlak van muziek en zang. Peter haalt klanken uit verschillende instrumenten en Els acteert als het ware met haar stem. Dat maakt elk song uniek. Ook Peter staat heel af en toe achter de microfoon (Els lacht…). Wij doen momenteel ook alles in eigen beheer. Door het feit dat we beiden veel ervaring hebben in de muziekwereld, waren we voorstander om het eerst op deze manier te proberen. Zo bepaal je volledig zelf wat er gebeurt en hoe. Dat kan uiteraard veranderen, maar dat zien we dan wel.
De naam Koner is nieuw, maar jullie hebben beiden ervaring zat. Beschouw je Koner ook als een danceband, ik heb de indruk dat je je grenzen wil verleggen, vooral in de richting van het new wavepubliek?
De naam Koner is niet nieuw. Peter werkte vroeger onder het pseudoniem Brian Koner, dus de keuze was snel gemaakt. Wij zien Koner niet als een band met een vast genre, maar eerder als een avontuur. We hebben beiden heel wat muzikale bagage en dit in een verschillend genre waarvan je in elke song wel iets terugvindt. Mensen evolueren, dus ook onze muziek. De sound van Koner zal je echter altijd blijven herkennen, want onze muziek is simpelweg een weerspiegeling van onze persoonlijkheden, gevoelens en gedachten.
Onlangs brachten jullie je nieuwe single uit: Die Babbie. Ik moest onmiddellijk aan Liasons Dangereuses denken, en dan vooral aan Los Ninos Del Parque. Zat dit nummer in jullie hoofd toen jullie Die Babbie componeerden?
Peter is van jongs af fan van Liasons Dangereuses, dus het is vanzelfsprekend dat Die Babbie erdoor is geïnspireerd. Het heeft inderdaad dezelfde drive zonder er een kopie van te zijn.
Zelf ben ik niet zo tuk op remixes, maar op jullie single blijkt vooral dat vooral aan dat jullie een band zijn die heel wat verschillende richtingen wil inslaan, niet?
Wij willen niet echt verschillende richtingen uitgaan. Alleen van onze eerste release WTF zijn er verschillende remixes gemaakt, maar die zijn er gekomen omdat enkele van onze vrienden dat spontaan hebben aangeboden. Het is niet de bedoeling om aan elke release een resem remixes te koppelen, maar we vinden het wel leuk om onze muziek door iemand anders te laten interpreteren. Dat kan enorm verrijkend werken.
Komt er een Koner-album en kunnen jullie daar iets over vertellen?
We hebben nu al genoeg nummers om een album te vullen, maar we willen er nog even mee wachten. We zijn volop met nieuwe nummers bezig en het is voor ons heel belangrijk om genoeg goede nummers te hebben waaruit we dan een selectie kunnen maken.
Peter, toen we je naar jouw favoriete platen vroegen, sloeg jij ons bijna murw met al je technische muzikale kennis. Ik veronderstel dat jij alles op de voet volgt. En, ik vraag me af, kan Els jou wel volgen?
Peter heeft enorm veel technische kennis, maar ook Els is thuis in de muziek omdat zij net als Peter in het verleden als dj heeft gewerkt. Daarenboven heeft ze enorm veel podiumervaring qua zang en dans. Kortom, we vullen elkaar aan en leren elke dag bij. We zijn beiden even leergierig en perfectionistisch van aard, dus dat maakt ons een evenwaardig team.
In december hebben jullie een tweetal shows gespeeld. Een voorproevertje van wat komen zal?
Dat klopt absoluut. Ons doel is om, naast het studiowerk, ook live op te treden. Wij hebben daar ten eerste enorm veel zin in en we voelen ook een grote behoefte om contact te hebben met de mensen die onze muziek kopen. Peter staat achter de synths, Els neemt de zang voor haar rekening en onze goede vriend VJ TSFX zorgt voor de visuals. Een optreden moet alle zintuigen van het publiek prikkelen… Geur en smaak is momenteel nog een beetje moeilijk, maar de techniek staat niet stil, dus alles is nog mogelijk … (lacht).
Laten we ook nog eens naar het verleden kijken. Jullie zijn ervaren muzikanten die de Belgische muziekscène door en door kennen. Wat is er veranderd in vergelijking met vroeger, zowel het goede als het slechte!
We hebben de indruk dat er vroeger meer interesse was voor het onbekende, zeg maar het experimentele genre. Dat lijkt nu een beetje verdwenen te zijn. Door de opkomst van de sociale media worden trends heel sterk opgevolgd en het lijkt quasi onmogelijk die te doorbreken. Alles wordt als het ware voorgekauwd en veelal geslikt door mensen die niet verder zoeken. Dat is zeker geen verwijt, begrijp ons niet verkeerd.
Dit maakt het gewoon veel moeilijker om er een stijl tussen te krijgen die niet strookt met de mainstream. Het gratis downloaden van muziek in combinatie met televisieprogramma's die zangtalent gelijkstellen met een succesvolle muzikalecarrière zonder er te moeten voor vechten, heeft van de muziek een soort wegwerpproduct gemaakt. De magische afstand tussen de artiest en de fan is verkleind. Maar hoe het ook zij, het zijn de mensen die de muziek maken of breken (meestal toch). Koner moet alleen nog gehoord worden door potentiële fans (lacht).
En nu naar de toekomst, ik weet wel dat dit verdraaid veel op een sollicitatiegesprek lijkt, maar wat wil je met Koner bereiken?
We willen onze eigen sound kunnen verspreiden. Het kan/zal een lange weg zijn en zeker niet de gemakkelijkste, maar we zijn doorzetters. Dus dat zit alvast goed. En geloof ons, niets kan ons tegenhouden, want we zijn een heel sterk team, mede dankzij het grote vertrouwen tussen ons. Zoiets mag je wel zeggen als je elkaar bijna 20 jaar kent.
Jullie hebben een internationaal geluid, ik veronderstel dat jullie met Koner ook iets in het buitenland willen bereiken. Kennen ze Koner in het buitenland?
Songs van Minimalistix, waar wij beiden deel van uitmaakten, hebben wereldwijd de top 20 gehaald. Hopelijk zullen de fans via deze weg ook Koner ontdekken. Als slechts een paar mensen onze muziek kunnen appreciëren, zijn wij al gelukkig.
Met wie zou je het niet erg vinden om samen in een lift te zitten gedurende 8 uur en wat zou je dan doen?
Met de uitvinder van de tijdmachine, om op die manier de kans te krijgen om alle, maar dan ook alle componisten, die ons inspireren (en er helaas niet meer zijn), te ontmoeten.

We zijn vriendelijke mensen, dus jullie hebben het laatste woord.
We'll go on and on and on…
Didier BECU
01/02/2016
---