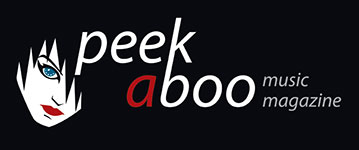 like this interview
---
INNERWOUD
I like the fact that the music appeals to very diverse audiences, both heavy metal and drone-oriented fans and people who tend towards classical or minimalist music, but also people who have never heard it before.
31/01/2016, William LIÉNARD
---
On the occasion of the presentation of the album Mirre at De Groene Waterman in Antwerp, we interviewed Inner Wood (Pieter-Jan Van Assche) just minutes before he took the stage. This is the result.
Please introduce yourself to the readers of Peek-A-Boo-Magazine?
I'm Pieter-Jan. Some people know me as Innerwoud, a solo double bass project. I grew up in Antwerp, but I live and work in Ghent, an interesting town, because it is a breeding ground for exciting and experimental projects. I'm not a musician by training, but I had quite some music lessons. I learned a lot myself...
And you play in bands in Ghent?
I did, yes, I have done so very much, very different things, with Yadayn I had a band and we played neoclassical music, or acoustic post-rock. That was a very nice time, but I wanted to go in a different direction. There were other projects, cabaret with friends. That was a very delicate period also, a completely different genre, and then I ventured the gamble to do something on my own. I was in good spirits at the start of this project, although I had a lot of obstacles. I used to play classical contrabass, but the effects, the amplifiers and the pickup on the bass were difficult to control. My first shows were exciting because I was alone for the first time and I had to prove myself, because double bass alone, well... people have high expectations, because it's something new. But there were too many technical aspects in connection with overdrive and feedback that I did not get under control, but after some adjustments and proper guidance from different sides, it turned out fine. Now, I can focus on playing and that's a very big difference...
Why this kind of genre?
Because of a lot of musical influences. I am a very big fan of anything that comes from Iceland, but also from Canada. Not that I wanted to do the same, but that kind of music with repetitive patterns, music that sounds very big and yet is very small.
Those are contemporary influences, but in fact it sounds very classical?
Yes, think of Debussy, Impressionism, and if you go futher back, Bach, certainly. If I have to enumerate influences, the 5th cello suite by Bach is certainly one. The cello suites of Bach are very baroque if you play them in a baroque way, but you can also interpret them in a contemporary way. The way he uses the chords, I want to do the same with my harmonies on my double bass; but you can mention Arvo Pärt or Gorecki too. There is a lot of classical music in me...
You are a man of your time?
Er... yes, but with the necessary background and influences, and I do it consciously, I use a drone track, but when I'm playing on stage, you will hear that I also pay very much attention to melody, much more so than on the album, while I consciously keep the sound very small, with loops for the patterns and reverb, which is not necessary in a church or a chapel. I start with a very clean sound at the beginning, and as a double bass is a very sensitive instrument, there is a lot of acoustic interaction with patterns that reinforce one another as a result. The amplifier reflects to my double bass, the sound is recorded again - the amplifier must not be overloaded - and if that goes well, it is very exciting to make contemporary music with classical methods.
How did the contact with ConsSouling Sounds come about?
Via people of the band Charnia. They picked me up while working on an album for ConSouling Sounds. Nel of ConSouling came to one of the first performances of Innerwood. I was playing with Monnik then. Monnik is Charnia's singer. ConSouling was excited and the next day I got an email asking if I was interested in making a record. I was given a lot of time, until the end of 2015. It seemed so far away, because this happened in the summer of 2014. In January, 2015, I started and I had it all on tape by February/March. The material was mastered after the summer and the record was ready by December, 2015.
How are the reactions on the album and the live performances?
Good. I try to pick up reactions and be approachable after my performances. I like gigs in small venues, very close to people, and many people react in the same way even though they interpret it differently. They often say: I touched me, I was in a dream world; some say they felt sleepy but in a good way. I find that all nice compliments, even if someone finds peace by the heavy and drone-like music and says: I closed my eyes and I saw the pictures. I think that's great and besides, you don't have to be a drone enthusiast or a lover of classical music. I like the fact that the music appeals to very diverse audiences, both heavy metal and drone-oriented fans and people who tend towards classical or minimalist music, but also people who have never heard it before and who think of film music. That is why I like Bram's visuals during the performance. It is indeed music that you can use visuals with.
Where does it go from here?
Good question! There is already a new record In my mind and in my fingers or at least mostly, but I don't know in what direction I want to go. Do I want to work alone? I's a difficult question to which I have absolutely no answer. I sometimes miss the cooperation when I'm standing backstage, and when you step on stage you are all alone too. I have to rely on self-criticism. You can read reviews and listen to comments, but the most effective criticism comes from your entourage, which I don't have. So, who knows, maybe I'll make the next Innerwood album with a band. I have plenty of ideas. We shall see!
Thank you for this interview and good luck!
Album review Mirre
Concert review 22/01/2016
William LIÉNARD
31/01/2016
---
Naar aanleiding van de presentatie van het album Mirre in De Groene Waterman in Antwerpen, vonden we Innerwoud (Pieter-Jan Van Assche) bereid om ons te woord te staan net voor hij zich richting podium haastte. Dit is het resultaat.
Wil je je even voorstellen aan de lezers van Peek-A-Boo-Magazine?
Ik ben Pieter-Jan. Sommige mensen kennen mij ondertussen als Innerwoud, een solo-contrabasproject. Ik ben in Antwerpen opgegroeid, maar ik ben ondertussen al heel lang in Gent actief, met heel veel plezier trouwens, want Gent is echt wel een broeihaard voor alles wat experimenteel en boeiend is. Ik ben geen muzikant van opleiding, maar ik heb wel muziekschool gedaan. Heel veel heb ik mezelf aangeleerd…
En je speelt ook in bands in Gent?
Heb ik gedaan, ja, heb ik heel veel gedaan zelfs, heel uiteenlopende dingen, met Yadayn heb ik samen een band gehad, neoklassieke muziek, of akoestische postrock. Dat was een heel fijne periode, maar ik heb dat spoor wat verlaten omdat ik een andere richting in wilde. Er waren nog wat andere projecten, ik heb zelfs nog kleinkunst gespeeld met vrienden. Dat was een heel fijne periode ook, een compleet ander genre, en dan heb ik toch de gok gewaagd om alleen iets te proberen. Ik heb dan heel veel losgelaten en ben vol goede moed aan dit project begonnen, met heel veel hindernissen in het begin. Ik was gewend om klassieke contrabas te spelen, maar er komen effecten bij, er komen versterkers bij, een pick-up op de contrabas, en dat zijn dingen die je niet meteen onder controle hebt. Mijn eerste shows waren sowieso spannend, want ik was voor het eerst alleen en ik moest me bewijzen, want contrabas alleen, tja… mensen hebben verwachtingen en die liggen vrij hoog omdat het iets nieuws is, zo van: zal het kunnen boeien? En daar kwamen ook nog heel wat technische aspecten bij in verband met oversturing en feedback die ik niet onder controle kreeg, maar na wat aanpassingen en een goede begeleiding uit verschillende hoeken is dat goed gekomen en kan ik mij live focussen op het spelen en dat is een heel groot verschil…
Hoe kom je tot dit genre?
Als gevolg van heel veel muzikale invloeden. Ik ben een heel grote fan van alles wat uit IJsland komt, maar ook uit Canada. Niet dat ik hetzelfde wilde doen, maar toch dat soort muziek met herhalingspatronen, muziek die heel groot klinkt en toch ook heel klein is.
Je noemt nu hedendaagse invloeden, maar het klinkt uiteindelijk heel klassiek?
Ja, denk aan Debussy, het impressionisme, en als je verder teruggaat, Bach, zeker wel. Als ik invloeden moet opsommen dan zit daar zeker de 5de Cellosuite van Bach bij. De cellosuites van Bach zijn heel barok als je ze op een barokke manier speelt, maar je kan ze ook op een hedendaagse manier interpreteren. Zoals hij de akkoorden gebruikt, zo wil ik het ook doen met mijn harmonieën op contrabas; maar je kan er ook Arvo Pärt bij betrekken of Gorecki. Er zit heel wat klassiek in mij…
Je bent een man van je tijd?
Euh… ja, maar wel met de nodige achtergrond, de nodige invloeden, en ik doe dat ook een beetje bewust, ik kies voor een dronetrack, maar live zal je horen dat ik ook heel veel aandacht aan melodie besteedt, veel meer nog dan op het album, terwijl ik de klank bewust heel klein probeer te houden, met loop voor de patronen en dan reverb erbij, die er bijvoorbeeld in een kerk of kapel niet bij hoeft. Ik begin met een heel clean geluid in het begin, en omdat een contrabas een heel gevoelig instrument is qua snaarlengte, heb je heel veel akoestische interactie in het instrument waardoor de patronen elkaar versterken. De versterker reflecteert naar mijn contrabas, het geluid wordt opnieuw opgenomen - waarbij de versterker niet mag worden overstuurd - en als dat goed gaat is het heel erg boeiend om met klassieke methodes hedendaagse muziek te maken.
En dan kom je bij Consouling Sounds terecht?
Ja, via mensen van de band Charnia uit het Waasland. Die hebben mij opgepikt en zij brachten net een album uit bij Consouling Sounds. Nel van Consouling is naar één van de eerste optredens van Innerwoud komen kijken, ik speelde toen met Monnik samen, Monnik zingt bij Charnia, en bij Consouling waren ze meteen enthousiast en de volgende dag kreeg ik een mailtje met de vraag of ik geen zin had om een plaat uit te brengen. Daar kreeg ik heel veel tijd voor, tot eind 2015, dat leek toen heel veraf, want dat was in de zomer van 2014. In januari 2015 ben ik aan de slag gegaan en in februari/maart stond het allemaal op tape, na de zomer is het materiaal gemasterd en dus werd het uiteindelijk december 2015.
Hoe zijn de reacties op het album en op de live-optredens?
Goed. Ik probeer die reacties op te pikken en aanspreekbaar te zijn na optredens. Daarom doe ik graag huiskameroptredens, heel dicht bij de mensen, en heel veel mensen reageren op eenzelfde manier ondanks het feit dat ze het heel divers interpreteren. Ze zeggen vaak: ik was echt mee, ik was een beetje in een droomwereld; sommigen zeggen dat ze een beetje slaperig waren, maar op een goeie manier. Dat vind ik allemaal mooie complimenten, ook als iemand rust kan vinden door het zware en het droneachtige van mijn muziek en zegt: ik deed mijn ogen dicht en ik zag de beelden. Ik vind dat geweldig en trouwens, je hoeft geen droneliefhebber te zijn, zelfs geen klassiekemuziekliefhebber. Ik vind het leuk dat het een heel divers publiek aanspreekt, zowel de zware, metal- en drone-georiënteerde fans waarvan Consouling er een heel pak heeft, als mensen die eerder naar klassiek of minimalisme neigen, maar ook mensen die het nog nooit gehoord hebben en die de link leggen met filmmuziek. Daarom vind ik het leuk dat de visuals van Bram getoond worden tijdens het optreden, want het is inderdaad muziek waarbij je beelden kan gebruiken.
Hoe gaat het nu verder?
Goeie vraag! In mijn hoofd en vingers zit een nieuwe plaat, of toch grotendeels, maar ik ben nog niet aan opnemen toe, dat moet nog allemaal op z'n plaats vallen en ik weet nog niet welke richting ik in wil. Wil ik het helemaal alleen doen?, een open vraag waarop ik nog absoluut geen antwoord heb. Ik mis het samenwerken soms als ik alleen backstage sta, en als je op het podium stapt ben je ook helemaal alleen. Bovendien ben ik op zelfkritiek aangewezen. Je kan recensies lezen en naar reacties luisteren, maar de meest effectieve kritiek is die uit je onmiddellijke omgeving, en die heb ik niet. Dus wie weet, misschien maak ik de volgende Innerwoud-plaat niet meer alleen. Ideeën zijn er in elk geval genoeg. We zullen wel zien!
Dankjewel voor dit gesprek en nog veel succes!
Album review Mirre
Concert review 22/01/2016
William LIÉNARD
31/01/2016
---