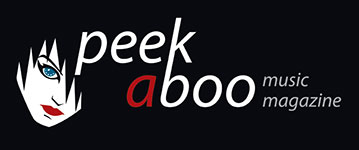 like this interview
---
XMH
We would love to do the big summer festivals in Germany and the rest of Europe!
09/03/2014, Filip VAN MUYLEM
photos: © Filip Van Muylem
---
XMH is the future, so time to see what the future brings! Benjamin Samson was so kind to answer most of the questions …
Your first record that has been sent out by Alfa Matrix, how does it feel? Do you see any difference with Dance Macabre?

Benjamin Samson: Danse Macabre did some great stuff for us. And at the time they were a perfect fit for us as to where we stood as a band. But as time passes by situations, people and needs change. This was the same for us, so we went looking for a place where those needs would be met. And at Alfa Matrix we really got the room and opportunity we needed to grow and keep expanding our potential. So how does it feel? Pretty damn good.
Do you feel already the difference (with the new record company)?

BS: Yes. Even in these days of illegal downloads. Being backed up by a record company does open some doors and it makes life as an artist just a little bit easier. Even if it's just by getting people to take you much more seriously and take the time to listen to what you do. And to be honest, I was kind of stuck in a bad place with XMH and getting so frustrated by so many people and the way the music industry is going these days. I was just about ready to throw in the towel after this album was released. But signing to Alfa Matrix really gave me a positive influx of energy, almost forcing me to see that the sky is the limit and XMH is far from finished with its run.
Do you have any idea about the airplay or press reactions so far?

BS: I don't really know about airplay, but the press reactions so far have been very good. We got some very good reviews for both the EP "The Business" and our upcoming Album "In your Face". Thus so far things are looking good for XMH.
Isa, I read that you are now 5 years part of XMH, how does it feel?

Isa: It certainly doesn't feel like 5 years as it has been such a rollercoaster ride, it all went so fast. I remember doing the audition in 2009 and one week later I was already on stage with the guys in Barcelona and Madrid supporting Covenant! So far it's been fucking awesome and we are having lots of fun, I go to all places in Europe and meet all kind of cool people. Let's see if the guys can put up with me for another 5 years.
Your new album got remixed (at least some songs). One that I found very keen was the more metal minded version of 'Failing Technology (Beyond Violet remix)'. Ain't that a possibility for some songs in the future? As I know you love to play different kind of styles?

BS: I do like to play different styles and a more metal approach does seem to fit some of the XMH tracks, so who knows… It's definitely a possibility, we sure like the gothic metal remixes made by The Dreamside and Beyond Violet, but I'm currently trying some other new stuff for future releases. You'll just have to stay tuned to find out what those are.
I also picked out this one remix by Heimataerde, for sure because the bagpipe in it the change in setting, what do you think about it? Would you play it like this on stage, if you would be able to play it (if you play at the same festival for example)?

BS: Sure, if the possibility arises we could play this version. It's one of those remixes that's something completely different but still captures the vibe of the original tracks and all of us really like it.
Another (and simply the best remix) is the 'Product (Tyske Ludder remix)'. Any plans on working more together? Or playing live together? How does it feel to be remixed by him?

BS: There aren't any concrete plans on future coops, but who knows. We would love to, that's for sure. And how it feels to be remixed by them… That's a tough one, of course we are honored But it's not that I don't appreciate a remix by Tyske Ludder or take it for granted or anything. I think every remix is special in its own way and I'm equally very thankful to all of the bands who contributed remixes for the bonus cd.
Something I'm really expecting to happen one day is that you and Implant play together (Failing Technology - Implant remix - is the second best remix)?

BS: Again, anything is possible. So that could be something you will see in the future. But you're right in assuming that doing something together with Implant might be a bit more likely as we have already worked together on a number of occasions. There is also a click off stage, I guess you could say we became mates through working together so joining forces on stage might just be the obvious next step.
I saw that 'Product' was co-written by Len Lemeire & I must say that if I haven't read it I would say that the lyrics are pretty close to Implants last album 'The productive citizen'. How was it to work out some songs together with Len? This song is BTW one of my favorite ones on the album.

BS: Working out songs with Len was great. He really pushed us into territories that we otherwise wouldn't have ventured in to. And doing new things, even if they seemed out of our comfort zone, it really worked out. I feel this is one of the reasons the new album turned out so well.
Is there somebody that you wanted to remix you? I feel that a Freakangel remix of XMH would be great, too … Any comments on that?

BS: I think that within the genre we got all of the remixes we were really hoping for. Or at least most of them. About Freakangel… to be honest I wasn't familiar with them so I had to look them up. But a remix from them would be kind of cool indeed. Who knows, maybe it's an option for the future.
As for other remixes I might have wanted: I would have liked one by Astrix (one of my favorite psytrance producers). But that might prove to be a difficult thing to achieve as psytrance and EBM/Dark electro are like two different worlds, even though they could go together just fine if you ask me. But hey, you can't have it all and there's always opportunity in the future. Besides, I'm more than happy with what we've got.
'The Blind' is a strong one, where all 3 voices blend in perfectly, can you say something about how you realized this one and how you feel about it on stage? Can you explain the lyrics of this song a bit more?

BS: I wrote the lyrics but I didn't have anything concrete in mind about how to incorporate them in the track. Wim de Nooyer (our manager) and Isa Garcia came to my place to discuss some possibilities and we came up with sort of a first draft. Then when we brought our ideas to Len. He had some extra input and we recorded, re-recorded, mixed and tweaked until we had what we were looking for.
I feel that the track works really well on stage, mainly because of the general reaction of the audience. The Blind has kind of a different feel to it then a lot of our other tracks, so I'm happy that it worked out so well.
The lyrics have something of a double layer to them, at least for me that is. They're essentially about the inability of people to truly think freely, clinging on to certain dogmas, principles and rules they're taught to value and hold as the only possible truth. While this behavior in many ways prohibits us from reaching our true potential. This can be viewed in a practical, social, political and/or somewhat of a humanitarian way. But they can also be viewed from a more philosophical or even spiritual stand (hence the sample ;-)
But I must add that XMH isn't about lecturing people. Sure the lyrics can be (and often are) about issues that are important to me, but I don't want to impose any view that I might have on an issue on anyone. People can choose to take from our tracks what they want, and if that helps them get something positive or something they can relate to out of our music than I'm all the happier for it. But if they choose to ignore the lyrics and just have a good time dancing, that's equally fine by me.
I really love 'Snakes' it has a nice techno and club minded drive, live it's a great song with a big 'la la la' moment, is this your most popular song?

BS: It's up there in the live set with "The Business" and "Forever". And I know that for some people "The Blind" is one of their favorites as well. So guess it's a shared first place.
With whom in mind is 'System Collapse' been written? How do we have to see the song?

BS: "System Collapse" is about how most of our society is based on a system constructed by lies that individual groups of people are starting to wake up to. It has mainly been written with all kinds of media outlets that falsify information for better ratings or because of government and/or corporate funding and the people that blindly follow the misinformation that is being spewed at them in mind.
It's also a track about my personal frustration with a lot of people seemingly unwilling to look (and think) past a certain point, discarding everything that is different from their own force-fed opinion and even defending things that have been proven to be lies. But there is a slight relief in the fact that the number of people that do open their eyes and really form an opinion of their own is growing.
Another song that captivated my when I listened to the lyrics is 'Failing Technology'. What will happen or what is the precise danger in this song?

BS: This track is deals with our dependence on technology, the potentially harmful way we implement it and how it can ultimately be our downfall. I think it's a given that we are spinning out of control in the way that we use our technological advancements. Sure, we benefit from them. But on the other hand we are getting more and more disconnected from what we truly are and in a certain way from reality. And in doing so we are inflicting great harm on our environment and ultimately ourselves.
I mean, we've become so accustomed to certain luxuries that we've made ourselves totally dependent on them forgetting that they're something extra, to make life easier/more fun, and are not a real way of life in itself. Because what are we to do when these technologies ultimately fail, or fail to do what we expect them to do? Just curl up in a ball and die? The way I see it, if we keep going this way, that is our inevitable faith. Because all of this technology, wonderful as it may be, is created by man and is thus inherently flawed. So the moment will come when something that we perceive as absolutely crucial for our modern day existence fails. And unless there is a changing of our collective mindset towards these matters, I don't see us adapting to that situation or creating a fast/good enough solution.
Also there is the whole sci-fi Skynet Matrix type theme to the track. Wouldn't that be something… Some AI becoming self-aware and deeming us humans a threat… ;)
Big plans for summer festivals?

BS: We would love to do the big summer festivals in Germany and the rest of Europe. Backed up by this new album which got great reviews, and the reviews we get from our live shows, we totally feel confident we are ready for it. So let's hope the promoters are reading this J We are still working on some tour dates for when the album is released and we'll let you know as soon as possible when and where we will be playing.
Are there any plans to figure on future compilations?

BS: Nothing concrete at the moment. But most of the times things like these just kind of happen. So keep an eye out for XMH on future compilations. 'Cause I can't say when or what, but chances are we'll be on a few.
Any other future plans? Or something special as closure of this interview?

BS: There will be an EP release for The Blind as well as a new video. I've made some remixes for bands such as Leaether Strip, Schwarzblut, Junksista, Die Braut, etc. As I hinted earlier, there is already some writing being done for future releases. But for now our main focus is on releasing "In your Face" which will be out on April 4th and is available for preorder now. And make sure you check out www.xmh-music.nl and www.facebook.com/XMHelectro frequently for more info on our new album and when and where you can get your dose of XMH on stage!
As XMH is backed by many other bands and artist, some were willing to add some comments and give some answers, directly. We can only appreciate it:
Claus Larsen from Leaether Strip on XMH
- What do you think/know of XMH?
I've known about their music for some years now, and I have always liked their style, some of the best in the more danceable part of the scene, and it's not just "beats", they also got a message in their songs, which many acts lack.
- How did the remix for XMH go for you?
I had lots of fun working on this remix, and I'm really happy with the result, and I hope it will maybe help them get some attention from my side of the woods.

Yone Dudas from Decoded Feedback on XMH:
- What do you think/know of XMH
We have known the XMH manager Wim de Nooyer for many years. He introduced us to XMH. Wim approached us about doing a remix for XMH and we were excited. We thought their style was very cool. We really liked the male/female vocal contrast. Very different from other groups of similar genre.
- How did the remix for XMH go for you
The remix went very well. I listened to the track once just to get an idea of it, but I didn't want to listen to it a lot because I wanted to form my own idea of what I wanted it to become. I wanted to make it minimalistic. I also wanted to highlight Isa's vocals more. I think she has a really cool style. I wanted to add a few of our own personal touches on the remix, but still have the original feeling of the song be evident. We are very pleased with how the remix turned out.
Helalyn Flowers with some feedback:
-What do you think/know of XMH?
A: We think that XMH is exactly what this music was meant to be. There's room for lot of things, like cold atmospheres, catchy synths, upbeats and that unconditioned release of aggression that will blow audiences minds. Very physical and worth of a strong live experience!
-Would you be interested in doing something together concert/ festival wise?
A: Of course we are! Would you imagine XMH + Helalyn Flowers on stage? The ultimate Army of the FUTURE!
-How did the remix for XMH go for you?
A: We really enjoyed it. Of course it's always a bit hard to remix original songs which sound is already club-driven because you have to invent something different that doesn't lose rhythm and club appeal. So we opted for an old-school EBM-like bass line with a lot of groove able to maintain that dose of aggression to support those destructive vocals. Also, a different intro has been included, a bit in the vein of Depeche Mode so that, when the bass line comes in... you are blown away! Definitely, this remix has been a great experience!
And final question to Alfa Matrix, what made you sign XMH to Alfa Matrix?

Seba Dolimont: Because they are offering the best dark electro album of the year!
Some links:
The cd review:
http://www.peek-a-boo-magazine.be/en/reviews/xmh-in-your-face/
The EP review:
http://www.peek-a-boo-magazine.be/en/reviews/xmh-the-business-ep/
concert review:
http://www.peek-a-boo-magazine.be/en/reviews/firemen-of-death-xmh-implant-k-bereit-synthetica-terra-gotha-xxi-vlissingen-the-netherlands-25-01-2014/
pics :
http://www.peek-a-boo-magazine.be/en/photos/xmh-de-piek-vlissingen-the-netherlands-2014/
XMH wil perform in Berlin, 31/5/2014 at Synthage Festival, here's the hyperlink: Synthage Festival
Filip VAN MUYLEM
09/03/2014
---