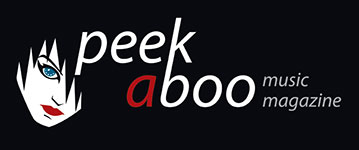 like this interview
---
PORTION CONTROL
Portion Control is working on the continuation of a great story!
04/04/2014, Filip VAN MUYLEM
photos: © Marquis(pi)X
---
John Whybrew and I had a short chat in order to promote their gig in Antwerp. We get a few shots to get to know them a bit better in a race against the time …
'Portion control is understanding how much a serving size of food is and how many calories or how much food energy a serving contains.' Pretty funny, this is the only thing I found on the wiki … So why this name and what does it mean to you?'
It has been our name since inception and was little mentioned at this time. As we face an increasing obesity epidemic it is referred to as a method to restrict calorific intake.
You are active since 1980, your name was dropped as influence by big bands like Depeche Mode, NIN, Skinny Puppy, Orbital … and yet you are not as famous as them, how do you feel about it? No frustrations about it?
We have no frustrations, our aim has never been to be professional musicians, in fact quite the opposite. Of course it would be good to be better recognized but we have no complaints
You are from the UK, can you tell us something about the changes in the UK scene since the 80's until now?
In the mid 80's more difficult/industrial electronics enjoyed a small following, today the UK scene is virtually non-existent barring a few festivals.
In May you'll perform in Antwerp (2/5/2014), can you tell the few people who haven't seen you yet on scene hat to expect from you?
Expect mid tempo pure electronics ranging from EBM to industrial ambient fused with projected visuals
Can we say that it must be strange for you to see really 'old' fans and youngsters coming to your gigs? Do you often talk with the fans and what is their feedback (for sure the 'old school fans)?
Many old school fans have the same cultural life experiences and attitudes as us. Newer fans have the opportunity to experience our back catalogue.
One of the classic tracks is 'Chew You To Bits', can you say something about the lyrics? How do we have to see the philosophy of the lyrics?
The lyrics are clear in the song and open to interpretation by the listener.
'Deadstar' is a more recent hit, how about the lyrics? It has nothing to do with Covenant (their title track was more 'Dead Stars', but I can see some people posting about it), did you get any negative vibe around the title and Covenant?
We had no idea Covenant had a track with this title and anyway the tracks have no similarities
You recently released an album with previously unreleased material called 'Unrest in the Grime'. Can you tell us something about the title track? It reads like a gimmick?
The title was presented to us by Dirk Ivens and we tend to like the way other European countries structure the English language. 'Unrest in the Grime' is one example as is 'violently alive' a title we used for a previous album.
How does it come that you decided to release them, as you already released a huge (5 cd box)? Wasn't there place for these tracks?
The 5 CD release is called archive and contains all our vinyl releases from the first period of our existence.. It includes the early albums, mini albums and 12' singles. It doesn't include anything from 2004 onwards, when we released welcome as a double CD
How come you released it on the Minimal-Maximal label and not on your previous one?
No reason other than we were asked to consider a release by Minimal-Maximal.
If I listen to a song like 'Pancreas' it's very clear that a band like Front242 has forgotten to mention you as their inspiration. Did you had the chance to talk to them, yet? For me it seems logic that someday you would work out something together?
Our formative years coincided with Front 242's and apart from the use of early synthesis and sampling we shared nothing in common. We are not into collaboration preferring our own working methods.
I didn't have much info about the new upcoming cd with unreleased tracks, but is it right to say that it's a walk in the past until almost now? As I can hear the music clearly change from cold EBM to almost techno trance?
If you mean the Minimal-Maximal CD it is a collection of oddments and versions of tracks from 2004 to present. Our music has always swung from ambient to EBM to techno industrial.
Is there more to come, is this only the beginning or should I say the continuation of a great story?
We are preparing new material and experimenting with new software tools... Whatever the result we can promise uncompromising pure slabs of electronics. We are returning to the small graveyard chapel we used as a makeshift studio during the creation of 'filthy white guy' as well as the Peacehaven caravan park.
Are there people you want to work with before they vanish or die (like for ex. Frank Tovey)?
As mentioned we aren't into collaboration, we have a lot of respect for other artists but don't feel our working methods would work in this context. Rather than collaborate we have carried out a small number of remixes over the years.
Is there something you want to drop your opinion on as closure to this interview?
As music moves into all media innovation becomes increasingly stretched. Technology has empowered us all to be able to create, consider where we are today. It is impossible to guess what even the near future will look like for music creation. Meanwhile, present day in Antwerp we share and emit a dark audio signal.
And for the Belgium fans, 2/5/2014 at Kavka, Antwerp:
Filip VAN MUYLEM
04/04/2014
---