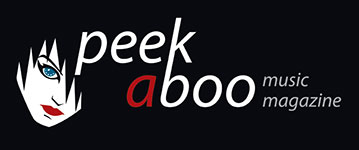 like this interview
---
THE AMATORY MURDER
We love sharing our art with the world
13/04/2014, Ron SCHOONWATER
---
THE AMATORY MURDER surprised us with their latest release "Exploiting Our Dreams". Christian Peppas found some time to answer our questions, because if you're new and exciting we want to know more...
It seems your band is relatively new, can you tell us more about the history of the band? (how did you meet, why did you get into music - that sort of stuff ;)
It basically started with just me and some synthesizers. I put a post up on Craigslist and that's how I met my partner in crime, Drakos, and eventually [our former lead guitarist] O.T. For a while, we had a rotating cast of musicians until my good friend Ernest said he would play bass for some shows. Eventually, O.T. moved to another country and we put up another Craigslist post and got Joey who I feel is the best fit for this band as a lead guitarist, due to how he manipulates and wails on that thing.
I got into music because it was always around me growing up. My parents always had it playing no matter where we were. I remember sitting in the backseat of their car and hearing stuff on the classic rock station that really resonated with me: The Beatles, U2, Led Zeppelin, Pink Floyd...just REALLY awesome stuff. And their record collection was pretty extensive too, so I was always going through it. I remember playing 'Revolution #9' from The White Album backwards--trippy! I also was really into video games--largely because of the awesome music--so I would take my tape recorder and just record the music off the games so I could listen to it later on. 'The Legend Of Zelda' and all the 'Megaman' games had such great tunes!
Why did you release an EP and not a full length album? Can we expect one full length soon?
Being an independent, unsigned band leaves you with a very limited budget. A Different Frequency was full-length largely because it was all recorded in my home studio. For the new tunes, we wanted to have actualcdrums so we hired Jonathan Jetter to record a live drummer. I also wanted to have older tunes re-worked. Lyrically, A Different Frequency is introverted. It sounds like I'm talking to other people, but mostly I'm having conversations with myself. Exploiting Our Dreams is really me sharing my deepest insecurities and almost reverting to a child-like state. More than anything, this EP has made me realize I'm working through a lot of issues. I think the goal to get that across to the listener is achieved. I want them to feel a part of this. I'm almost saying, "Here's my journal--feel free to go through it."
We will definitely be releasing a full-length later on--we have tons of material. I love the musicians in my band, and I like the direction we're going in
Why did you decide to mix your industrial rock songs into danceable electronic synth songs as well? Who came up with the idea?
Two of my favorite bands are Depeche Mode and Nine Inch Nails. I like that whenever they released albums, they were usually followed up with a remix album. Nowadays Trent lets fans download his tracks and remix them. I think that's awesome and lets people re-interpret the songs as they hear them.
We happen to be lucky enough to know a ton of talented musicians and DJs. Drakos and myself released a remix album once before, and it was so cool to hear what people came up with. Our world is full of such talented artists, and rather than release another remix album we wanted to have everything on one record. It furthers the idea of us wanting people to feel connected and a part of this. It's called Exploiting OUR Dreams, not Exploiting MY Dreams. I feel we're all being exploited in different ways in our culture.
What's the writing process of the songs? Do you create all songs together or…?
It varies. For the most part, I'll come up with a sketch and then bring it to the band. It's very rare that we sit and "jam" something out. Most of the time, we compose in the recording studio. I'll be like, "These are the lyrics and melody, this is the arrangement I came up with--I think the guitar part could be something that reflects this emotion". Drakos is very good at taking an idea I have and then making it his own on the guitar. He's the one who adds most of the "heavy" elements to a track. Same with Ernest on bass. They usually know what they're going to do once they hear the direction I'm going in. Joey, on the other hand, is more thoughtful and will try different things out until he's truly satisfied. I will say this: these songs wouldn't sound nearly as good as they do if any of these guys weren't involved. They truly are talented individuals.
Who did the lay-out for the cover of the EP? Can you tell us more about the idea behind it?
The cover is an actual acrylic painting done by Pony Ma who is a phenomenal artist here in New York. I asked him if he would be interested in making the cover for our EP. I told him the concept of the record and that I wanted the artwork to convey the theme of fear, nightmares, panic, etc. I think I said something like, "Imagine a kid afraid to fall asleep at night because he's scared his own fears are going to get him and exploit him, expose him to his peers." Pony did a FANTASTIC job and was nice enough to give me the actual painting, which currently hangs in my bedroom. It's the first thing I see when I wake up in the morning.
It seems your older work is heavily influenced by Nine Inch Nails, but your latest work seems to be more catchy industrial rock that's easier to the ears (like the Birthday Massacre). How would you describe your music?
I think our sound has definitely progressed. I wanted Exploiting Our Dreams to be more accessible to a wider audience. As far as The Birthday Massacre go, one of the things I've always admired that about them is that their tracks are so polished and poppy. They are clearly influenced by Nine Inch Nails as well, and they're able to take that industrial sound and bring it to a wider audience--more so like later Nine Inch Nails does. I wouldn't really consider us an industrial band, more like a rock band with some industrial elements.
If you had the chance to realize three things for The Amatory Murder this year, what would that be?
I think all of us in The Amatory Murder want to play more shows outside of New York--get on a tour with some awesome bands. We played a show the other night opening for Alesana and it was incredible. The fans were great. I want us to be able to hit the road and meet more of these awesome kids who are into us, it makes us know we're really doing something right. I'd also like to get another record out this year and definitely get some kind of agent or manager or label support, because right now we're doing everything on our own. Those are some big goals but I think we can get there if we stay the course.
Why would organizers in Europe do everything they can to get The Amatory Murder playing live in their country?
That's an interesting question. Oddly enough, a lot of fans on our social networks are located in Europe. I think it's safe to say we put on a good show. Everyone in the band truly loves music and performing, and we love our audience. We're not cocky Americans, we're humble guys from New York who love what we do. We love sharing our art with the world. Europeans would not be disappointed.
If you had the chance to open a live show for a band, which bands would be your favorites?
That's always the HARDEST question, hahaha. I think one band we would be a great opener for is Muse. I love Muse, and I think they have the same synth-rock/hard-rock elements that we have. Who else? Depeche Mode, Nine Inch Nails, AFI, New Year's Day, U2, Black Veil Brides, Fearless Vampire Killers...Honestly, if a band is cool and treats their fans good, we're happy to open for them.
If we look five years in the future; what would have happened in those years to the Amatory Murder to call it a success?
Several tours and albums under our belts, a decent income...If I could feel at peace with where we are and satisfied, fulfilled, I'll personally be happy. You know what though, meeting people at our shows and getting all these Facebook messages and knowing our songs have touched them, that's a success in itself. I feel pretty good already.

There's a lot to be done, but it's just a matter of working hard. I believe hard work brings results--so we're looking forward to it!
Is there currently a healthy (industrial rock) music scene in New York/ the USA? Can you tell us something more about it?
There's a pretty decent sized industrial scene in New York. A couple of industrial artists actually contributed remixes to Exploiting Our Dreams and were happy to do it. There's both healthy and unhealthy aspects to that scene. For the most part, people are nice and down-to-earth. James Francis of Panic Lift is a really great guy as is Elliot Berlin of Aesthetic Perfection. A music scene is supposed to be communal and fun, not hijacked for your own self-gain.
Which, new and talented, band should we follow according to you?

ANOTHER hard question...I'll give you a few, and I know I'm probably gonna forget a bunch of great ones. Definitely, without a doubt, follow The Stink. They're also based in Brooklyn, NY in our home of King Killer Studios. They're an incredible metal/rock band that doesn't take themselves too seriously but put on a seriously amazing show. I actually have them tattooed on my arm. They've also been like musical big brothers to me. Also check out The Rakehells, SomeonElse, Capita Clip, Kore Rozzik, and Crystal Noir & The Obscurity--a band that I co-wrote and produced music for.
Something you always wanted to say, but never was asked…

I honestly can't think of anything. I feel I'm pretty open with what I feel about things...hmmm...
Ron SCHOONWATER
13/04/2014
---