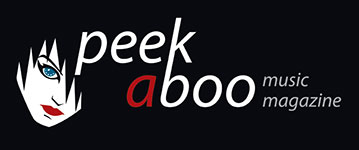 like this interview
---
DOLLS OF PAIN
Come and see us on stage or buy our cd and this quote comes from your magazine!
06/04/2014, Filip VAN MUYLEM
photos: © Marquis(pi)X
---
Out of the 10 bands that Advoxya Records sended in I wanted to do some interviews. First one was Stin Scatzor and from this band I also wanted to know more and get to know them a bit better as I found their music worth it …
My classis starter: why did you choose this name?
Laurent: We choose this name because when we were young (and beautiful). We enjoyed a side of the gothic and dark electro scene where there were pretty dolls and some pain... the fetish scene, so we decide to choose this name.
Olivier: We are dolls? No? We are all the doll of somebody that we want it or not. For my part it's really this meaning which I wanted to demonstrate.
For the people who don't know you: how did it all start?
Olivier: I played with some bands of New-Wave and metal since I was 14 years old, but someday I really wanted to make the music which I wanted to do and I especially wanted to work with people who shared the same interests of this kind of music. I met Cédric in Gothic's party of Strasbourg and I met Laurent because he was an owner of an underground shop of clothes
I know you are from France, does this mean you play often together with bands like K-Bereit & Herrschaft?
Olivier: We sometimes play with other French bands. It's the fate because we let the organizers choose the bands which they want to make play. On the other hand, one thing's for sure, it's because we meet more often French bands in other countries because in France this scene begins to die…
Is it hard to survive in these hard economic times? How hard is it for a band like you, from France?
Laurent: We have never live (or survive) with the money of our music; we all work in another way to live. But for sure, you have right, it's not easy to play in these economic times, our manager Olivier has more difficulties to find a place for gigs than 4 years ago.
Olivier: We will survive and I love challenges!
Can you describe the live vibe, for the people who haven't seen you yet on stage?
Laurent: The best to have an idea of this is to come see us on stage, but we want to see you dance!
Olivier: No playback on stage for us!! When you see a keyboard on stage it's plugged in!!!
I noticed you have some nice touring going on, can you tell us more about it?
Olivier: Yes we have some really nice dates witch arrive and we are very impatient!!! We shall play for the first time in Poland and in Austria and we return with pleasure to Switzerland and Hungary. For the most part of these concerts we shall share the scene with A7ie and that is going to be the party!
Laurent: Our next gigs:
27/04 : MUNICH (D) - Dark Munich Festival
20/07 : BOLKOW (PL) - Castle Party Festival
16/05 : WIEN (AT) - Weberknecht
17/05 : SZOMBATHELY (HU) - Pistons Pub
24/05 : SELESTAT (F)
31/05 : LILLE (F) - Au Viziteur
21/06 : Private Show (F)
28/06 : SAINT MAURICE (CH) - Manoir Pub
I noticed that you have changed a few times from record company, how comes?
Olivier: It is very difficult today to find the good label. We always worked with partners who wanted to believe in us. Choices were really made in the feeling and all that we want it is to have a real exchange and the freedom on our music.
Laurent: It's very hard to have a good record company. We do all our part: the producing, the recording, the mixing, the mastering, and the artwork; all is made by Dolls of pain. We can do what we want without censorship about lyrics, music or artwork!
Can you say something about your actual records company and other bandmates? Any more plans on touring together or even playing together?
Olivier: Advoxya allowed us to play in Ukraine and opens us the ways of the Eastern countries. We do not know all the bands of the label but as soon as we can make some remixes or gigs together it's always with pleasure. We have just released our 5th album (end of 2013) for 10 years of the band and at present I work on the 6th album.
Laurent: Touring together of course ! For example we play in Hungary, Austria and Poland with A7ie, another good band from our label.
One band that for sure looks good as in like working together with is Stin Scatzor, could that be? Or do you have any other leads?
Laurent: We are open for every proposal, just contact us!
Cédric: Oh yes why not! Maybe a project of remix because he has just taken out his last album to Advoxya !
Can you say something about the lyrics of 'Prophetic Signs'? This was BTW one of the best tracks on the album.
Laurent: If you believe in the prophetic Signs so you must come with me, dance with me, drink with me... no regret for sure! The subject of lyrics is based on the end of the world, the morality is live today because perhaps tomorrow you can die.
You sometimes sing in French, how does the international crowd react to it?
Laurent: We sing in English because it's the international language and if you want to give a message it's the best way. The French is our language, it's a beautiful language so we use it, some people don't understand French but we hope that's start an interest for them to our language.
Do you agree with my review when I compare 'Déréliction' to Suicide Commando (but then sung in French)?
Laurent: Not really, the sound of DOP is not the same but we are proud that you compare us with Suicide Commando!
What does the title-track mean (for the non-French speaking people)
Laurent: The French word "déréliction" is in English the word "dereliction" so easy to understand. It's a feeling of abandonment, caused by the loneliness; it's the state of being abandoned. I have written these lyrics in a part of my life when I have a feeling like this but know its ok.
'Kalte Warheit' is sung in German and is a highlight on the album, can you agree with the review (I dropped XMH)? From Where this song?
Cédric: Yes! It's a strong piece of the album where we can feel the BPM in sequences, as a heart races and the anger in the singing with an incisive guitar. The lyric describes ironically the real nature of a manipulator person... Yes, welcome in a mad world !
Can you explain the lyrics in the song 'Fetish problem'? Just to be sure …?
Laurent: Fetish problem.... these are all the problems which we could be confronted in our BDSM life, but with a little bit of funny inside, For me it's the continue of our first track "dominer" who are in French lyrics.
I absolutely loved the sound (and the great variation), how did the press react to the album? What is the most common dropped name that people referred too?
Laurent: we have put all we have in this album because our album is for the anniversary of our ten years! The most react we have is from our fans that are very enjoyed from this release. There not a lot of publicity for our last release (sic!) but we are happy that some magazine (like yours) have interest for our product and do review.
What is your dream with Dolls of Pain?
Laurent: Do you know Metallica? Off course ! Doing some gigs like them, this is my dream...
Cédric : Simply to continue to make what we love and to gain an international presence.
Olivier: When I began this project my dream was to make an album and to play in the big festivals. We have 5 albums and we played the WGT, the Gothic fest and we go this year play Dark Munich Festival and Castle party. My dream would be that this adventure continues.
Any future plans or last words? Is there something you want to talk about or react to?
Laurent: Go see us live if you can and if not, well buy the cd ! Thanks a lot! (Where did I see this word... thanks to you)
Cédric: We already work on a new album... At the moment there are only some sketches, thus be patient...
Souncloud : https://soundcloud.com/dollsofpain
Event links:
new gig 27/9/2014 Manoir Pub, Switserland
Dolls of pain in support of L'ame Immortelle 21/2/2015 in Vienna
Filip VAN MUYLEM
06/04/2014
---