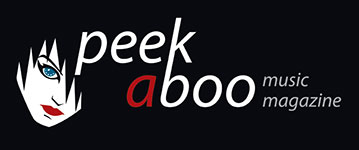 like this interview
---
A7IE
I've just put my balls on a table and made music
04/05/2014, Peter DOLPHEN
---
A7IE is playing in Lille on May 31th, sharing the stage with Dolls of Pain. And of course, Peek-a-Boo NEEDS to be there! Let's hear what A7IE is all about!
Hi Gyom! How are you doing?

Hey Peter,Ii'm fine thanks, quite busy with easter holidays - but I think I'm ok :)
Can you first tell us something about yourself and the band?

Well, I am Gyom and leading the electronic project A7IE since 2005, filled as dark electro, hellectro, maybe harsh electro.. or something like this. I released the third album in december 2012 and the debut one will be re-released in the next weeks. I'm not very productive and far from one year's album bands.
Which bands do have a large influence on your work in A7IE?
With time, I realized that SUICIDE COMMANDO was one of the largest influence, just because of the minimal content, but I dont listen to it that much. I'm a big fan of WUMPSCUT, FRONT LINE ASSEMBLY but I'm not sure A7IE is going in that musical way.
In which way do you consider yourself as 'different' compared to other bands in the genre?

I do not consider A7IE as 'different', there are so much interesting bands all around there, with talent... or correct studio equipments. I've just put my balls on a table and made music, to express all my feelings. Nothing's different, just authentic.
What can our readers expect from A7IE in Lille? Why do they NEED to be there?
First time I visited Lille, it was for a Tamtrum tour, in the same venue. Awesome moments, awesome people. I was really excited when Dark Discharge crew asked for A7ie to play there, because I have some people to meet there.
What to expect, as I said: something authentic. That means me, myself and my microphone and real keyboards by my good and old friend Oliver of DOLLS OF PAIN... And certainly some meetings at the bar.
Any last words towards our readers?

In May A7ie will release a very limited 7 inch vinyl ( 200 copiesonly ) and it will be available on the merchandising table, so it would be cool to meet there, we (independent artists) really need support during live performance, hope to see you there !
Thanks for the interest - Keep it evil & sick !
Thank you for the interview!
Peter DOLPHEN
04/05/2014
---