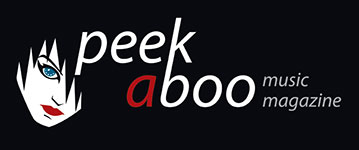 like this interview
---
ORATIONS
We don't want to be a bubblegum sweet band, but some pop in the darkness helps to keep things interesting.
03/06/2016, Didier BECU
---
Orations from Buffalo is working on its first album. In the meantime, this post-punk band offers you its fine EP Incatantion, which has been influenced by both Christian Death and The Chameleons. Time to talk, we'd say!
As influences you cite bands like Christian Death or The Chameleons, and I definitely can hear these influences, but the music itself is quite different. I mean, Orations has its own sound. Any idea how you would describe it?
We have a wide array of influences. When we first started, Paul and I had the idea of starting a post-punk band that was heavier on the punk side of things. That is pretty much what our first EP is. As we wrote more, our poppier influences started to shine through a bit more as can be seen on the Incantation 7". We take little bits and pieces of ideas from all over the place and try to put them together. The result is an amalgamation of a lot of the music we grew up loving. There is still some Chameleons and Christian Death in there, but there are also hints of bands such as Psychedelic Furs, REM and a whole host of others.
You released a single on the Bandcamp page. I'm aware of the fact that these days many bands have no other choice, but do you believe in platforms as such?
The way music is injested has changed so much throughout my lifetime. When I was a kid, I would scrounge up and buy an album and b obsessed over it until I could afford to get something else because it was what I had available. I used to listen to only one album for weeks at a time and fully devour it. With the way things have gone with the internet, music has become so disposable. You can check out literally dozens (or more) bands a day. It makes me feel guilty sometimes, because I'll listen to something for 30 seconds and then dismiss it if it doesn't initially grab me, and I know that when I was younger, that could have grown to be one of my favorite albums if I just gave it the proper time to sink in. Most of my favorite bands from growing up, I didn't care much for when I first heard them, but they grow on you and you discover the little things that make the songs magic. I feel that doesn't happen much these days. I've gotten off track. I'm not opposed to Bandcamp. It's a way for bands to get their music out to a wider audience, and as a company it gives the artists a better deal than most. I know it helps perpetuate the disposable culture of music, but it does have it's upsides.
The cover seems quite dark, but the music is uplifting and quite energetic, I think...
The cover was done by our friend Derek Hendrickson. We wanted him to create something for us in the style of Doré. The layout of it is a direct nod to the artwork on Skinny Puppy's Dig It single. It has always been one of my favorite covers.
You won't kill me if I think Orations is quite poppy? Not that there is anything wrong with pop!
You don't have anything to worry about, we don't think anything is wrong with poppy music either. We don't want to be a bubblegum sweet band, but some pop in the darkness helps to keep things interesting.
I won't categorize you as goth rock, but I will for this question. Over here, in Europe, this type of bands has a hard time finding places to play. How's the situation in the US?
It can defintely be difficult to find bands that we fit with to play shows. We tend to play with a lot of punk and indie bands, which works out better than I would have anticipated. There aren't that many bands doing the kind of thing we're doing over here at the moment. We work with what we have though.
Post-punk from Buffalo. Does it mean there's actually a scene as such over there, or are you outsiders?
There is a great music scene in Buffalo, but it's all inclusive and not post-punk centered. There are a couple of other bands that I think fit under that banner, but they are more on the angular side of things. I also don't know if they would ever refer to themselves as post-punk at all. I wouldn't call us outsiders because we are a part of the overall scene, but we are the only ones doing what we are doing here.
I guess you agree that Jess' voice is given the music an extra value?
What Jess adds to the band is just amazing. We had the first EP written and recorded before Jess joined us. We had expected to just find a vocalist who was more on the punk side of things. When she joined, it was really a turning point for us because her abilities allowed us to explore more musically. She's what really makes it all special.
I understood you had a connection with the great Swiss Dark Nights label? Please tell us...
Swiss Dark Nights put out our first EP in Europe. They have been great to deal with. Hopefully we'll do more with them in the future.
What's your favorite record of all time and please state why...
I always said that it was a toss up between The Cure's Disintegration and Green by REM. Just recently though I came to realize that I might like Wish more than Disintegration. What does that say about my life? Do I need to seek counseling? Is there going to be an intervention?
With whom wouldn't you mind to be alone in an elevator for 8 hours and what would you do?
I'm pretty sure I would lose my mind on anyone I was in an elevator with for that long. No matter who it was, I would go crazy. Maybe Neil Gaiman. He could help pass the time by telling me stories.
The last words are yours...
Thank you for taking the time to have us do this interview. We're in the process of mixing our first LP, Wych Elm, right now and hopefully that will be out this fall.
Didier BECU
03/06/2016
---