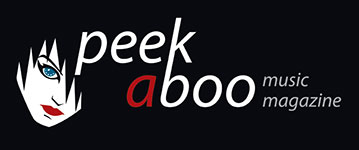 like this interview
---
ME THE TIGER
We believe that it is better if people dared to stand up for their beliefs and values, even in public. Otherwise, society will crumble from within.
16/06/2016, Stef COLDHEART
---
Last year, I discovered the official debut album Vitriolic by Me The Tiger, released on Repo Records. The Swedish trio, consisting of mastermind Tobias Andersson (synths, guitars & programming), Jonas Martinsson (drums & programming) and Gabriella Åström (vocals), revealed a fascinating kind of electro/indie pop music. Repo Records has now re-released the first self-released album Me The Tiger, which is another outstanding piece of pop music. This is one of the real good pop surprises of the past few years.
How did you guys meet and set up Me The Tiger and what's the idea behind the rather crazy band name?None of us is actually from Falun (a small town in the middle of Sweden), but we ended up there for different reasons. Falun is a rather small town, and if you're into music, you somehow, sooner or later, will run into each other. I think the first time the three of us spent some time together was at a party in Jonas apartment in 2007. Five years later, in 2012, we had developed a strong friendship and were even neighbours. One evening, Tobias knocked on Gabriella's and Jonas door with a USB stick containing a bunch of semi-finished tunes in one hand and a bottle of wine in the other. The first song was completed in the late hour and what would sooner be Me The Tiger saw the first light as the sun rose over the rooftops.
The band's name comes from an old Swedish proverb that is virtually impossible to explain if you don't understand Swedish. You will not get the point... But let's try :) During the first half of the 1900s, the Swedish government was afraid that the wrong information would end up in enemy hands. They simply asked the Swedes to shut up. They also created a symbol/illustration depicting a blue and yellow striped tiger. Over the years, this symbol became part of Swedish culture. One should not talk so much, and to be satisfied with what he has, without questioning. At least not in public. This has, according to us, resulted in widespread dissatisfaction in silence. Outwardly, you are satisfied and happy, but at the kitchen table or in front of the computer screen, you start to show the real you. We believe that it is better if people dared to stand up for their beliefs and values, even in public. Otherwise, society will crumble from within.
Tell us a bit more about the input of each member and how do you usually proceed to write your songs?Tobias writes both the music and the lyrics. He makes almost complete versions of the songs in his studio. Then he takes the production to Jonas and Gabriella where we record all of the vocals. The last step is the mixing and mastering, which is Jonas' resposability. So we have very defined roles when it comes to the recording process.
How do you look back at your first official full length album Vitriolic, released in 2015 on Repo Records?
We would say that it has been a good period. With the help of both Repo Records and our manager Olaf Sprick, we have succeeded to reach out to a wider audience – especially outside of Sweden. This summer we will, for example, play at some big and really cool festivals. That wouldn't have been possible before we hooked up with these guys.
Your self-released debut album Me The Tiger has been re-released on Repo Records as well, but after Vitriolic. Was it because of the reactions on Vitriolic and what does this early work mean to you?
Since the debut album only was released digitally in Scandinavia, it has been nearly impossible for our new listeners from other parts of the world to find it. Our label was asked if there was any chance to release the album again, and so it did. The debut means a lot to us since the band took shape during the making. Tobias had a couple of songs he wanted Gabriella to lay some vocals on. It turned out to be pretty good, so we decided to proceed. When we first started out, there were no thoughts of making a serious project. But quite soon we realized that we wanted more out of it, and it turned out to be Me The Tiger.
You seem to be a successful live band, so what kind of performance do you bring on stage?
We absolutely love being on stage. It's a good moment being in the studio as well, but nothing beats the feeling when you meet the audience directly. It is also a big privilege to have the opportunity to travel the world and see new places, meet fantastic people and learn new cultures. We feel most alive on the road.
What brings the future for Me The Tiger?
We will play some cool festivals this summer, for example 'M'era Luna' and 'Nocturnal Culture Night' in Germany and 'Infest Festival' in the UK. Beside that, we'll work on our third album. We have started the recording process, and hopefully it will be finished later this year. We'll see…
Stef COLDHEART
16/06/2016
---