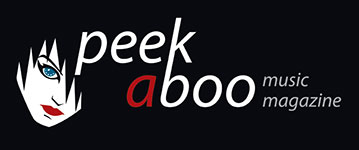 like this interview
---
SHAARGHOT
We're going to offer Germany a great performance in order to thank them for giving us the opportunity to represent our country !
29/06/2016, Britta Tabrit
---
Britta interviewed Shaârghot.

Please, introduce Shaârghot to our readers. Who are you and describe your music a little.
First things first, I'm not the shaârghot, I'm just the creature's host haha ! I created this character many years from now and I lend him my body and my voice. The musical project's creation enabled him to evolve and manifest himself into this world but he exists since ancient times in an other world, in a corner of my head. He has his own thoughts, arguments and memories. We're quite different from each other although we have some common stuff because I'm his creator haha !
As for me, I'm just a regular guy who's been working in video editing and art for a long time now. I'm a huge fan of electronic music but it often lacks the heavy stuff in my opinion, you know. Thus, Shaârghot's creation comes from my boredom of the current musical scene. I know only a few groups which mix some dance floor electro with really heavy and martial industrial metal.
My work isn't maybe the most original in the world but it's meant to be fun and violent ! Roughly, it's the kind of music I would love to break my ribs on during a concert haha ! A silly and mean but effective thing !
Shaârghot…what's the meaning behind this name?
Shaârghot's name means 'the bringer of chaos'. The shaârghot is a parasitic creature which was sleeping inside its host's body for many years and became self-aware of its existence when its host was dying, subjected to human experimentation.
Thus, the creature was man-made. He's kind of a nemesis to modern society which is cold, aseptic, organized... He's the exact opposite of this rigour, random, megalomaniac, thoughtless and doesn't have any empathy… His actions can be good or bad depending on the fun he can have doing them !
2015 has been an interesting year for you. Summarize the highlights for us!
Indeed…. The project didn't exist on stage before 2015. We've been working for a while in the studio and we've decided to show ourselves when our act would be 'correct'. We've played with many artists such as Punish Yourself, Hocico, Little Big, Rabia Sorda, Nekro Goblikon, Tricksterland et BAK XIII during the first year alone ! It's pretty amazing i must say but we can thank our incredible and really surprising fans who help us move forward !
You've recently won the M'era Luna Newcomer Contest and you're playing there in August. Congrats guys! Now how does this feel? Are you nervous?
Speaking of our fans, it's thanks to them that we've been able to win. They showed us an astonishing devotion which I can't explain. A real sense of competition was born during this contest and a lot of people invested their time in this challenge, not only because they love the band but also because France is scarcely represented abroad while having a lot of great bands which deserve to be known but lacking the proper audience.
I think people wanted to show others that France has good projects as well and now - well, we have to rock this haha ! So obviously, yeah we're pressured but we'd be stupid if we weren't ! We'll continue to work as usual and we're going to offer Germany a great performance in order to thank them for giving us the opportunity to represent our country!
Do you have personal or professional idols?
Mhh, there are some artists I admire, yes, but the term « idol » seems a bit strong in my opinion. The good news is I've already played with some of them ( Punish Yourself and Hocico ). It would be great to add Rammstein and Combichrist in order to complete my favorite artists' list, but I think that I can be already proud to have shared a stage with such big names haha !
You've done several remixes already. Do you like mixing other band's songs?
Honestly, it's a tough question. It's extremely hard to make a remix of an artist without butchering his first intents and his personal universe as well as including our own touch. It's far from being unpleasant for me but I find this much harder than composing for myself. Despite that, I have to say that the remixes we've done for Kamera Obscura and Rabia Sorda were really enjoyable for us !
After M'era Luna what's coming up next. More shows planned?
Indeed ! we have 6 or 7 shows planned until the end of the year, most in French festivals but also 2 of them abroad, one in Italy and the Dark Industrial Fest in Alicante, Spain.
Are you currently working on new music?
Yeah, but we've just started working on it and I'm a really slow person haha ! I want to make some more video clips to unravel more of the Shaârghot's universe first so don't expect any new material immediately…
Imagine you could choose only one city to play a show in 2017. Which city would it be and name the reasons, please!
That's a good question. I don't have any favorite city for now, really, I can play anywhere with my mates as long as the atmosphere is good. Having a good time and exchanging with the audience are my main concerns, I don't really care about the place…
I remember that a couple of days after your show in Paris in October, which I actually attended, the terrorist attacks took place there. Any thoughts on that and the UEFA European Championships in France?!
I've learned like litteraly 4 days ago the concept of Euro 2016 and that it was in Paris so you can say that I'm a bit cut off from the rest of the world haha ! As for the terrorist attacks, well you can't do anything about them so let's play !! Isn't it our job to give hapiness and distract people ? Well I guess it's the best answer we can give to those attacks !
Some final words to our PAB readers?!?!
Yes ! I like turkeys ! ( the word turkey is really hilarious to pronounce in French you know ? )
Thanks for the great interview!
Britta Tabrit
29/06/2016
---