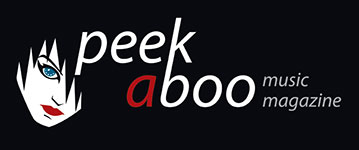 like this interview
---
STOPPENBERG
I am not in danger, I am the danger.
10/08/2016, Stef COLDHEART
---
We all know Jan L(oamfield) as one of the most talented electro-underground composers of his generation. Noisuf-X and X-Fusion both are leading formations at the dark-electronic and industrial fields while Jan also is quite famous for his remixes and recognized for his masterings. Stoppenberg is the newest project of the artist, which is revealing a more techno-body direction. The EP Telekinesis was released in 2014, but this year definitely stands for a possible break through. After the alluring debut album Assault, Stoppenberg strikes already back with a new EP entitled I Am The Danger.
How did you come to set up (back in 2014) Stoppenberg and what have been the 'new' sound elements you wanted to work on?
Jan: It started as an experiment because I just finished a NOISUF-X release and wanted to try something different.. Like a mixture of EDM and EBM. The difference to NOISUF-X was (or is) that I used clean sounds instead of distorted ones. This gave me some room in the mix for dominant bass lines and other effects that would be hard to hear when using distorted drums. So the focus was more on bass lines than on melodies.
Apart a more EBM-minded influence instead of the industrial element running through Noisuf-X, there's not that much difference between both projects, so what makes the Stoppenberg sound formula that different?
Jan: As I said, I wanted to create a clean sound instead of distorted drums. I also reduced the speed of the songs and gave the bass lines an explicit EBM touch. Most of the songs don´t have a lot of samples, which is also a difference with NOISUF-X. Sure, at the end you can hear my handwriting running through the songs... It´s all from one person, so you can´t expect something that is totally different.
What have been the main changes and evolution from your debut Telekinesis to the Assault album and the few new songs on I Am The Danger?
Jan: Telekinesis sounded more like EDM and Techno than EBM. On Assault, I again reduced the speed of the songs and focused on the bass lines. I think it sounds a bit more aggressive now, which is a good thing if you ask me…
So far all Stoppenberg releases have been released on your own label X-Beats. How come and what might we expect in the future on X-Beats?
Jan: Yes that´s right. I have contracts with NOISUF-X and X-FUSION, so I wanted to release Stoppenberg myself. And because it was an experiment and I had no idea if people would be interested, I printed just a few CDs and sold them in my own store and also the digital way. That´s why support is very important.
You also did live performances with Stoppenberg, so what is it all about and what have been the reactions so far?
Jan: Yes, I played in Austria and also did 2 shows in Germany. It was pretty cool. Sure, many people haven´t heard about Stoppenberg, but as far as I know, the song Unite! has been played in many clubs and was also for 8 weeks in the German Alternative Charts. So that´s not a bad start..
The EP I Am The Danger reveals a bunch of unknown artists/remixers who globally speaking did a real great job. I think you're trying through X-Beats to promote new talent, right?
Jan: Yes, on many CDs you hear the same old names again and again. Nothing bad with that, but I thought a new project like Stoppenberg could give less renowned bands the chance to do remixes. So I started a remix contest and released the best remixes together with 3 new Stoppenberg songs. I also started a little DJ promotion agency to help bands spreading their music all over the world. If DJs play their stuff, they get the attention they deserve - and I don´t charge a lot for my work because I like to give these bands a chance. Without new music, new bands and support from the fans, the scene will be dead very soon.
Stef COLDHEART
10/08/2016
---
We weten allemaal dat Jan L(oamfield) één van de meest getalenteerde electro-underground artiesten van zijn generatie is. Zowel Noisuf-X als X-Fusion zijn belangrijke bands op het vlak van donkere elektronische en industriële muziek, daarnaast is Jan ook beroemd voor zijn remixen en masterings. Stoppenberg is zijn nieuwste project dat meer de richting van techno-body uitgaat. De ep Telekinesis is in 2014 uitgebracht en dit jaar staat Jan zeker voor een mogelijke doorbraak. Na het verleidelijke debuutalbum Assault, slaat Stoppenberg terug met een nieuwe ep: I Am The Danger.

Waarom richtte je in 2014 Stoppenberg op en met welke nieuwe geluidselementen wilde je werken?
Jan: Het begon als een experiment, toen ik net klaar was met een Noisuf-X-release en iets anders wilde. Ik wilde een mengsel van EDM en EBM proberen. Het verschil met Noisuf-X was (of is) dat ik bij Stoppenberg schone klanken gebruikte in plaats van vervormde. Dit gaf me wat ruimte in de mix voor dominante baslijnen en andere effecten die moeilijk te horen zijn bij het gebruik van vervormde drums. Zo lag de nadruk meer op baslijnen dan op de melodieën.
Behalve dat er meer EBM-invloeden zijn dan de industriële van Noisuf-X, is er eigenlijk niet zoveel verschil tussen de beide projecten, wat maakt de geluidsformule van Stoppenberg anders?
Jan: Zoals ik al zei wilde ik een helder geluid in plaats van vervormde drums. Ik verminderde ook de snelheid van de liedjes en gaf de baslijnen een expliciete EBM-touch. De meeste songs hebben niet veel samples, dat is ook een verschil met Noisuf-X. Natuurlijk kun je aan het einde wel mijn handschrift in de songs ontdekken. Het komt allemaal vanuit één persoon, je kan dus niet iets totaal verschillend verwachten.
Wat zijn de belangrijkste veranderingen en de evolutie van je debuut Telekinesis tot het Assault-album en de nummers die op I Am The Danger staan?
Jan: Telekinesis klonk meer EDM en techno dan EBM. Op Assault verminderde ik opnieuw de snelheid van de songs en richtte ik me meer op de baslijnen. Ik denk dat het een beetje agressiever klinkt nu, dat is toch een goede zaak als je het mij vraagt.
Tot nu toe zijn alle Stoppenberg-releases op je eigen label X-Beats uitgebracht. Waarom en wat kunnen we in de toekomst op X-Beats verwachten?
Jan: Ja, dat klopt. Met Noisuf-X en X-Fusion heb ik contracten, maar Stoppenberg wilde ik zelf uitbrengen. Het was een experiment en ik had geen idee of de mensen erin geïnteresseerd zouden zijn. Ik perste een paar cd's en verkocht die in mijn eigen winkel en ook via de digitale weg. Dat is de reden waarom steun zo belangrijk is.
Je deed al optredens met Stoppenberg, wat zijn de reacties tot nu toe?
Jan: Ja, ik speelde in Oostenrijk en ik deed ook 2 shows in Duitsland. Het was vrij cool. Natuurlijk hadden veel mensen nog nooit van Stoppenbeg gehoord, maar voor zover ik weet is Unite! in vele clubs gespeeld en stond het ook 8 weken in de Duitse alternatieve hitparade. Dus dat is geen slechte start.
Op de ep I Am The Danger staan een heleboel onbekende artiesten/remixers van over de hele wereld die een echt geweldige job deden. Ik denk dat je door middel van X-Beats nieuw talent probeert te promoten, niet?
Jan: Ja, op vele cd's hoor je vaak dezelfde vertrouwde namen. Daar is niets mis mee, maar ik dacht dat ik met een nieuw project als Stoppenberg ook minder bekende bands de kans moest geven om remixen te doen. Dus begon ik een remixwedstrijd en bracht de beste resultaten samen met 3 nieuwe Stoppenbergnummers uit. Ik begon ook een dj-promotiebureau om de muziek van bands over de hele wereld te helpen verspreiden. Als dj's hun platen draaien, krijgen ze de aandacht die ze verdienen, en ik vraag niet veel voor mijn werk omdat ik deze bands graag een kans geef. Zonder nieuwe muziek, nieuwe bands en zonder de steun van de fans zal de scène zeer binnenkort dood zijn.
Stef COLDHEART
10/08/2016
---