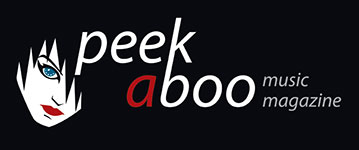 like this interview
---
ARNWALD
The main sources of inspiration are my hate, my pain and my own fears
14/09/2016, Stef COLDHEART
---
Arnwald is a new Belgian solo-project set up by Arnaud Vansteenkiste. This Belgian artist is mainly active as drummer into multiple metal-orientated bands, but he still is the drummer of Grausame Töchter. Arnwald is inspired by dark-ambient and industrial music. The debut-album "Primal Expurgation" has been released on the small Belgian label Abstruse Eerie Radiance. The sound of Arnwald reminds me of a mix between early Swans and Brighter Death Now. It definitely is an atypical dark-ambient format carried by an impressive sound production.
Can you briefly tell us who's hiding behind Arnwald and what incited you – after your involvement as a drummer in multiple bands, to set up this solo-project?
Arnwald: Behind Arnwald is someone who couldn't find the words to openly express his mood, his anger, and his fears. So, I put into sound what all the sentences in the world could not describe. This project is a kind of catharsis, a special therapy I discovered, which calms down a volcano of inner emotion that is about to erupt. Playing in many metal bands expends a great deal of energy, and also exteriorizes an inner violence, even though the darkest and the most venomous parts remain deep inside. At one point, I really felt the need to vomit at least a part of this out. Composing music in a completely different genre, which fits completely with my philosophy, came about progressively through experimenting with sound. Combined with my photographic work, Arnwald defines a very personal microcosm.
How did you get in touch with dark-ambient and industrial music and do you have some references and main sources of inspiration?
Arnwald: I first became interested in the dark-ambient/industrial world through a friend, and then subsequently by visiting a little music shop in Brussels where I always received really great advice. It's where I bought my first album in this genre: Blood Axis "Gospel Of Inhumanity". This was really a step into a great new world where I felt completely at home.
After that, I was diving much deeper into this scene, finding treasure after treasure. In composing music, the main sources of inspiration are my hate, my pain, and my own fears, and really nothing else. But I have, of course, some bands that I really love, like Arcana, Les Joyaux De La Princesse, Kriegsfall-U, Der Blutharsch, Ordo Rosarius Equilibrio, Puissance, In Slaughter Natives, Melek-Tha, Toroidh, Arditi, Desiderii Marginis, Elend, Lustmord, and Nordvargr. But I don't think these artists really impact upon the way I compose, although perhaps they exert a subconscious influence.

What is the debut album "Primal Expurgation" all about and how did the writing of this work happen?
Arnwald: "Primal Expurgation" is a rebirth, a form of self-exorcism. Many demons are playing with my mind and obscuring my thoughts, so this first album goes deep through many layers of introspection. With this opus, I engage in a journey, tempting me to know myself and discover how to handle the extreme feelings which torment my existence.There was really no conventional writing process – everything you hear on this album is a spontaneous translation of my moods and emotions. For example, when I composed "X", I was deeply sad, feeling really alone like never before, and I needed to manage this moment because it was driving me crazy. So I just switched on my computer and keyboard and let the very instant thought control my fingers and voice. I worked like this for every song. It's both initiatory and experimental.

I've been deeply impressed by the global production of your album, which reveals impressive, monstrous sound treatments. Tell us a bit more this essential aspect of your album?
Arnwald: Firstly, thank you very much for this compliment. Once again, all the sound treatments were the result of spontaneous experimentation. I worked alone during the process until the mastering phase overseen by Déhà (Clouds, Lebenssucht, Merda Mundi, Yhdarl, and W.A.D.L.). The thing is that, by mixing all the elements, I'm not thinking too much, I'm just following what my ears are telling is right, and trying some unconventional things. I'm absolutely not a technique freak and I'm pretty sure that I never will be. I work like this to reach my goals. I'm not sufficiently disciplined to impose a strict method and, in any case, I much prefer to travel to some unknown place in the process. The most important thing for me is to hear a song which reflects my emotions as much in the composition as in the production.
Your album has been released on the small and rather new Belgian label Abstruse Eerie Radiance. What can you tell us about this label and its global approach to the scene?
Arnwald: When I first discussed my album with Abstruse Eerie Radiance, I immediately received very enthusiastic feedback and a great proposal as to how to release "Primal Expurgation". I don't mind working with a smaller label if it does its job promoting my work and really supporting my music. Many larger labels see music simply as product to market but, with AER, I feel a passion and a desire to bring something new to the scene. AER really wants to build a strong image and share music with the people, which is something unusual and special. This structure needs time and money in order to grow and impose its name on the world scene, but AER is worthy of attention and will, for sure, help great bands to come out of the shadows.
I think you already did some live performances with Arnwald. How do you transpose your music from the studio to the stage, and what kind of performance are you dealing with?
Arnwald: Well, I've performed only one show until now, for the first festival organized by the label shortly after the release of my album. The manager asked me to do something for the after-party. I never thought that I would do a live appearance as Arnwald so it was intimate, a real challenge, stressful, and unique in its genre. I didn't immediately know how to make a success of this transposition without being boring or conventional. I wanted to create something more than just turning knobs on a stage, so I prepared videos and performed live vocals with some percussion. To bring more consistency to the show, my friend Déhà asked me to participate in this first appearance as a second vocalist. It was extreme, dark, and destabilizing, but what an experience!
Stef COLDHEART
14/09/2016
---