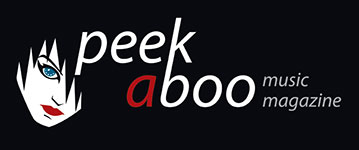 like this interview
---
SPARK!
'Direct' and for real!
13/09/2016, Stef COLDHEART
---
Peek-A-Boo had a chat with Swedish EBM-band SPARK!
Mattias Ziessow and Stefan Brorsson were the original members of Spark! The Swedish duo rapidly gained a serious reputation in 'old-school' EBM. Singer Stefan Brorsson left the band after Hela Din Värld of 2012, but Mattias Ziessow moved on and invited multiple guest singers to accomplish the Spektrum album of 2015. Christer Hermodsson – who is also known from bands like Biomekkanik, Wonderland, Sista Mannen På Jorden and of course S.P.O.C.K. was one of them. He finally became the new singer on the third official album Maskiner which has been released on Progress Productions. And this is what the brand new Spark! duo has to say about this album.
Maskiner is the first Spark! album featuring a new singer, although Christer Hermodsson sung a song on the Spektrum album. How did this new chemistry happened and how was it working together?
Christer: Quite simple. Mattias asked me if I wanted to sing on one song. And so I did. Apparently he liked my vocals. By that time Spark! had a confirmed gig at a German festival, so he basically told me: you got no choice!
Mattias: Yup! That's about it!
It's not easy to replace a singer of an established band, so what have been the reactions so far?
Mattias: Well no, it's not. I said to myself: if this is going to work, I have to find someone who fits. Who can fill that space? And I did! And the reactions have been very positive! It's been overwhelming.
Christer: Thinking of that first show we did in Germany with a headline slot and all that, it was probably the hardest thing I have ever done vocal wise. Many of the old hits are pretty high in pitch and with a lot of intensity. I rehearsed for months in order to imitate Stefan's singing as closely as possible. The fear of being tarred and feathered by die-hard Spark! fans kept me focused. I guess all that practice paid off since everyone seem happy with me singing now. Now, when I can sing the old songs in a correct way, I can experiment further in finding my own way of singing the new Spark! songs.
What have been the main ideas and purposes when you guys started writing Maskiner?
Christer: To do it as good as possible. And by that I mean: for me doing the vocal parts, being as spontaneous and honest as possible. Not to constructed, especially when it comes to the lyrics. I believe that people who like the album, like it because it's somewhat direct and for real, even the humorous parts.
Mattias: To lay down the album in front of the fans and present a new version of the band, and show the critics that this is the best damn album so far. And looking at the reviews and fans out there, we seem to have done so. Which is really satisfying! We did it!
One of the main characteristics of Spark! remains the Swedish vocals. Is there any particular reason to sing in your mother tongue and what the hell are the lyrics all about?
Mattias: No particular reason. We started out singing in Swedish since we thought it would be cool. And from there it has just kept going. And from what we've experienced, it has worked out quite well internationally anyhow.
Chister: That's actually something I enjoyed. After only singing in English for so long, it seems like every cool oneliner, every rhyme is used. Feels like it's a brand new language for me. It also adds a bit to that directness. There's no language filter between me and the listener... as long as the listener is Swedish of course. But with so many fans in Germany, I've tried to find words that are similar like Vansinne, Monster, Zombie and of course Maskiner. Gives at least the Germans a hint of what it's all about, but of course it's a pity that the content is restricted to only Swedish speaking people. That's the reason why I have started translating all Spark! songs, old- and new ones, into English. You can find them here.
The band pictures inside the booklet are quite funny and still pretty freaky, but what is it all about?
Christer: On the very first show we did together, I wore a mask during the first songs to keep it a secret who the new singer was. Just to make the show more fun. That lead us to invent this weird world of Spark! With the two highly unpredictable clowns.
Mattias: Yeah. The masks remained. Think of it as a weird circus coming to town. Two alter egos performing.
What can you tell us about the Zombie clip and what did you try to say?
Mattias: To be zombified. We are zombified. Everybody is zombified.
Christer: People who go from bar to bar, club to club in a desperate attempt to have fun, but end up being just zombiefied… and to show Mattias' skills as a drummer.
Stef COLDHEART
13/09/2016
---