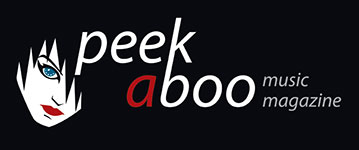 like this interview
---
KOBAN
We really didn't have a sound we were going for initially.
25/10/2016, Stef COLDHEART
---
In Vancouver (Canada), Samuel Buss and Brittany West joined forces to set up Koban. The name is inspired by a tiny community of watch boxes in Japan where you can go for help or ask questions. There is no deep meaning behind the name, it was just aesthetically pleasing. After the release of a few productions, Koban was signed to the Italian Avant! Records and unleashed the second full length album. It is a fascinating mix of new-wave, shoegaze and post-punk music.
How did you meet, and tell us a bit more about your musical background, roots and influences?
Brittany: We met in high school. Sam was in a punk band called Shumagorath and I played thrash metal in a project called Young Blood. When Shumagorath needed a fill-in bass player (on the account that Sam was grounded for sneaking out), I filled in. We've played music together ever since. I would say I've always loved heavy music and weirdo stuff like Big Black, Birthday Party, Minor Threat, Judas Priest, Brain Bombs... After Sam and I formed our project, I became more into bands that used electronic hardware. Some of my later influences include Deux, Frustration, Scorpion Violente, Absolute Body Control, currently I am listening to All Your Sisters a lot.
What kind of sound did you have in mind when setting up Koban?
Brittany: We really didn't have a sound we were going for initially. We were just jamming and experimenting. We had a few drummers, a reel to reel tape machine, various singers, and nothing really gelled until we bought our Roland R8 drum machine and then we realized this was the way to go. We added a micro Korg and then people started calling us dark-wave, so I guess we're given a genre, but never strive to only sound one way. That would be boring for us as artists!

I have always wondered why young artists like Koban are that much inspired by 80's new-wave music and related genres! What's the magic of the 80s?
Brittany: The blown out, vibrant aesthetic is captivating, and the emergent synth/drum machine sounds of the 80s are beautifully raw. Unpolished and minimal, yet layered, full and interesting. Lyrically, I appreciate the serious undertones, in songs that remain danceable and catchy.
What is the album Abject Obsessions all about and what did you have in mind during the writing process?Brittany: When writing this record, we weren't thinking of a record concept as a whole, but rather songs in the moment. However, when I put the tracks next to each other, I realized that we dealt with many common themes. One of them being various kinds of destructive obsessions. For example, songs where the character is obsessed over being buried alive, over sex, over murder, over refusing to come to terms with death, among others. This leads the characters to break down in the maximum degree, thus Abject Obsessions.
There's a nice twist between the male and female vocals. Tell us a bit more about the way it works?
Brittany: I've always loved the vocal stylings of "Deux", and this has been an inspiration here. Moreover, our songs rely on repartition, and being a two-piece, it is easy to feel like your songs aren't layered or deep enough. Having dual vocals broadens our creative capacity and helps to keep the songs interesting to play.
Most of your work has been released on vinyl format and digital platforms! How come?
Brittany: No real reason except none of our labels offered to do CD, so we never considered it. Until now! Abject Obsessions is out on CD.
Stef COLDHEART
25/10/2016
---