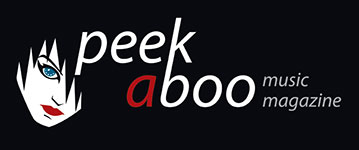 like this interview
---
HIDDEN PLACE
An interview with head and voice Sara Lux
23/01/2017, Dimi BRANDS
---
Earlier this year we all sat down at the table with Fabio Vitelli to have chat about his project Lupi Gladius. Together with his sister Sara, he is also active in the band Hidden Place. While Lupi Gladius can be classified as Neofolk, their project Hidden Place has a more 80's / Dark wave / Electro approach. With the recent release of a Hidden Place compilation album we felt it the time was right to have another chat, this time with dear sister Sara Lux, the head and voice of Hidden Place!
Hello Sara, I talked with your brother Fabio before about his band, Lupi Gladius. Fabio is also in Hidden Place, but can we consider Hidden Place as your band?
Hidden Place is a project where I sing and I write the songs, therefore, absolutely is my child.
But Lupi Gladius is not my second band, it's just another project where I collaborate in a different way. Both are equally important for me, but in a different way.
As you and your brother as well are active in music, I was wondering if you grew up in a musical family? Was there music in your life from birth or how ddid your passion for music grow?
Me and Fabio had a musician grandfather, a great musician. I remember when i was young we often remained enchanted by his music and his interpretation.You should know that the first track of the Lupi Gladius album "Veritas" has written and recorded by him many years ago. They were wonderful years.
From this moment music became everything for us, we often visited music stores during our childhood. Hidden Place was the continuation and the beginning of a past full of music and passion.
Can you introduce the band to our readers who might not know Hidden Places?
Hidden Place was founded in 2014 with Fabio, Antonio and Giampiero. We have always been great friends, lovers of dark wave, new wave, post-punk etc. The project was born as a joke, so I have good memories of the beginning: nothing planned, an experience not built, the passion in common for the music.
Initially, the concept was based on cold electronics countered by my voice; while we evolved we began move towards to a more' 80s sound, a style we're trying to keep in all our productions since.
Our growing passion has been pushing us to do this more and more.
Acording to Discogs you are, beside singer and artist, also a DJ. So tell us, which 5 records you see as MUST play at parties?
This is a difficult question. There are soo many factors. Each event has a theme, connected to a movie or an artist. I try to create a different atmospheres, so the audience does not get bored.
There are plenty of bands that you will always hear when I spin: New Order, Ultravox, Killing Joke, the Cure, Sisters of Mercy, Cocteau Twins, Clan of Xymox, Dead can dance... and many more.
Lupi Gladius plays Dark Folk, while Hidden Place has a more Darkwave/Electro sound. Fabio told me, when you write songs, you don't know at the start of the process if it's going to be Lupi Gladiud or a Hidden Place song, but that it evolves naturally in a direction while writing it. Are you much into Dark Folk yourself?
I am the female part and "harmonious" part of the project of Lupi Gladius. Being a neofolk project, it's a very intimate part and certainly more tied to my roots in Southern Italy, like a warm embrace of my land Lucania. I live in Florence but to write and compose, you sometimes have to be in the places that evoke certain feelings. For this reason I spend last summer a lot of time in the mountains and by the sea of my wonderful country.
Listening to Hidden Place, one can't deny the influence of earlier Kirlian Camera. Another Italian band, which had and still has huge influence on nowadays music, and not only in Italy itself.
I like them a lot it as a band and they definitely influenced our path, especially their early work.
Besides Kirlian Camera, are there other influences which are more surprising when it comes to the sound of Hidden Place?
I believe that the influences come from all groups that we listen to: New order, Kraftwerk, Ultravox and many others...
You studied aesthetics but what do you do for a living? Which art movement do you like te most, and what are your favorite pieces of art?I do graphics and write a lot. My art taste has always changed and always will change. If you live in Italy you are automatically overwhelmed by the classic and eternal beauty. Each Italian city is filled with works that can make you dream an fantasize, in many different ways, but always intense.
What movement prefer? I do not know. For years I have been anchored to futurism, with Hidden Places we made a record around this theme, inspired by many Italian poets and revolutionaries.
While I was into Russian constructivism we wrote was born the "Al Mostro Dei Costruttivisti'. There's also the video were I meet with the band in a beautiful 19th century villa at an exhibition of constructivism. While I walk through the exhibition a classic portrait turns into a painting by Malevich. Me, and the band, we are always looking for visual contrast and different artistic allusions.Lately we started worshipping Caravaggio and Bernini. So I think my art preference is mainly driven by my emotional state.But in general we are attracted to the objective beauty, from the streets and Renaissance churches, the beauty that never goes out. That's what I live for !
You added the word "Lux" to your name, are you luxurious or is there an other explanation?
Lux is Latin for light. Probably it is an evocation to the sun of my origins, the love for poetry and classical languages. I think it also suits my love for the New Wave, and has a more 'electric' sound to it. Fexible but always positive. And it's easy to remember (smiles).
Dimi BRANDS
23/01/2017
---