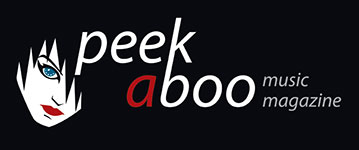 like this interview

---
EVI VINE
The themes of the album run through our lives whether we're in the cities or the forest and sometimes you need to escape the sirens/asphalt to tie you back to the earth
01/03/2016, Benny CALUWE
---
Folktronica artist Evi Vine will perform at Black Easter Festival in Antwerp on Sunday 27th March. Evi is blessed with a wonderful voice. She plays dark intimate folk. She makes dreamful, fragile and atmospheric music that reminds me of Elizabeth Fraser. Her latest album Give Your Heart Away To The Hawks scored well on these pages. Give your heart to Evi Vine! Discover her music that comes straight from the heart.
The first encounter I had with you, was your marvelous contribution to the Joy Divison tribute album, A Change Of Speed - A Change Of Style. A tempting, somewhat eerie version of Dead Souls. I immediately wanted to find out more about you. What does Joy Divison mean to you? And how do you look back on the participation in this album?
Dead Souls was on our wish list to cover. So, when approached to contribute a track, we were delighted (and surprised) that the track was still available. Joy Divisions' music is as integral to my life as anything else.

While discovering more of you, I found a rather surprising cover of Madonna on your Soundcloud page. Why not? Sonic Youth made a terrific version of Madonna's Into The Groove and Paradise Lost even made a cover version of Everything But The Girl's Missing. What did attract you in Oh Father (a track of Like A Virgin)?
The track resonated with me since I was a child. I was having an estranged relationship with my own father, it just seemed appropriate. It's also an anonymous way to say things to a parent that you would never ordinarily say.
Noticing that a talented artist like you isn't signed to a label, was another surprise to me. Was it necessity to release your albums yourself or was it a deliberate choice to opt for the DIY ethics?
A mixture of both. We felt we had to go alone until we got a relationship with the right label, which we would love.
Your voice is a superb asset. On top of that, you are a multi-instrumentalist. Did you start lessons at a young age? What was your first instrument?
I had guitar lessons when I was 8. just learnt rudiments for a few years and then through circumstances moved to piano and then lost interest. So, I have picked up the guitar again a few years ago, as a self-taught musician, as is Steven, which has benefits and pitfalls to different creative processes.
At Peek-A-Boo we have a series of articles, called "The ten albums that changed my life". Wayne Hussey didn't suggest classical albums. Instead, he chose more recent albums. He called your debut album … And So The Morning Comes a thing of rare beauty. I suppose it must be an honor to be supported by Wayne Hussey.
Yes, the Mission's music changed my life too. So, we were blown away when we heard the review of our material and obviously we're thrilled to support him on his solo tour.
This tour will start in Liege (Belgium). How did this tour come into being?
We contacted Wayne's management directly to thank him for the review and things went from there really. We had a few shows booked already ands we were delighted when the timing was right and we could do the shows....it's a real honor.
Prior to this tour, you'll perform at Black Easter Festival. What can we expect? How many musicians will mount the stage next to you and will your partner in crime Steven Hillbe there?
At the moment, we're really lucky to bring the whole band, which is Hunter Barr on synth/programming, who has been pushing the live sound further, and is such a dream to work with, and our new drummer 'GB' on drums. Having live drums makes all the difference when playing live.
Jo Quail played cello on your debut album …And So The Morning Comes. The gifted cellist is also booked for Black Easter. Tell our readers why they should check her out.
Unfortunately, our recording session with Jo for the album was cut short due to a blizzard, but we really were delighted that she could record most of what we had arranged. She is a very gifted artist. And one of a handful female artists who are changing the way we are listening to music.
On your website, I saw that Matt Howden (aka Sieben who played at Black Easter last year) collaborated with you as well? Did he appear on a record or was/is he a guest musician on live shows?
We saw Matt play numerous times and we are always blown away by his performance. We shared a stage, but not at the same time, that's for the future. We were so lucky that he had the time to record some beautiful violins for Welcome The Dream Led Masses, which he sent through an echo plate and it fitted perfectly with the end of the track. Mixing that with Phill Brown was a highlight of the sessions.
I read you wrote Give Your Heart To The Hawks in the woods surrounding Berlin. It remembers me of Zola Jesus (an artist whom I see some similarities with) who moved to the desolate rural region of Wisconsin to write her Taiga album. Was it important for Give Your Heart To The Hawks to change environment? Couldn't you have written the same album in London? Did the forest have an impact on your song writing?
The themes of the album run through our lives whether we're in the city or the forest, and sometimes you need to escape the sirens/asphalt to tie your'sel back to the earth, You need open fires, woodlands and stars. CCTV, camera, the ever watching eye, the album is very much about surveillance.

Richard Farmby of Mogwai wrote the soundtrack of horror series Les Revenants, and he coproduced your latest album Give Your Heart To The Hawks. How was it to work with him?
Real fun and inspiring! He has an army of vintage and weird synths, drum machines and poly synths, and the creativity to be able to use them wisely. He very much helped us finish 2 tracks that we were struggling with, and that was priceless. We wanted to work with him once more, but time was limited. It would be a dream at some stage to start and finish the whole process with him.
I always believed that an artist's song material mainly defines how an album eventually sounds and that a producer merely has a supporting role. But when I interviewed Moonspell drummer Gaspar, he couldn't stop praising Jens Bogren. He stated the producer really left his mark and lifted the album to a higher level. So, in case of Give Your Heart To The Hawks: are producers Phill Brown (who worked with Beth Gibbons and Portishead) and former Shrieckback member Martyn Barker (who worked with Goldfrapp) essential for the trip hop sounds emerging on the album? Or is it something you already intended in the early stages of the song writing process?
Although we were still making decisions about sounds when mixing the album, we had a clear vision of what it needed to sound like in terms of textures and mood. We took Martyn's very clean drum and processed it (much to his horror) to make it sound otherworldly. Much of the production was done in our own studio, but Phill was able to mix the album in such a way that the story we were telling was extended, using real reverbs through a Neve desk.
So, as mentioned before, you'll play at the Black Easter Festival soon. But you played in Belgium before, didn't you? You played in Brussels in 2011 (Fantastique Night) and in 2009 you performed there with the gothic super group The Eden House, a project of Tony Pettitt (Fields Of The Nephilim) and Julianne Regan (All About Eve). Are you still involved in The Eden House?
I was so honored to be a part of the first album, and I hope it will happen again in the future. When I started writing with the guys, I had also just started And So The Morning Comes. It's a hard choice sometimes, but we had to focus on finishing our debut album.
You and Steven are mentioned as mountaineers. Your song Hands Are Tied has become the soundtrack to a video about The Dark Mountain Project. Could you explain our readers what this Dark Mountain Project is about?
Uncivilisation: The Dark Mountain Manifesto was the starting point for the whole Dark Mountain Project. It aims at the myths of civilisation - the myth of progress, the myth of human separation from nature - and the way they shield us from recognizing the depth of the mess in which we find ourselves. It also is a call to a deeper cultural engagement with the ecological, economic and social crises of our time. How good or bad a job we make of navigating the end of the world as we know it, will depend not the least on the stories we tell ourselves.
2016 is still young. How do you look back on 2015? And what are the goals for 2016?
2015 was our busiest year ever in terms of releasing a single, album, 2 videos and 60 gigs spread over many tours....so, we worked hard but had a lot of fun, the band changed and morphed as it always does with changing musicians. We very excited about supporting Wayne Hussey, and we have a new single that we have just finished producing, with new producer Flint Kids, whom we also worked with on the Joy Division track. So, we won't give anything away apart from that we are very excited about it!
Thanks for your cooperation Evi. Any last words? A message for your fans maybe?
We are so thankful to you and everyone who supports us, that's important for an independent artist.
EVI VINE will perform at Black Easter 2019, on Sunday 21 April @ De Casino- St. Niklaas, Belgium.
Other artist performing at Black Easter are Goethes Erben, Clan Of Xymox, Jo Quail, Daemonia Nymphe, Monica Richards vs Anthony Jones, Hackedepicciotto, Sieben, The Breath Of Life & You Life On Hold!

More info: www.blackeaster.be
Benny CALUWE
01/03/2016
---
De folktronica kunstenares Evi Vine zal tijdens het Black Easter Festival in Antwerpen op zondag 27 maart optreden. Evi is gezegend met een prachtige stem. Ze speelt donkere, intieme folk. Ze maakt droomachtige, fragiele en sfeervolle muziek die me doet denken aan Elizabeth Fraser. Haar laatste album Give Your Heart Away To The Hawks scoorde goed op onze pagina's. Geef je hart aan Evi Vine! Ontdek haar muziek die recht uit het hart komt.

De eerste keer dat ik je hoorde, was op het Joy Division tribute album A Change Of Speed ​​–A Change Of Style. Een verleidelijke, ietwat griezelige versie van Dead Souls. Ik wilde meteen meer over je weten. Wat betekent Joy Division voor je? En hoe kijk je terug op het album?
Dead Souls stond op ons verlanglijstje, toen men ons vroeg om mee te werken, waren we blij (en verrast) dat deze song nog beschikbaar was. De muziek van Joy Division is een integraal onderdeel van mijn leven.
Terwijl ik jullie ontdekte, vond ik een nogal verrassende cover van Madonna op jullie Soundcloud-pagina. Waarom niet eigenlijk, Sonic Youth maakte een geweldige versie van Madonna's Into The Groove en Paradise Lost maakte zelfs een cover van Everything But The Girl's Missing. Wat trok je aan in Oh Father (een track uit Like A Virgin)?
De track heeft een sterke aantrekkingskracht op mij sinds ik een kind was. Ik had een vervreemde relatie met mijn eigen vader, het leek me gewoon passend. Het is ook een anonieme manier om dingen te zeggen tegen een ouder die je normaal nooit zou zeggen.

Ik merkte ook dat een getalenteerde kunstenares zoals jij geen platenlabel heeft. Is dat een noodzaak of een bewuste keuze?
Een combinatie van beide. We voelden dat we het alleen moesten doen totdat we een relatie vonden met het juiste label, dat we natuurlijk graag zouden vinden.

Je stem is een geweldige troef. Daarbovenop ben je ook een multi-instrumentaliste. Heb je op jonge leeftijd lessen gevolgd ? Wat was je eerste instrument ?
Ik volgde gitaarlessen toen ik 8 was, dat waren de beginselen, en dan een paar jaar later door omstandigheden werd dat de piano en nadien verloor ik mijn interesse. Een paar jaar geleden pakte ik opnieuw de gitaar op, als autodidact, net zoals Steven, en dat heeft natuurlijk zijn voor- en nadelen.

In Peek-A-Boo hebben we een artikelenreeks over tien platen die een leven hebben veranderd. We vroegen het ook aan Wayne Hussey, maar die wilde geen klassiekers noemen. In plaats daarvan koos hij voor recentere albums. Hij koos je debuutalbum ...And So The Morning Comes. Hij noemde het een object van zeldzame schoonheid. Ik veronderstel dat het een eer is dat Wayne Hussey dat zegt, niet?
Ja, de muziek van The Mission heeft mijn leven ook veranderd, dus we stonden perplex toen we het lazen. Uiteraard zijn we blij dat we als support act voor zijn solotoer mogen spelen.

Deze tour start in Luik. Hoe kwam die tot stand?
We namen contact op met het management om Wayne rechtstreeks te danken voor wat hij over ons geschreven had, en vanaf daar begon het echt. Er stonden al een paar shows geboekt, dus we waren blij dat ook de timing goed uitkwam om andere shows te kunnen doen. Het is een hele eer voor ons.
Maar eerst speel je op Black Easter. Wat kunnen we verwachten? Hoeveel muzikanten zullen er op het podium staan, en zal je partner in crime Steven Hill er ook bij zijn?
We hebben echt geluk dat de hele band er is. Hunter Barr op synths, die het livegeluid een hele duw in de rug geeft, en hij is een droom om mee te werken, en onze nieuwe drummer 'GB' is ook van de partij. Live-drums maken de set heel anders.

Jo Quail speelde cello op je debuutalbum... And So The Morning Comes. De begaafde celliste staat ook op Black Easter, vertel onze lezers waarom zij absoluut naar haar moeten kijken en luisteren!
Helaas is onze opnamesessie met Jo maar van korte duur geweest wegens een sneeuwstorm, maar we waren echt blij dat we het grootste deel van wat we hadden afgesproken toch hebben kunnen opnemen. Ze is een zeer begaafde kunstenares. En een van de weinige vrouwelijke kunstenaars die de manier veranderen waarop ik naar muziek luister.

Op je website zag ik ook dat Matt Howden (aka Sieben die vorig jaar tevens op Black Easter stond) met je heeft samengewerkt. Was dat op plaat of als gastmuzikant tijdens liveshows?
We zagen Matt al meerdere malen spelen en we zijn altijd overdonderd geweest door zijn prestaties. Een podium delen met elkaar, dat is iets voor de toekomst. We waren zo gelukkig dat hij tijd had voor een ​​aantal mooie vioolpartijen op Welcome The Dream Led Masses, die hij via een echoplaat had opgenomen. Het paste perfect bij het einde van de track. Dat mengen met Phill Brown was één van de hoogtepunten van de sessies.
Ik las dat je Give Your Heart To The Hawks in de bossen rond Berlijn schreef. Het herinnert me aan wat Zola Jesus doet (ik zie een aantal gelijkenissen met jou) en naar het desolate platteland van Wisconsin trok om daar Taiga te schrijven. Was het belangrijk om voor Give Your Heart To The Hawks van omgeving te veranderen? Kon je dat album niet in Londen schrijven? Had het bos echt een impact op het schrijven van je songs?
De thema's van het album lopen door ons leven, of we in de steden of het bos wonen. Maar soms moet je ontsnappen van de sirenes en het asfalt, je terug aan de aarde binden, Je hebt nood aan de open haarden, de bossen en de sterren. Geen camera's, weg van dat immer wakende oog.
Richard Farmby van Mogwai schreef de soundtrack van de horrorserie Les Revenants, en hij was ook de coproducer van je laatste album Give Your Heart To The Hawks. Hoe was het om met hem samen te werken?
Echt leuk en inspirerend! Hij heeft een leger van vintage en zeldzame synths, drummachines en polysynths. Hij is creatief genoeg om ze verstandig te gebruiken. Hij hielp ons met het afwerken van twee tracks waarmee we worstelden, en die hulp was uiteindelijk onbetaalbaar. We wilden nog een keer met hem werken, maar de tijd was te kort. Het zou een droom zijn om met hem het hele proces op te nemen.
Ik heb altijd geloofd dat het songmateriaal bepaalt hoe een album uiteindelijk klinkt en dat een producer slechts een ondersteunende rol heeft. Maar toen ik Moonspell-drummer Gaspar interviewde, kon die maar niet stoppen met Jens Bogren op te hemelen. Hij zei me dat de producer echt zijn stempel op een plaat drukt en naar een hoger niveau tilt. Dus, in het geval van Give Your Heart To The Hawks: zijn de producers Phill Brown (van Beth Gibbons en Portishead) en voormalig Shrieckback-lid Martyn Barker (die ook met Goldfrapp werkte) bepalend voor de triphopgeluiden op het album? Of is het iets dat je altijd wilde?
Hoewel we nog geluiden hebben veranderd tijdens het mengen van het album, hadden we een duidelijke visie van hoe het moest klinken qua structuur en stemming. We namen Martyns drums en verwerkten die (tot zijn grote schrik) om ze wat meer buitenaard te laten lijken. Een groot deel van de productie is in onze eigen studio opgenomen, maar Phill was in staat om het album zo te mengen dat het verhaal werd uitgebreid en waardoor er heel wat galmen werden toegevoegd die de plaat volledig anders maakten.

Je speelde al eerder in België, niet waar? In Brussel in 2011 (Fantastique Night) en in 2009 met de gothicsuperband The Eden House, een project van Tony Pettitt (The Fields Of The Nephilim) en Julianne Regan (All About Eve). Bent je nog steeds betrokken bij The Eden House?
Ik was zo vereerd dat ik aan het eerste album mocht meewerken, en ik hoop dat het weer zal gebeuren in de toekomst. Toen ik met de jongens begon te schrijven, begon ik net ook aan And So The Morning Comes. Het is een moeilijke keuze, maar toen moesten we ons richten op de afwerking van ons debuutalbum.

Jij en Steven zijn bergbeklimmers. De track Hands Are Tied staan op de soundtrack van de video van The Dark Mountain Project. Kun je onze lezers uitleggen waarover dat gaat?
Uncivilisation: The Dark Mountain Manifest was het uitgangspunt voor het hele Dark Mountain Project. Het is gericht op de mythen van de beschaving - de mythe van de vooruitgang, de mythe van de menselijke afscheiding van de natuur - en de manier waarop we ons beschermen tegen de erkenning van de puinhoop waarin we ons bevinden. Het is ook een oproep tot een diepere culturele betrokkenheid bij de ecologische, economische en sociale crisissen van onze tijd. Hoe goed of slecht we werken, zal bepalen waar de wereld uiteindelijk naartoe gaat. Op zijn minst kunnen we onszelf niet verwijten dat we het niet wisten!

2016 is nog jong. Hoe kijk je terug op 2015? En wat is je doel voor 2016?
2015 was onze drukste jaar tot nu toe: een single, een album, twee video's en zestig optredens. We hebben hard gewerkt, maar ook veel plezier gehad, de band omgevormd, soms met wisselende musici. We zijn blij met de steun van Wayne Hussey, en we hebben een nieuwe single die bijna klaar is en zal geproduced worden door Flint Kids met wie we samenwerkten voor de Joy Division-cover.
De laatste woorden, Evi? Een boodschap voor je fans misschien?
We zijn zo dankbaar voor jullie steun, dat is belangrijk voor een zelfstandig artiest.
Benny CALUWE
01/03/2016
---