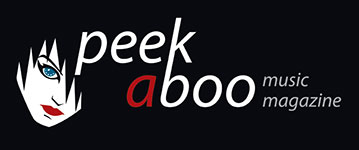 like this interview

---
LEBANON HANOVER
Vaguely it's around 1982 when music has been written that inspired and grabbed me, more than anything before or after. It's this feeling we want to revive.
10/02/2016, Ruben SAEY
photos: © Marquis(pi)X
---
Lebanon Hanover plays at the Black Easter Festival on Sunday 27th March. Ruben had a chat with both William and Larissa.
At the festival in 2013 you played one of your first performances on a big stage. It was clear you didn't feel comfortable there although it was a good gig and you made a good impression. Do you still feel the same kind of stress when you enter the stage now?
William: We were new to festivals, that is true. Being the delicate creatures that we usually are at festivals, some bands may feel pushed and hurried by a tightly timed line-up. This is kind of how we felt, this was new to us. Now we fully understand those kinds of situations.

Do you like playing festivals or do you prefer small clubs?
Larissa: We surely are not a festival band. The atmosphere between an artist and the audience is more intimate on single concerts. With us, we can easily be misunderstood in huge halls of mixed people. Despite that, I quiet like playing at festivals, because I get to see other bands for free.
On stage Lebanon Hanover is a very static band with quite minimalistic music. Is this music made for a particular audience or is it an expression of your moods or feelings?
William: We never sat down and wrote music for an audience. Moods and feelings are the foundations of Lebanon Hanover. If an audience wants to connect with what we are doing, then it has to be involved in our moods and feelings.

The style of the music is cold wave and minimal wave. Is that a reaction to the rat race of the 21st century? A sort of escape to a more calm comfort zone?
Larissa: It definitely is some sort of escape from the high pitched digital music tunes. I can't listen to anything like that. Vaguely, it's around 1982 when music has been written that inspired and grabbed me, more than anything before or after. It's this feeling we want to revive.

When I listen to Lebanon Hanover, I always think of lonely places or wide desolate landscapes. Those places are hard to find these days. Is that the mood you try to create?
William: This is the general vision we get, in a way we also grew up in wide open places and have submerged ourselves in such lands, we also happen to like empty lands. It is also part of our look on life sometimes. So it tends to come out in the music.

With five albums (including the tape : La Fête Triste), the band is very productive, it looks like everything comes nice and smoothly. Where do you get all that inspiration from?
Larissa: There was a time when we lived in Northern England in complete isolation with rain every day, you just had to do something. The band already exists for five years, so I think four albums is not that much.

My personal opinion on the last album is that it moves to dark wave. There are more instruments, even trumpets (The Moor) and there's a higher tempo than on the first albums. Is there a special reason or is that a normal evolution?
William: It could be the vibe we were feeling. We like to take things further, develop music in different ways. So you could say it is a type of natural evolution. We don't want to do the same thing over and over…
Sometimes Larissa does the singing, and then it's William. How do you decide who is going to do the vocal parts? When you write a song, do you know who's going to do it?
Larissa: We both spend a lot of time writing in our journals. When one feels the urge to put something important in a text, then we quickly talk and decide who is going to sing it. We exclusively write the texts for ourselves.
Sometimes they are sung in English, sometimes in German. Is that to express a certain feeling?
Larissa: It is quiet insane how some words just sound so beautiful in German like Galgen or Abgrund. Mainly our songs are in English, so we have a universal code, but as I am an aesthete and a big fan of wordplay, I sometimes choose for the German language.

On 27th of March you will play at the Black Easter Festival in Antwerp. Are you looking forward to play in Belgium again? Do you have a special connection with Belgium?
Larissa: Belgium has something very somber and I especially look forward to see my favorite Belgian city, which is Antwerp.

Are there any bands at Black Easter Festival you'd like to see?
Larissa: Definitely! Whispering Sons and She Past Away. I love them.
Lebanon Hanover is also a couple. Living and working together, isn't that difficult. Can you separate your private life and your musical career?
Larissa: Since 3 years we have no longer a relationship, but we stayed friends. In fact, it has disadvantages and advantages to be separated because we don't live in the same cities anymore. Now, it is technically much more challenging to jam and record together, but on the other hand our private life is calmer and easier.

Will the band always be just the two of you?
William: I do not believe the band would ever be the same if someone else was part of it. It would just feel odd. Two is harmonious enough for us

Is there something you like to say to the readers of Peek-A-Boo-Magazine and the visitors of Black Easter l? What can they expect from the Lebanon Hanover gig?
William: It could be that we have some surprises! Besides this, let us leap into the abyss together.
I thank you for this interview and wish you a very good gig at the festival and all the best for the future.
Larissa: Thank you so much!
William: Thank you!
The Black Easter Festival will take place in Zappa, Antwerp on Saturday 26th and Sunday 27th of March.
More info and tickets: http://www.blackeaster.be
Ruben SAEY
10/02/2016
---
Op zondag 27 maart speelt Lebanon Hanover op Black Easter. Ruben had een praatje met zowel William als Larissa.
In 2013 speelden jullie een van jullie eerste optredens op een groot podium. Het was duidelijk dat jullie je daar niet al te comfortabel voelden. Hoewel het een goed optreden was en je een goede indruk maakte. Nu zijn we een paar jaar later, heb je nog steeds dat stressgevoel als je een podium betreedt?
William : Festivals waren nieuw voor ons, dat is waar. Omdat we op festivals maar fragiele wezens zijn, kan het zijn dat sommige bands zich door de strakke tijdslimiet wat gehaast voelen. Dat was ook nieuw voor ons. Nu begrijpen we dat soort situaties.

Hou je van festivals of heb je toch liever kleinere clubs ?
Larissa : We zijn zeker geen festivalband. De sfeer tussen de artiest en het publiek is meer intiem op gewone concerten. In ons geval kunnen we vaak verkeerd begrepen worden als we in zo'n grote zalen spelen. Desondanks speel ik graag op festivals want zo zie ik andere bands gratis.

Lebanon Hannover is eerder een statische band met vrij minimalistische muziek. Is deze muziek gemaakt voor een bepaalde doelgroep of is het gewoon een uiting van je stemmingen en je gevoelens?
William : We hebben nooit het idee gehad dat we voor een bepaald publiek moeten schrijven. Stemmingen en gevoelens zijn de fundamenten van Lebanon Hanover. Als het publiek zich met ons wil verbinden, dan moet het ook betrokken zijn bij onze stemmingen en gevoelens.

De stijl van jullie muziek is cold wave en minimal wave. Is dat een reactie op de ratrace van de 21ste eeuw? Een soort ontsnapping naar een meer kalme zone?
Larissa : Het is zeker een soort ontsnapping van de digitale muziek waar ik echt niet kan naar luisteren. Alles begon in 1982, toen is de muziek geschreven die me heeft geïnspireerd en gegrepen. Het is dit gevoel dat we willen laten herleven.

Als ik naar Lebanon Hanover luister, denk ik altijd aan eenzame plaatsen of brede desolate landschappen. Die plaatsen zijn tegenwoordig moeilijk te vinden. Is dat de stemming die je probeert te creëren?
William : Dat is onze algemene visie, ja, en op een manier zijn we ook opgegroeid in zo'n brede open plaatsen of hebben we ons daar zelf in ondergedompeld, gewoon omdat we daar enorm van houden. Soms is het ook een onderdeel van onze kijk op het leven en dat komt natuurlijk ook in onze muziek aan bod.

Met vijf albums (inclusief de tape La Fête Triste ) kan je zeggen dat de band zeer productief is, het lijkt allemaal zeer soepel te gaan. Waar haal je al die inspiratie?
Larissa : Er was ook een tijd toen we in Noord-Engeland leefden, in totale afzondering en alle dagen regen hadden, je moest gewoon iets doen. De band bestaat al vijf jaar, dus ik denk dat vier albums niet zo veel is.

Mijn persoonlijke mening over je laatste album is dat het meer naar dark wave neigt. Er zijn heel wat extra instrumenten, zelfs trompetten (The Moor) en het tempo ligt hoger dan op de eerste albums. Is er een speciale reden of is dat gewoon een evolutie ?
William : Het zal wel de vibe zijn die we voelden. We proberen dingen uit te diepen, muziek op verschillende manieren te ontwikkelen. Dus ja, je zou kunnen zeggen dat het een soort natuurlijke evolutie is. We willen niet steeds hetzelfde herhalen...
Soms zingt Larissa en dan is het weer William. Hoe bepaal je wie wat zingt? Als je een song schrijft, heb je dan al in gedachten wie die gaat doen?
Larissa: We besteden allebei veel tijd aan het schrijven in onze agenda. Als iemand de drang heeft om een of andere tekst neer te pennen, dan bespreken we dat snel en beslissen wie zal zingen. Meestal schrijven we de teksten voor onszelf.

Soms zijn de songs in het Engels gezongen , dan weer in het Duits. Is dat om een bepaald gevoel uit te drukken ?
Larissa : Het is gek hoe sommige woorden zo mooi in het Duits klinken, zoals Galgen of Abgrund. De meeste songs zijn in het Engels, zodat we een universele code hebben, maar ik ben een estheet en een grote fan van woordspelingen, soms kies ik dus voor de Duitse taal.

Op 27 maart spelen jullie op het Black Easter Festival in Antwerpen. Blij dat jullie weer in België mogen spelen? Hebben jullie een speciale band met België?
Larissa : België heeft iets heel sombers en ik kijk er vooral naar uit om mijn favoriete Belgische stad terug te zien en dat is Antwerpen.

Zijn er bands op Black Easter Festival die je graag zelf zou willen zien ?
Larissa : Zeker ! Whispering Sons en She Past Away. Ik hou van ze.

Jullie zijn ook een paar. Is dat niet moeilijk? Ik bedoel, kunnen jullie je privéleven en je muzikale carrière gescheiden houden?
Larissa : Sinds 3 jaar hebben we geen relatie meer, maar we zijn vrienden gebleven. In feite, heeft het zijn voor- en nadelen dat we nu apart zijn, omdat we niet meer in dezelfde stad wonen. Nu, technisch bekeken is het wat moeilijker, maar aan de andere kant is ons privéleven rustiger en gemakkelijker geworden.

Zal de band altijd alleen jullie twee zijn?
William: Ik geloof niet dat de band ooit dezelfde zou zijn als er iemand anders bij zou komen. Het zou gewoon vreemd zijn. Twee is harmonieus genoeg voor ons.
Is er iets wat je aan de lezers van Peek-A-Boo of de bezoekers van Black Easter zou willen zeggen? Wat kunnen ze van het optreden verwachten ?
William : Misschien hebben we een aantal verrassingen! Los daarvan, laten we samen in de afgrond springen.

Ik dank jullie voor dit interview en wens jullie een heel goed optreden op het festival en het allerbeste voor de toekomst.
Larissa : Bedankt!
William : Dank je wel!
Ruben SAEY
10/02/2016
---