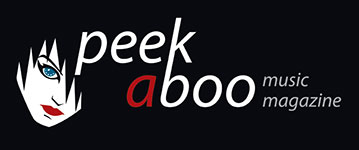 like this interview
---
OAKTREE
It is my goal to find some peace in the things I do, I am not interested in having a blitz career.
07/02/2016, Didier BECU
---
Dust by Oaktree aka Adriaan de Roover is one of the most beautiful records of the year: ambient with a touch of neoclassical and some minimal techno.

Peek-A-Boo had a chat with this Antwerp centipede. Hello Adriaan, can you introduce yourself please?
Hey. I'm Adriaan, I live in Antwerp and I make music as Oaktree. When I make music, I am sitting alone behind a computer recording some audio. I edit the sounds, stick some elements to it and the result is songs. These are not songs with a verse and chorus, but rather sound collages, I find it difficult to indicate precisely what it is. Even I don't know what it is! On stage, I perform with five people: drums, violin, vocals, keys, harp and electronics.

Without hearing one track, the name Oaktree reveals that we are dealing with a daydreamer. How did you get that name?
I am indeed that type. There is no real story behind the name. I can't remember how I found the word, but its meaning and sound appeal to me.

2015 was a very important year for you, let's say the year of the breakthrough. How do you look back on it and what are your best memories ?
The "breakthrough"… I had not thought about it in such a way. Much happened since the release of my first EP on PIAS, less than two years ago, but it is actually very organic and I roll from one thing into the other. 2015 was a very intense year: making the new record, releasing two records, many rehearsals, I play a lot live, my work... It is so mixed up that I am not quite aware of it myself. The moments that I could work on music by myself and that I was able to focus myself on one thing like I could during my studio days in the Ardennes and Amsterdam, was a beautiful moment.

I have the impression that everything went fast for you, or am I wrong?
It is indeed fast, but at the same time I try to do things just step by step, to do things at my own pace. It does not always work, but I'm learning. It is my goal to find some peace in the things I do, I am not interested in having a blitz career. I got lucky with how things are going since I made music and I am very grateful for it.

You also played at Eurosonic. How important is it, or is it a gig like any other?
As the audience consists for the most part of people from the music industry - and they are there to work - there is definitely a different atmosphere than at other concerts. The intention to see a gig is also different. In addition, there are more than 30 stages, so you're lucky you do not play in an empty venue. We did well, it was quite a buzz in Groningen and we had a good time.

Speaking about gigs. You are not alone on stage, right? Can you tell us more about the others?
Right. On stage, I am joined by four other musicians/friends, Oaktree would never be the same without them. Laura De Jongh and Silke Janssens are friends who I know for a long time, and they were there since day one. Laura plays the harp with effects, and Silke, she is the voice of I Still Feel, and plays clarinet and keys, very cool. Hester Bolle plays violin and electronics. All these elements are melt into one, some parts she plays are very classic and then it's noise, bass or pads. Willem Schonenberg, the drummer, is the latest to join our gang. Since he is with us, we can go much further in expanding our live arrangements. In terms of sound but also in terms of structure and dynamics, it is a revelation that he is part of Oaktree.

You also worked together with veteran Pieter Nooten. How was that and how did that come about?
I received the proposal from Red Bull Elektropedia to work in a studio in Amsterdam with another musician from the Netherlands. Instead of choosing an obvious collaboration with a producer who fits perfectly in our genre, I went for Pieter Nooten. I discovered his music by accident and it immediately appealed to me. It was very interesting to work with someone you do not know, and who has a completely different background. He mailed me a sort of start on which I worked.

Suppose you could spent three days in a studio with someone of your choice. Who would it be?
I can't answer that, I do not really know if it would be more interesting to work with a big star instead of my neighbor who plays bagpipes, even if I have a great admiration for certain artists.

Your music is compared with some big names. I recently read Nils Frahm as a reference. It probably makes you blush, but it also makes you proud at the same time, right?
Of course, often I am totally unaware of the references some people make and there are often very beautiful things said, so I discover things that I like (laughs). I absorb the music I listen to, and that undoubtedly is reflected in the music I make, but I want to find my own path and voice. There is no need for someone who does the same as, say Nils Frahm.

What are your future plans, and of course we're talking about an album!
Now, I want to concentrate on live performances, new experiments and some collaborations. And then we'll see about an LP. But I'm looking forward to it...

What 's your favorite record of all time and why?
Impossible question as that changes from moment to moment.

With whom would you not mind to be stuck in an elevator for 8 hours, and what would you do then?
With my godchild, I would play 8 hours with blocks and stuffed animals.

The last word is yours, Adriaan.
Thanks for the interview, I hope you enjoy the album.
Didier BECU
07/02/2016
---
Met Dust heeft Oaktree aka Adriaan de Roover een van de mooiste plaatjes van het jaar gemaakt. Ambient met een vleugje neoklassiek en wat minimal techno. Tijd om een praatje te maken met deze Antwerpse duizendpoot.

Dag Adriaan, ik denk niet dat jij het erg zal vinden dat ik je eerst vraag om jezelf eventjes voor te stellen.
Hey. Ik ben Adriaan, ik woon in Antwerpen en ik maak muziek als Oaktree. Als ik muziek maak, zit ik meestentijds alleen achter een computer wat audio op te nemen: bewerken, verknippen en plakken tot daar liedjes uit voortkomen. Het zijn geen liedjes met een strofe en refrein, eerder klankcollages, ik vind het moeilijk om het precies te benoemen. Het blijft namelijk ook voor mijzelf steeds een zoektocht. Live sta ik op het podium in een bezetting van vijf, met drums, viool, zang, keys, harp, elektronica,...
Zonder dat je ook maar één nummer hoort, onthult de naam Oaktree dat we met een dagdromer te maken hebben. Hoe kwam je op die naam?
Hehe, ik ben inderdaad dat type. Er zit geen lang verhaal achter de naam. Ik kan me niet herinneren hoe ik precies op dat woord kwam, maar de betekenis, het beeld en de klank spraken mij aan.
2015 was een zeer belangrijk jaar voor je, zeg maar het jaar van de doorbraak. Hoe kijk je daar op terug en wat zijn je mooiste herinneringen?
De 'doorbraak', zo had ik er niet over nagedacht. Er is veel gebeurd sinds de release van mijn eerste ep op PIAS, nog geen twee jaar geleden, maar het loopt eigenlijk heel organisch en ik rol van het ene in het andere. 2015 was een heel intens jaar, de nieuwe plaat maken, twee platen uitgebracht, veel repeteren, veel live spelen, ook mijn werk... Het loopt zo door elkaar dat ik me er niet helemaal bewust van ben. De momenten dat ik op mijzelf aan muziek kon werken en de focus op één ding kon leggen, zoals tijdens mijn studiodagen in de Ardennen en Amsterdam, springen er achteraf bekeken het meest uit. Tussen alle andere mooie momenten blijven die het langst nazinderen.
Ik heb de indruk dat het allemaal snel voor je ging, of ben ik fout en heb je toch lang aan de weg moeten timmeren?
Het gaat inderdaad snel, maar tegelijkertijd probeer ik de dingen gewoon stap voor stap, op mijn eigen tempo te doen. Dat lukt niet altijd even goed, maar ik leer het. Het is mijn doel om een bepaalde rust te vinden in de dingen die ik doe, niet om een af andere blitzcarrière na te streven. Ik heb veel geluk met hoe dingen lopen sinds ik naar buiten gekomen ben met de muziek die ik maak en ik ben daar heel dankbaar voor.
Je stond ook op Eurosonic. Hoe belangrijk is dat, of is het gewoon een optreden zoals een ander?
Aangezien het publiek voor het grootste deel uit mensen uit de muziekindustrie bestaat - en die zijn daar om te werken - is er wel degelijk een andere sfeer dan op andere optredens. De intenties om naar een optreden te komen luisteren is ook anders. Daarbij, er zijn meer dan 30 podia, dus je moet geluk hebben dat je niet voor een lege zaal speelt. Bij ons is het goed gelopen, een heel fijne sfeer in Groningen en we hebben ons goed geamuseerd.
Over optredens gesproken. Jij staat niet alleen op een podium, niet? Kun je iets meer over de anderen vertellen?
Klopt. Op het podium word ik vergezeld door vier andere muzikanten/vrienden, zonder hen zou Oaktree niet zijn wat het nu is. Laura De Jongh en Silke Janssens zijn vrienden die ik al van vroeger ken, en ze zijn er sinds dag één bij. Laura speelt harp met de nodige effecten, en Silke deed eerst alleen de vocals, zij is de stem van I Still Feel, maar speelt nu ook klarinet en keys, heel cool. Hester Bolle speelt viool en elektronica. Dat loopt door elkaar, in sommige stukken speelt ze heel klassiek en zeker even vaak worden haar vioolklanken omgevormd tot noise, bassen of pads. Willem Schonenberg, de drummer, is de laatste aanwinst. Sinds hij erbij is kunnen we nog veel verder gaan in de livebewerking van onze nummers. Qua klank maar ook qua structuur en dynamiek is het een openbaring.
Je werkte ook samen met veteraan Pieter Nooten. Hoe was dat en hoe kwam dat tot stand?
Ik kreeg het voorstel van Red Bull Elektropedia om in de studio te kruipen in Amsterdam met een andere muzikant uit Nederland. In plaats van een voor de hand liggende samenwerking, met een producer uit hetzelfde straatje, koos ik voor Pieter Nooten. Ik was per toeval eens op hem gebotst en zijn muziek sprak mij aan. Het was heel boeiend om met iemand in de studio te duiken die je totaal niet kent en die een totaal andere achtergrond heeft. Hij had me op voorhand een opzet doorgemaild waarop ik dan verder ben gegaan. Vervolgens zijn we drie dagen non stop in de studio gedoken om het samen uit te werken.
Stel, je mag met iemand samenwerken, met om het even wie (er zijn geen grenzen!), wie zou je er dan uitpikken?
Dat kan ik niet zeggen, ik weet niet of het echt zoveel boeiender zou zijn om met een grote ster te werken als met mijn buurman die doedelzak speelt, hoe veel ik sommige artiesten ook bewonder.
Jouw muziek wordt met grote namen vergeleken. Onlangs las ik nog Nils Frahm als referentie. Het doet je waarschijnlijk blozen, maar het maakt je tegelijkertijd trots, niet?
Natuurlijk, ik ben me vaak totaal niet bewust van de referenties die mensen later aan mijn muziek hangen en daar zitten vaak heel mooie dingen tussen, of zo leer ik soms ook dingen kennen die ik goed vind (lacht). Het moet wel verder gaan dan ergens op lijken, wat voor compliment het ook mag zijn. Ik absorbeer de muziek die ik beluister, en dat komt ongetwijfeld terug in de muziek die ik maak, maar ik wil mijn eigen weg en stem zoeken. Er is geen nood aan iemand die exact hetzelfde probeert te doen als pakweg Nils Frahm.
Wat zijn je toekomstplannen, en dan hebben we het natuurlijk over een lp!
Ik wil eerst en vooral tijd maken voor de live-optredens en voor nieuwe experimenten en samenwerkingen. En die lp komt daarna wel. Ik kijk er wel naar uit...
Wat is je favoriete plaat aller tijden en waarom?
Onmogelijke vraag, dat wisselt van moment tot moment.
Met wie zou je het niet erg vinden om samen 8 uur in een lift te zitten en wat zou je doen?
Met mijn petekind, 8 uur lang met blokken en knuffels spelen.
Het laatste woord is aan jou, Adriaan.
Bedankt voor het interview, hopelijk geniet je van de plaat.
Didier BECU
07/02/2016
---