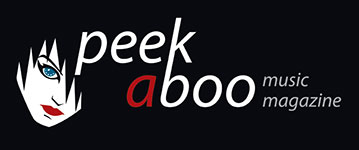 like this interview

---
ORGANIC
When we're composing, it's all happening in a natural way.
28/02/2016, Didier BECU
---
There's plenty of post-punk on Black Easter too. One of the bands is the Belgian Organic. Peek-A-Boo spoke with Raphaël Haubourdin.
Hello, the first question is quite simple: introduce Organic to those who never heard of the band!
We are a Belgian electronic rock trio. Our music style varies between post-punk, new wave and psyche. Of course we try to make music that is appreciated by the audience, but at the same time we make music that pleases us as well.

Organic was founded five years ago. Can you summarize this period, especially the highlights!
The seeds of Organic were sown during an accidental meeting in a cultural center, having sandwiches afterwards for dinner. At the time we were all playing in different bands. While playing alone on stage with the Graceland project, Joris spontaneously jumped onto the stage to support me with some great bass lines on some of the tracks. It really sounded great as a support to the things I performed. So afterwards we got the idea of ​​setting up a new band together.
Joris and I worked in the studio on some tracks as some kind of a sound lab experiment. This all swiftly resulted in 12 recorded tracks which we released as a debut album called Under Your Carbon Constellation on the Swedish label CCP. Soon after, drummer Olivier Justin joined the band during the creation of this first album and it became obvious that Organic would be a powerful trio.
Both Joris and Raphaël are involved in other bands, but as far as I know all these bands are still around, not?
Joris is not against the idea of ​​setting up another group or to revive Yel (his previous band), but it is not on the agenda. I am no longer working on Graceland, but I continue in studio with my side project Kinex Kinex. Playing live is not a priority with that project. Olivier is playing with another band called Cloé du Trèfle.
About your sound, I definitely do hear postpunk, but very raw postpunk like in the old Factory-days. Can you agree with that?
I do agree that some of our tracks have some kind of resemblance to some of the music of the early Factory-days, however, that may be an unconscious coincidence. We may be influenced on a certain level by this music, but we just want to produce what we want to hear. And the sound you hear, is the sound we like.
When we're composing, it's all happening in a natural way. We're mixing all our inspirations together and this leads to the production of our music. And if there is a slight resemblance to Factory music sometimes, so be it, but our approach is sincere and direct, without any planning in advance.
One of your first concerts was with Graham Coxon of Blur. I guess that must have been something special. Did you talk with him about Organic? I always thought Coxon was very interested in new sounds.
Graham was very friendly; he congratulated us afterwards for our support. Unfortunately he was in a hurry and we could not have a beer with him after the performance.

You have two albums out. What's the difference between both of them and do you think that you have developed the Organic sound you had in mind or is it something that will evolve with every album?
I think we now have a specific sound which is much appreciated by the audience. Especially during our last shows we noticed many people were dancing. Our goal was to make people happy and make them smile. So, I think at this moment the sound is pretty good, however there's always a possibility of evolving in the future.
And although the lyrics of our songs often are quite sad or depressed, the tempo of the tracks is fast which makes the music still danceable. And we definitely want to shake brains with our music.
Your second album has been distributed both by Manic Depression and Swiss Dark Nights. They happen to be the best labels for post-punk and goth punk. I guess they opened quite some doors?
I agree, there's indeed some kind of credibility and also recognition when your album is distributed by such labels. So when you send queries for shows to festivals or venues as a new band, there's suddenly a lot more credibility when you're on a label like Manic Depresion or Swiss Dark Nights. So, yes it definitely opens doors.
Talking about opening doors, Organic is especially known in Brussels and Wallonia. In Flanders, you're still unknown. Can you reveal your plan how you will conquer that part of the country?
We have contacted a lovely person who's going to try to get us booked in some of the venues in the north of our country. She's also involved with some other Belgian and British bands. She recently started her own project which is called luminousdash.com
I heard you will play in Paris too…
Yes, we will probably play twice, but we're still waiting for the confirmation. But not only France.... we had the opportunity to share stages in Barcelona and Madrid with Curtis (a Joy Division tribute band). And we played with Agent Side Grinder in Stockholm. And then there were some more gigs in Berlin and London. At the moment Germany is a priority to us, because we think our music will be appreciated there.

Perhaps it's my own fantasy, but are you called Organic because your music is so raw? I mean, it's post-punk like post-punk should sound!!!
Organic means to be alive, gooey, evolution. Organic could also be related to oil chemistry. Oil can be disturbing, black… Organic also means hope for a harmonious "organic" world. So far for the surrealistic side of the name.

What's your favourite record of all time and please state why!
Definitely the first album of Talk Talk! I mean all of the songs on it are great. The compositions are phenomenal and they all bear the typical color of the 80s, so I just love it. And on top of that, the evolution of the band is really amazing! From an 80's sound to master pieces like post-rock on Spirit Of Eden.

With whom wouldn't you mind to be alone in an elevator for 8 hours and what would you do then?
Being stuck in an elevator with Mark Hollis (Talk Talk's singer) would be much appreciated! I mean… why on earth did a great composer like him suddenly disappear from the music industry? I would really try to convince him to get back on stage.
You soon play at the Black Easter festival in Antwerp? Any particular artists you want to see?
I am very excited to see Lebanon Hanover on stage, since it's a fantastic band. I saw Turkish post-punk band She Past Away in Brussels once, which is a great band as well. And I do like the rest of the line-up.
What can we expect from you during Black Easter?
Make people dance and enjoy a great evening. And shake some of the brains!!
Actually, what does Easter mean to you anyway?
Lambs and eggs... nothing else.

Thank you !
Didier BECU
28/02/2016
---
Er staat heel wat post-punk op Black Easter dit jaar. Een van de acts is de Belgische band Organic. Peek-A-Boo sprak met Raphaël Haubourdin.
Hallo, de eerste vraag is heel simpel: stel Organic even voor aan zij die de band niet kennen!
Wij zijn een Belgisch elektronisch rocktrio. Onze muziekstijl varieert van post-punk, new wave tot psychedelica. Uiteraard proberen we muziek te maken die door het publiek wordt gewaardeerd, maar tegelijkertijd moet ze ook ons bevallen.

Organic werd vijf jaar geleden opgericht. Kun je een overzicht van deze periode geven, in het bijzonder de hoogtepunten!
De oorsprong van Organic gaat terug totr een toevallige ontmoeting in een cultureel centrum, met sandwiches op het menu. Op het moment speelden we allemaal in verschillende bands. Op een bepaald moment tijdens de set van Graceland, sprong Joris spontaan op het podium om samen met mij wat baslijnen te spelen op een aantal tracks. Het klonk echt geweldig als ondersteuning van de dingen die ik deed. Dus achteraf kwam het idee om samen een nieuwe band op te richten.
Joris en ik werkten in de studio aan een aantal tracks als een soort experiment. Dit resulteerde snel in 12 tracks die we uitbrachten als ons debuutalbum Under Your Carbon Constellation op het Zweedse label CCP. Kort nadien trad drummer Olivier Justin tot de band toe en werd het duidelijk dat Organic een krachtig trio zou worden.
Zowel Joris als jij, Raphaël, zijn betrokken bij andere bands, maar voor zover ik weet zijn al deze bands nog steeds actief, niet?
Joris is niet tegen het idee van een andere groep of om Yel (zijn vorige band) terug tot leven te wekken, maar het staat niet op de agenda. Ik ben niet meer bezig met Graceland, maar ik blijf wel werken in de studio aan mijn zijproject Kinex Kinex. Als we goesting hebben, zullen we optreden, maar dat is voor Kinex Kinex geen prioriteit. Onze drummer Olivier speelt ook bij Cloé du Trèfle.
Ik hoor postpunk, maar wel zeer rauwe postpunk, zoals in de oude Factory-dagen. Ben je het daarmee eens?
Ik ben het eens dat sommige van onze tracks overeenkomsten hebben met het vroegere Factory-werk, maar dat is vaak onbewust. We worden beïnvloed door muziek, maar toch maken we gewoon wat we willen. En het geluid dat je hoort, is het geluid dat we willen. Het gebeurt op een natuurlijke manier. We mengen natuurlijk al onze inspiraties en als er soms een lichte gelijkenis met de Factory-muziek is, dan is dat maar zo, maar onze aanpak is oprecht en direct, zonder enige planning vooraf.
Een van je eerste concerten was met Graham Coxon van Blur. Ik denk dat dat wat bijzonders moet geweest zijn. Hebt je met hem over Organic kunnen praten? Ik dacht Coxon altijd zeer geïnteresseerd was in nieuwe bands.
Graham was zeer vriendelijk. Hij feliciteerde ons daarna. Helaas was hij gehaast en we konden na het optreden geen biertje met hem drinken.
Je hebt twee albums uit. Wat is het verschil tussen beide en denk je dat je nu het Organic-geluid hebt dat je steeds in gedachten had of zal dat met elk album evolueren?
Ik denk dat we nu een specifiek geluid hebben dat door het publiek wordt gewaardeerd. Vooral tijdens onze laatste shows merkten we dat veel mensen dansen. Ons doel was om mensen gelukkig te maken, een glimlach op hun gezicht te toveren. Dus ik denk dat op dit moment het geluid vrij goed is, maar er is altijd een mogelijkheid om te evolueren. En hoewel de teksten van onze nummers vaak heel verdrietig of depressief zijn, is het tempo van de songs vrij snel, wat de muziek dan weer dansbaar maakt. We willen zeker de hersenen wakker schudden met onze muziek.
Jullie tweede album is zowel gedistribueerd door Manic Depression als Swiss Dark Nights. Niet toevallig de beste labels als het gaat om post- en gothpunk. Ik denk dat dat heel wat deuren heeft geopend, niet?
Ik ben het met je eens, er is inderdaad een soort van geloofwaardigheid en erkenning als je album wordt gedistribueerd door dergelijke labels. Er is ineens een stuk meer geloofwaardigheid als je op een label als Manic Depresion of Swiss Dark Nights zit. Dus ja het opent zeker deuren.
Organic is vooral bekend in Brussel en Wallonië. In Vlaanderen ben je nog steeds een beetje onbekend. Hoe ga je dat aanpakken?
We hebben een prachtig iemand leren kennen die zal proberen om ons te boeken op een aantal Vlaamse locaties. Ze is ook betrokken bij een aantal andere Belgische en Britse bands. Ze startte onlangs haar eigen project dat heet www.luminousdash.com
Ik hoorde dat je ook in Parijs zal spelen…
Ja, we zullen waarschijnlijk twee keer spelen, maar we wachten nog op de bevestiging daarvan. Maar niet alleen Frankrijk.... we kunnen in Barcelona en Madrid ook het podium delen met Curtis (een Joy Division-tributeband). En we speelden met Agent Side Grinder in Stockholm. En dan waren er nog optredens in Berlijn en Londen. Op dit moment is Duitsland een prioriteit voor ons, omdat we denken dat ze onze muziek daar zullen waarderen.

Misschien is het mijn eigen fantasie, maar doopten jullie de band Organic omdat jullie muziek zo rauw is? Ik bedoel het is postpunk zoals postpunk zou moeten klinken!!!
Organisch betekent leven of evolutie. Het kan ook gerelateerd zijn aan de petrochemie. Olie kan verontrustend zwart zijn. Organisch betekent ook de hoop op een harmonieuze "biologische" wereld. Tot zover de surrealistische kant van onze naam.
Wat is je favoriete plaat aller tijden?
Zeker het eerste album van Talk Talk! Ik bedoel alle songs daarop zijn geweldig. De composities zijn fenomenaal en allemaal voorzien van de typische kleuren van de jaren 80, dus ik vind het gewoon leuk. En ook de evolutie van deze band is echt geweldig! Van een 80s sound naar de post-rock van Spirit Of Eden.
Met wie zou je het niet erg vinden om alleen in een lift gedurende 8 uur te zitten en wat zou je dan doen?
Vastzitten in een lift met Mark Hollis (de zanger van Talk Talk)! Ik bedoel... waarom verdween plotseling zo'n groot componist uit de muziekindustrie? Ik zou echt proberen om hem te overtuigen om opnieuw op het podium te kruipen.

Je speelt op Black Easter in Antwerpen? Zijn er bepaalde artiesten die je wil zien?
Ik ben erg opgewonden om Lebanon Hannover te zien, want het is een fantastische band. Ik zag al de Turkse post-punkband She Past Away in Brussel en die is ook geweldig. Net als de rest van de line-up trouwens!
Wat kunnen we verwachten van jullie tijdens Black Easter?
Mensen laten dansen en genieten van een geweldige avond. En eens lekker de hersenen door elkaar schudden!!!
Wat betekent Pasen voor jullie eigenlijk?
Lammetjes en eieren... niets anders.
Dank je!
Didier BECU
28/02/2016
---