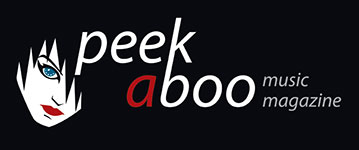 like this interview

---
ROME
Cold Meat Industry gave me my start and I will always be thankful for that. I am not into looking back, really.
25/02/2016, Ron SCHOONWATER
photos: © Marquis(pi)X
---
Rome will be at the next edition of Porta Nigra. Peek-A-Boo talked with brainchild Jerome Reuter.

In March 2016 you play at Porta Nigra in Aarschot, Belgium. What can people expect this time from Rome on stage?
It's gonna be completely different, that's for sure. My last appearance at Porta Nigra was a solo show and now we'll perform with the full band (including our new guitar player, Eric, who's only recently been added to the line-up) So, compared to the last time, it's going be at least a touch louder, for sure.
You play sometimes solo and with a band. I won't ask you what you like most, but when do you prefer a solo or a band performance?
I often do the solo stuff when I am travelling cheap, like I did in Vietnam, or in between tours, when the band can't join or if there's no budget to take the whole crew. I like the stage, regardless of how many people are with me, to be honest. But you can't really compare the dynamics of a solo show to that of a full band. It's completely different.

Can you tell us what it means for a band that there are promoters like the people behind Porta Nigra?
Well, these days one is glad for any reliable and professional promoter. It's a tough line of work. I'm really looking forward to working with the lads again. They are nice and generous and well-organized.
We have the idea that the underground music scene has changed in Belgium and The Netherlands. There is hardly any room left for (successful) parties and concerts in the gothic, dark ambient or dark folk genre. Do you notice the same and does it affect a band like Rome?
Glad you mention this, actually. I did notice a drop in activities in the Benelux indeed. I have a few reliable contacts, but yes, it seems to be less than before... Don't ask me why.
You would play at the Eurosonic festival, but didn't make it due to an unfortunate car accident. What happened exactly and is there already something you can tell us about a possible show in The Netherlands?
That wasn't spectacular at all, to be honest. A truck threw itself all across the highway just about 100 meters in front of us, and because of the extreme weather conditions in the Ardennes Forrest, there was no way to clear the road because of the ongoing blizzard. So, we were stuck there for seven hours in the snow. No shows yet confirmed for this season in the Netherlands as for now.
Can you tell us what we can expect from your new mini album Coriolan? If we read the promo, you use more than one music style.
Yes, it's a weird ride, I guess. But then again, that's not really unusual for Rome.

When can we expect the first songs online?
No idea. The physical release is on 1st April.
Can you tell us more about the theme behind the new mini album?
It's Shakespeare...
Porta Nigra is a bit like a small Cold Meat Industry meeting. How do you look back to your Cold Meat Industry days?
Those were the wild days. I don't miss that period, though. Cold Meat Industry gave me a start and I will always be thankful for it. I am not into looking back, really.
What's the difference with your current label Trisol Music Group? If there is any difference between the two labels.
Everything, really. I can't go into legal and financial details here, but I guess anyone familiar with the inner working of this particular branch of underground music knows that Cold Meat Industry had been struggling for a while...
Will the new CD and new merchandise will be available at the shows in Belgium?
I think it actually might... Can't promise anything though.
Something you always wanted to say, but never was asked…
No, it's more like the other way 'round, haha.
Ron SCHOONWATER
25/02/2016
---
Omdat Rome één van de muzikale gasten op de volgende editie van Porta Nigra is, sprak Peek-A-Boo met bezieler Jerome Reuter.
In maart 2016 speel je op Porta Nigra in Aarschot. Wat kunnen de mensen verwachten?
Het wordt helemaal anders, dat staat vast. Mijn laatste optreden op Porta Nigra was een solo-show en nu zal je de volledige band zien (met inbegrip van onze nieuwe gitarist, Eric, die er onlangs is bijgekomen). Dus in vergelijking met de vorige keer, zal het wat harder klinken!

Je speelt inderdaad soms solo en dan weer met een band. Ik zal je niet vragen wat je het liefst doet, maar wanneer heb je liever een solo-optreden en een band?
Ik doe vaak soloconcerten als ik goedkoop reis, zoals ik bijv. deed in Vietnam, of bij tussentochten als de band niet kan worden gevraagd om mee te doen of als er gewoon geen budget is om de hele crew mee te brengen. Ik hou van het podium, ongeacht hoeveel mensen er met mij op staan, ik ben daar eerlijk in. Maar je kan de dynamiek van een soloconcert niet vergelijken met die van een volledige band. Het is gewoon heel anders.

Wat betekent het voor een band als Rome dat er mensen bestaan zoals die van Porta Nigra?
Nou, tegenwoordig is men blij als je een ​​betrouwbare en professionele promotor bent. Het blijft moeilijk werken. Ik kijk er echt naar uit om opnieuw samen te mogen werken met Porta Nigra. Ze zijn vrijgevig en goed georganiseerd.
We hebben het idee dat de underground muziekscène in België en Nederland is veranderd. Er is nauwelijks ruimte voor (succesvolle) party's en concerten in het gothic-, darkambient- of donkerefolkgenre. Hoe beïnvloedt dat een band als Rome?
Ik ben blij dat je het aanhaalt, eigenlijk. Ik merkte inderdaad een daling van de activiteiten in de Benelux. Ik heb wel een paar betrouwbare contacten, maar ja, het lijkt minder dan voorheen... Vraag me niet waarom.
Normaliter zou je op het Eurosonicfestival spelen, maar een auto-ongeluk bracht daar verandering in. Wat gebeurde er precies en kan je ons iets vertellen over een mogelijke show in Nederland?
Dat was helemaal niet spectaculair, hoor. Een vrachtwagen reed de snelweg op, slechts ongeveer 100 meter voor ons, en vanwege de extreme weersomstandigheden in de Ardennen was er geen manier meer om weg te komen. We zaten zeven uur in de sneeuw vast. Er zijn nog geen shows bevestigd voor Nederland tot nu toe.
Kun je ons wat vertellen over het nieuwe mini-album Coriolan?
Ja, het is een rare rit, denk ik. Maar nogmaals, dat is niet echt ongebruikelijk voor Rome.
Wanneer kunnen we het online verwachten?
Geen idee. De fysieke release is op 1 april.
Kun je ons wat meer vertellen over het thema van het nieuwe mini-album?
Het is Shakespeare...
Porta Nigra is een beetje als een kleine bijeenkomst van Cold Meat Industry. Hoe kijk je terug naar je Cold Meat Industry dagen?
Dat waren wilde dagen. Ik mis het niet, hoor. Cold Meat Industry bezorgde me mijn start en ik zal daar altijd dankbaar voor zijn. Ik kijk zelden of nooit terug, echt waar.
Wat is het verschil met je huidige label Trisol Music Group?
Alles, echt. Ik kan niet in juridische en financiële details gaan, maar ik denk dat iedereen wel weet dat Cold Meat Industry met heel wat problemen worstelde...
Zal de nieuwe cd en de nieuwe merchandise beschikbaar zijn op de shows in België?
Ik denk het, maar kan niets beloven.
Iets wat je altijd al wilde zeggen, maar nooit werd gevraagd...
Nee, het is meestal andersom, haha.
Ron SCHOONWATER
25/02/2016
---