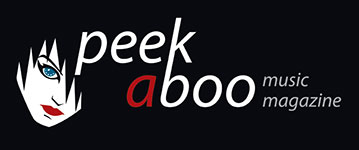 like this interview

---
SONJA KRAUSHOFER
I`m happy and proud that Thomas Rainer and I made it through all the years. I`m very thankful that I have the chance to be a singer... and do just what I really love to do.
26/02/2016, Benny CALUWE
---
Sonja Kraushofer, the remarkable voice of L'Âme Immortelle, is a versatile artist. Next to the Austrian electronic darkwave project, she was also involved in the neoclassical project Persephone and the gothic metal band Coma Divine. On Sunday 27th March Sonja will perform a special acoustic show at this year's Black Easter Festival.

Hi, Sonja, thanks for taking the time to answer some questions. Last year, you performed at the Black Easter Festival as well. You joined Goethes Erben on stage. How did you experience the festival in general and that concert in particular?
I really enjoyed the atmosphere of the festival. It was great to see that the audience paid attention for each band, the line-up was just special and refreshingly different from other festivals. The show of "Grausame Töchter" was a blast, I liked it very much! Glad to see them there. The highlight of the day was the concert with Goethes Erben, that`s for sure. I felt very comfortable on stage, although it was a very long day... not only for us, but also for the crowd, they celebrated till the end. Good (laughs).
Will you remain a Goethes Erben member in the future? Are you still involved in Henke?
I was never involved in the band Henke, only did the duet with Oswald and accompanied the tours with Coma Divine. In the autumn Goethes Erben will perform some shows in Germany and yes, I will be part of it again. Already looking foward to it. I hope we`ll have the chance to play in Belgium again soon.
Soon you will perform at Black Easter Festival again. With how many will you be on stage? Will Martin Hoefert, the cellist who was also involved in Persephone and Coma Divine, be there too?
Yes, he will. And actually Martin was not only involved in the bands, he`s the main songwriter (laughs). At Black Easter Festival we`ll have 5 musicicans: Martin Höfert (cello), charming Sue Ferrers (violin), pianist André Wahl ,who is responsible for the arrangements of this very project, Lukas Materzok actor and writer - his surreal, romantic texts will form the framework of our performance, and last but not least my humble self.
Personally I'm fond of older L' Âme Immortelle songs such as Bitterkeit and Life Will Never Be The Same Again. Does the set list focus on L'Ame Immortelle songs? Or do you have any surprises up your sleeve?
Our set list won`t focus on L'Ame Immortelle songs, but it`ll definitely include some. We will play songs of all my bands, of course also tunes of Persephone and Coma Divine, all songs will be acoustic. Probably also some unreleased tracks.
This year, L'Ame Immortelle exists 20 year. Is there anything planned to celebrate this? A new compilation album maybe?
How could you know? (laughs) Yes, there will be an album called Unsterblich, which will contain a great mixture of our best songs, but we`ve rearranged the songs and recorded them recently, so they all sound more up to date. Actually, our new live arrangements inspired us to do so. The limited version of the release will also contain a second CD with the original tracks of the songs and an extensive booklet with many pictures and all the lyrics.
Lately, Ashley Dayour is very active with Whispers In The Shadow, The Devil & The Universe and Near Earth Orbit. Do you still have plans together concerning your mutual project Coma Divine?
Not for the moment.
Next to being a musician, you are also an actress and a director in the theatre. Can you use your experience as a musician in theatre or vice versa?
Yes, of course. I think you can`t really do the one without the other... singing is always acting, telling a story and carrying emotions.
So as mentioned before, you have been active for 20 years now in music. What were your personal highlights and what was the most disappointing occasion in that period?
Wow, that`s hard to tell... hmm, the main highlight is that I`m still there! 20 years is quite a long time, but it seems like yesterday when I entered the rehearsal room of L'Ame Immortelle for the first time. It`s still exciting! I`m happy and proud that Thomas Rainer and I made it through all the years. I`m very thankful that I have the chance to be a singer... and do just what I really love to do. That`s a gift, I appreciate this a lot.
Disappointing occasions... yes there were a few, of course... and some of them did hurt, but in the end it all turned out well so far... so let`s concentrate on future glories instead.
What are the plans for 2016? And what do you wish to achieve in the future?
I guess, health is the most important thing to wish for... well, and maybe happiness. 2016 is full of various plans for all bands and projects, so it won`t be boring. I`ll be on tour with L'Ame Immortelle soon, in autumn we`ll play two shows in Russia and of course we can`t wait for the release of Unsterblich. Martin and I will take care of new Persephone songs and there will be more Sonja Kraushofer shows as well.
Any last words? A message for the fans maybe?
I just can`t tell how excited I am to play at the Black Easter Festival soon. Playing songs of all my bands means a lot to me, especially to share the stage with such excellent musicians! See you there! Stay tuned!
Thanks! See you in Antwerp!
Benny CALUWE
26/02/2016
---
Sonja Kraushofer, de opmerkelijke stem van L'Ame Immortelle, is een veelzijdig kunstenares. Naast het Oostenrijkse elektronische darkwaveproject, was ze ook betrokken bij het neoklassieke project Persephone en de gothicmetalband Coma Divine. Op zondag 27 maart zal Sonja een speciale akoestische set spelen op Black Easter.
Hallo, Sonja. Vorig jaar stond je ook al op het Black Easter Festival. Je trad toen op met Goethes Erben. Wat vond je van het festival?
Ik heb echt genoten van de sfeer. Het was geweldig om te zien hoe het publiek aandacht voor elke band had, de line-up was bijzonder en meer verfrissend dan op vele andere festivals. De show van Grausame Töchter was geweldig, ik vond het erg leuk! Blij dat ik ze daar kon zien. Het hoogtepunt van de dag was natuurlijk het concert met Goethes Erben. Ik voelde me zeer comfortabel op het podium, maar het was een zeer lange dag... niet alleen voor ons, maar ook voor het publiek, maar goed ze vierden tot het einde (lacht).

Blijf je bij Goethes Erben in de toekomst? Bent je nog steeds betrokken bij Henke?
Ik was nooit betrokken bij de band Henke hoor, alleen maar een duet met Oswald en ik ging mee op de tours van Coma Divine. In het najaar zal Goethes Erben een paar shows in Duitsland spelen en ja, ik zal er ook weer bij zijn. Ik hoop dat we ook de kans zullen krijgen om te spelen in België.

Binnenkort sta je dus weer op Black Easter. Met hoeveel mensen zul je dan op het podium staan? Zal Martin Hoefert, de cellist, die ook betrokken was bij Persephone en Coma Divine, er ook bij zijn?
Ja. En eigenlijk was Martin niet zo maar betrokken bij deze bands, hij was er de belangrijkste songwriter van (lacht). Op Black Easter Festival zullen we 5 muzikanten hebben: Martin Höfert (cello), de charmante Sue Ferrers (viool), de pianist André Wahl, die verantwoordelijk is voor de regeling van dit project, de auteur en schrijver Materzok, wiens teksten surrealistisch en romantisch zijn, en last but not least mijn bescheiden zelve.
Persoonlijk ben ik dol op de oudere L 'Âme Immortelle-songs zoals Bitterkeit en Life Will Never Be The Same Again. Zal de setlist gericht zijn op songs van L'Ame Immortelle?
Onze setlist zal niet gericht zijn op L'Ame Immortelle-songs, maar er zullen er wel een paar tussen zitten, hoor. We zullen liedjes van al mijn bands spelen, natuurlijk ook Persephone en Coma Divine, alle nummers zullen akoestisch zijn. Waarschijnlijk ook een aantal niet eerder uitgebrachte tracks.
Dit jaar bestaat L'Ame Immortelle 20 jaar. Ben je van plan om dit te vieren? Een nieuwe compilatie misschien?
Hoe kon je dat weten? (lacht) Ja, er komt een plaat uit: Unsterblich, die een geweldige mix is van onze beste tracks, maar we hebben wel de songs onlangs heropgenomen zodat ze meer up-to-date klinken. Onze nieuwe live-arrangementen inspireerden ons om dat te doen. De gelimiteerde versie van de release zal ook een tweede cd bevatten met daarop de originele liedjes, alsook een uitgebreid boekje met veel foto's en alle teksten.
De laatste tijd is Ashley Dayour zeer actief bezig met Whispers In The Shadow, The Devil & The Universe en Near Earth Orbit. Heb je op dit moment plannen met Coma Divine?
Niet voor het moment.
Je bent ook actrice en regisseuse in het theater. Kan jij je ervaring als muzikant gebruiken in het theater of vice versa?
Ja, natuurlijk. Ik denk niet dat je het een kan doen zonder het ander... zingen is altijd acteren, het vertellen van een verhaal en het overdragen van emoties.
Dus zoals we eerder hebben vermeld, ben je al 20 jaar met muziek bezig. Wat zijn je persoonlijke hoogtepunten en wat zijn de grootste teleurstellingen?
Wow, dat is moeilijk om zeggen. Het belangrijkste hoogtepunt is dat ik er na 20 jaar nog steeds ben, en dat is toch een behoorlijk lange tijd, maar het moment waarop ik voor de eerste keer de oefenruimte van L'Ame Immortelle binnenkwam, lijkt als gisteren te zijn. Het is nog steeds spannend! Ik ben zo blij en trots dat Thomas Rainer en ik het al die jaren hebben kunnen volhouden. Ik ben zeer dankbaar dat ik die kans kreeg... en ik kan doen wat ik echt graag wil doen. Dit is een geschenk, ik waardeer dit.
Teleurstellingen... tja, er waren er een paar, natuurlijk... en sommigen deden pijn, maar uiteindelijk is het allemaal goed gelopen, tot nu toe... dus laten we ons concentreren op de goede dingen.
Wat zijn de plannen voor 2016? En wat wil je in de toekomst nog bereiken?
Ik denk dat gezondheid het belangrijkste is wat je kan wensen... en nou ja, misschien wat geluk. 2016 zit nog vol met verschillende plannen, dus het zal niet saai zijn. We gaan binnenkort op tournee met L'Ame Immortelle, in het najaar spelen we twee shows in Rusland en natuurlijk kunnen we niet wachten op de release van Unsterblich. Martin en ik zorgen voor nieuwe Persephone-liedjes en het ziet ernaaruit dat er nog meer Sonja Kraushofer-shows zullen komen.
Nog een boodschap voor de fans misschien?
Ik ben blij dat ik op Black Easter Festival mag spelen. Songs spelen van al mijn bands betekent veel voor mij, en in het bijzonder op het podium staan met zulke uitstekende muzikanten! Zie je daar! Blijf kijken!
Bedankt! Tot ziens in Antwerpen!
Benny CALUWE
26/02/2016
---